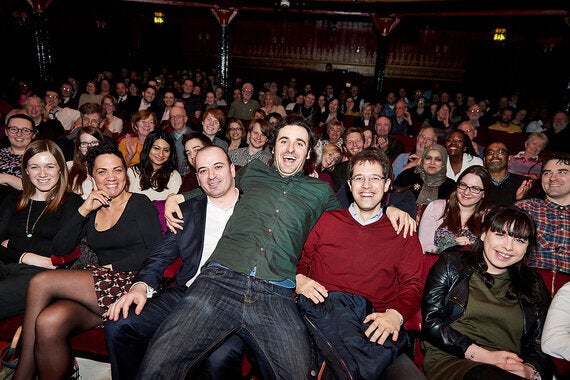 I started Stand up for Labour in July 2012 in a bid to cheer up Labour supporters and raise money for campaigning. Since then, we have managed to raise over £100,000 from events in England, Wales and Scotland. Friday sees Stand up for Labour's 150th event - and last event before the General Election - when we visit Coventry. This is a good time to reflect on the highlights of this comedy fest.
The first Stand up for Labour. This was the one that got the ball rolling. For me it was a dream line up, with former Mayor of London Ken Livingstone invited to speak and the comedy headlined by 'Grumpy Old Man' Arthur Smith. I had spent a lot of time putting up posters, handing out flyers and cajoling people to come. It was a sunny day and the George IV in Chiswick was packed - with 200 people. I don't think it could have got off to a better start. It was an added bonus to see Joe Wells and Lucy Beaumont for the first time. Both fantastic acts who went on to perform at some memorable nights over the following years.
Lucy Beaumont performing a character act perhaps based on Pauline Prescott - in front of John and Pauline Prescott. Lucy Beaumont went down a storm at the first Stand up for Labour gig, wearing a black wig, carrying a shiny handbag and speaking with pride about being a famous MP's wife, so I thought she would enjoy appearing in her hometown, Hull. Little did I realise that John Prescott and his wife Pauline were guests of honour at the gig. Before the gig, Lucy was quite nervous about going on in front of them but she went through with it. She was then booked for another gig in Greenwich. I didn't realise that Pauline Prescott's son, David, would be there too. I think Lucy thinks I might be making gigs tough for her by always inviting a Prescott!
Neil Kinnock. The former Leader of the Labour Party had the crowd singing 'The Red Flag' at the Michael Foot Memorial comedy night on Remembrance Sunday 2013. It was like we were back in the 1980s. Neil Kinnock's name brought sell-out audiences at events in London, Bristol and Nottingham. His wit and oratory are inspirational and something that the Labour Party needs.
Denis Healey and Arthur Smith in Eastbourne. To speak to war veteran, former Chancellor and Deputy Leader Denis Healey on the phone to arrange this gig was surreal. It took me a while to track him down and to find his address. It was also necessary to give Denis a lift to and from his house to the gig and there were a number of steps to negotiate that were a concern for me as Denis is 97, but when the curtain was opened and he appeared in front of the audience with his stick lifted in the air, I felt I had set up some real magic. Arthur Smith and Denis Healey are old friends so it was a nice opportunity for them to catch up too. I heard that Denis liked a single malt so I made sure I had one ready for him at his second gig (in Brighton during the Labour Party conference). He downed it in one!
Norman Lovett and three comics stuck in a car in Billericay. What a treat it is to have been able to work with Norman Lovett. He's a true comic genius and is not bothered by how people react to him. He even asked the audience at one gig if he was 'dying' and was assured he wasn't. He is so easygoing that when Paul Ricketts's car broke down on the way back to London from Ipswich, Norman kept a carload of comics entertained in a Billericay service station all the way to 6am
Patrick Monahan's hugs. From his first appearance at a Stand up for Labour gig in Bethnal Green in the summer in 2013 to last week's gig in Bristol, 2014 Act of the Year Patrick (pictured above) has hugged or sat on the lap of at least 400 people. The warmth and innocent fun of his act is the perfect antidote to this cold, brutal Tory government. He brings out the child in most people and I have to say that I wish the world were full of Patricks!
Sadiq Khan's jokes. There has been no one MP as supportive of Stand up for Labour as Sadiq Khan. He has spoken at events all over London: Chiswick, Twickenham, Paddington, Sutton, Lewisham, City of London, Greenwich as well as two events in his own constituency in Tooting. I can't think why he's been so active! Stand up for Labour has given him an opportunity to fine-tune his jokes and he has been praised by Arthur Smith and Patrick Monahan for being the funniest politician they've seen.
Seeing how strong Labour activists are in 'non-Labour' areas. You would have thought that Labour supporters in Tory or Liberal strongholds would be a miserable lot, but that is far from the case. It was heartwarming to visit Southport on a sunny day in 2013, where the venue was packed and there was a raucuous atmosphere (especially when Brian Damage & Krysstal were on stage). Upton-upon-Severn in Worcestershire in winter would seem an unlikely location for a gig, but the local network and organisation is so good that nearly 100 people have turned up for two gigs. Similarly, Lewes and Hailsham in Sussex were packed. The hightlight for me, however, was a gig in David Cameron's seat, Witney, on 7 May last year (a year to go). Sticky-floored Fat Lil's was full of people from surrounding towns all raising money for Duncan Enright's seemingly impossible task of unseating the shiny, red-faced West Ham fan.
Arnold Brown. When I was invited to put on a comedy night during the Corby by-election in the autumn of 2012, it was a real test for me to find some good acts who would attract a crowd. I realised that Corby had a high population of people with Scottish ancestry so I looked far and wide for a good Scottish comedian. It was a shot in the dark when I contacted Arnold Brown via his agent, so I was ecstatic when he accepted the gig. And from then on I managed to book Arnold for gigs in Chiswick, Ipswich, Doncaster and then a number of dates in Scotland (Edinburgh, Ayrshire, Glasgow). Arnold has also attended our Act of the Year receptions in the House of Commons and it is fantastic to have his support.
The 100th gig. Following the local elections last May, we put on a gig at the George IV in Chiswick (back to where we started) to celebrate Hammersmith & Fulham Labour Party's fantastic result. People from all over London came along and the night had a party atmosphere. Here's hoping the event we have planned for Sunday 24 May at the George IV is even more raucous!
There are still some tickets available for Stand up for Labour's 150th gig, which takes place at Market Hall @ Fargo Village, Far Gosford Street, Coventry CV1 5ED. Tickets are available here.