Wide legs are getting a good rep right now. The Spring/Summer 2015 womenswear collections championed the Sixties and Seventies by reminiscing and redefining flares (as well as crochet, fringing and suede), which means that the high street is now stacked with styles.
Zara has a good denim offering, Topshop has lace-trim print versions, H&M has patterned, fine-knit and suit trouser looks, Asos has tailored and boho chic covered.
The thing is, are flares a doable - or should I say wearable - fashion thing beyond the runway? Sure, Victoria Beckham, Alexa Chung and Poppy Delevingne give good flare game but are we non-model, non-celebrity types actually likely to trade in our skinnies and move into bell-bottom territory? Yes, but all summer?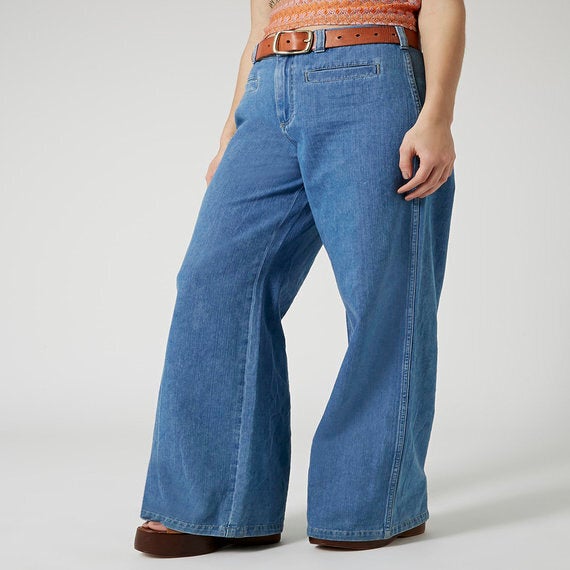 Tom Ford's S/S 2015 catwalk showcased luxe mid-waist lurex print flares, Gucci and Louis Vuitton gave cropped (velvet and denim) flares the nod and over at Celine flares were sharp, structured and super wide. Then there was Balmain's Olivier Rousteing who reiterated just how much sex appeal this variety of trousers have. You know, when worn by glamazons like Rosie Huntington-Whiteley. Looks were high-waisted, floor-length, tailored, billowy, striped or check and teamed with structured, cut-out tops: this is how to do power dressing.
Hats off to those already styling out the denim flares that have been buried in bottom drawers since the last time they were in (I have only contemplated digging out the low-rise Moto pair I had circa 2002). Flares are everywhere right now for good reason; demand is high and they're selling.
Beyond Retro has seen demand for flares increase year on year by around 500%. "There's now not a day that goes by across all of our UK stores where someone isn't asking for a pair," Victoria Plum, Head of Press and Marketing, tells me.
"Vintage flares are somewhat of a rarity though, and so to ensure we meet our customers' requirements we've designed and manufactured our own styles. The 1970s is a trend that we think is here to stay well into Autumn/Winter this year and into the Spring/Summer of next".
Even Topshop has added new shapes to its spring collection (including cropped flicks and super wide flares) to meet the demand. The 'Jamie Flare' from the latest denim campaign starring Hailey Baldwin sold out in stores on its first drop and is due back in stores from April.
Not convinced? Well, before you rule out doing flares altogether this season (you'd rather be eaten by Alsatians and just can't get passed John Travolta's Saturday Night Fever vibe) consider the five following pointers that I've put together:
1. Pare down a pair. This is key to avoiding disco flares anxiety. Wear with a basic white tee/tunic/shirt/cropped jumper and a pair of flats/trainers.
2. Do denim. Any shade you fancy, but a darker wash will flatter your figure. Plus, denim is heavy duty, affordable, bang on trend and goes with everything.
3. High-waisted styles. Again, this is a flattering option. Try a pair with a sharply ironed crease down the front as this will elongate your bottom half whatever your height. Midriff baring is not essential.
4. Spend 45 minutes (max) shopping. Try on various styles from your favourite high street haunts and be cool with needing different sizes/lengths depending on where you shop - no brand is ever the same.
5. Have the right shoes on you. When shopping, be prepared by wearing/carrying a pair of shoes that you know would work with flares: wedges, flatforms, peep-toe sandals.
Flares are back in a big way and teaming them with a little fringing, a lot of suede and for the fearlessly fashionable; nipple pasties (see Tom Ford), is exactly how to get into the groove.