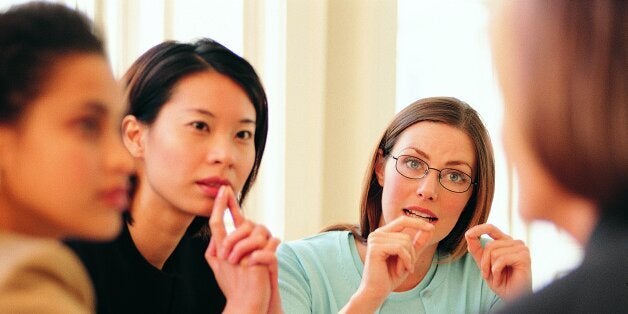 It's official. New figures show a decline of women staying at home for family reasons. The number is now at an all time low. This trend explains part of the rise of mums breadwinning.
Women are now doing more than ever before to financially support their families. Almost a third of working mums (30%) are breadwinning; earning as much as or more than their partners; or are single working mums. In 1997 it was 1.2million working mums, now it's over 2.2million, an increase of over 80%.
IPPR's new analysis shows that this trend is not being driven by a particular group of mothers; breadwinning is going up in all family types, all age groups and all income groups. Driven by an increase in maternal employment rates, women's higher levels of education, the dynamics of family change, as well as changes to men's employment patterns and earnings, it is hard to see that this trend will be reversed in the future. These changes mean that mothers' incomes are vital to the economic survival and wellbeing of a rising number of families.
For some these findings will not be news - they will simply reflect reality. But it will challenge the prevailing stereotypes that dads are the primary earners with mum at home as the primary carer.
Despite almost one in three mothers being the primary earner, there are still significant barriers that many working mums face in entering work and remaining in work.
So we need to do more to support these working families. At the very least this means tackling the gender pay gap - particularly the 'motherhood pay penalty' that hits at the point at which women become mothers - by increasing the accessibility and affordability of high-quality childcare; creating more genuinely flexible job opportunities; moving towards a more progressive parental leave system; and supporting families during times of transition.
It seems as though policy is out of step with the lived experience of many women and their families.
Although these challenges also affect working dads, they have a disproportionate affect on working mums who are often still undertaking a 'double shift' of work and care.
The high cost and patchy availability of childcare will continue to constrain many mothers' work choices. In the last year, childcare costs rose by 6%, more than double to rate of inflation (2.7%) making it prohibitive for many families. As many parents will attest, the cost of summer holiday childcare has risen even faster, a 9% rise in England so that the average cost is now over £100 a week. The high cost of childcare amplifies the pay penalty that many mothers face. In other countries affordable and accessible childcare is coupled with higher rates of mums in work and positive outcomes for children. High-quality provision that is affordable could not only be positive for child outcomes, but could also provide a net return to the Treasury in additional tax revenue.
Challenging the gendered nature of parental leave could also offer a way forward. Currently mothers can take up to a year of maternity leave, fathers are entitled to just two weeks paternity leave and within that there is a period of transferrable leave (up to six months that the mother can transfer to the father). Allowing the mother to transfer leave to the father in this way reflects strong assumptions about maternal and paternal needs and responsibilities. It also means that fathers don't have their own entitlement to paternity leave - they are dependent on the eligibility of their partner. Unless fathers are given greater rights to paid parental leave, more fundamental inequalities will persist. It simply seems out of touch with the reality of many families.
Contrast the UK to Iceland where policy is moving to a system of five months maternity leave, five months paternity leave and two months of parental leave for parents to decide how to use it. A system like this surely offers parents more choice on work and care that responds to their own circumstances and preferences.
The gap between policy and real life currently undermines the reality for many women and their families. Mothers are breadwinning at higher rates that ever before and it is a trend that shows no signs of reversing any time soon.
Dalia Ben-Galim is an Associate Director at IPPR. She tweets @dalia_bengalim