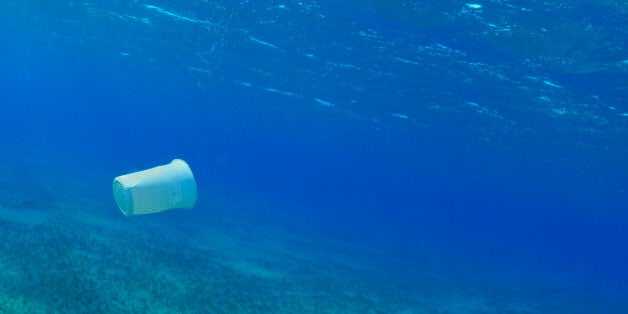 When you sail non-stop around the world, you manage everything that you have onboard. From the energy in the batteries to the food and water, everything is carefully monitored. The boat is your own little finite world. And when you're racing through the Southern Ocean, you are two and half thousand miles away from the nearest town, in iceberg territory. If vital help needs to get to you, it'll take five days for a ship to pick you up and then five days to steam you back to the next hospital. No experience will ever connect you more to the notion of what finite really means, because what you have on the boat really is all you have.
When you step back ashore you suddenly realise that the world that you have just circumnavigated is no different to the global economy we all rely on; it is powered by finite resources, and simply doing a bit less is not going to solve upcoming challenges. At the Ellen MacArthur Foundation, we have looked at the most iconic features of the modern industrial economy to see how we can change the system from a linear take-make-dispose model, to a circular one that can work and deliver prosperity in the long run. One of those features is plastic.
Combining high performance with low cost, plastics have become the workhorse materials of modern life. A symbol of rising living standards and domestic bliss in the 1950s, the use of plastics has gradually attracted more criticism as significant drawbacks point to failures across the value chain. Most plastic packaging, for example, is used only once before it is discarded, often ending up polluting the environment. If nothing changes, there could be more plastic than fish in the ocean by 2050.
The big challenge now is to reconcile plastics' undeniable functionality with a system that can work long-term, avoiding loss of material value and other negative impacts. To fix today's broken model, we have to fundamentally change the way we make and use plastics so that they don't become waste in the first place.
We need a strong vision that brings together businesses, policymakers, philanthropists, NGOs and society when aiming at creating change. The New Plastics Economy provides such a vision. It is based on a new way of thinking about plastics as an effective global material flow, aligned with the principles of the circular economy. It aims to harness the benefits of plastics while addressing its drawbacks, delivering drastically better economic and environmental outcomes.
The New Plastics Economy is rooted in three ambitions:
1. Create an effective after-use plastics economy by improving the economics and uptake of recycling, reuse and controlled biodegradation for targeted applications.
2. Drastically reduce leakage of plastics into natural systems (in particular, the ocean) and other negative impacts.
3. Decouple plastics from fossil feedstocks by - in addition to reducing losses after-use and producing lighter packaging - exploring and adopting renewably sourced feedstocks.
This ambitious vision forms the basis for the Ellen MacArthur Foundation's New Plastics Economy initiative - a three-year, USD 10 million initiative, launched in 2016, that brings together a broad group of leading companies, cities, policymakers, philanthropists, academics, students, NGOs, and citizens, to redesign plastics and rethink their future, starting with packaging. Together with the Prince of Wales's International Sustainability Unit, it has just launched it's $2 million New Plastics Economy Innovation Prize, to accelerate innovations in product design and materials science, to keep plastics in the economy and out of the ocean.
The support of Players of People's Postcode Lottery through the Dream Fund in 2016 has been critical in initiating momentum for the New Plastics Economy initiative. More than 40 CEOs and other senior executives endorsed its latest report, "The New Plastics Economy - Catalysing action", which was listed by the World Economic Forum as one of the ten achievements of Davos 2017. In January this year, the European Commission published its draft Plastics Strategy Roadmap that clearly aligns with the ambitions of the New Plastics Economy initiative.
The Ellen MacArthur Foundation's ambitions have found crucial support from players of People's Postcode Lottery. This Friday People's Postcode Lottery is launching its 2018 Dream Fund, thus giving other charities in Great Britain the possibility of delivering their grand vision.
Related