Setting up your own business can be a daunting prospect, especially for those still working their way through full-time education. But being at school or university shouldn't be seen as an obstacle to taking ownership of an original idea and building a business on the back of it. Quite the reverse - it can offer valuable skills and unique opportunities that I believe successful entrepreneurs need when starting out.
In 2013, while in the second year of my undergraduate degree at University College London, I was part of a team that entered a competition aimed at uncovering student entrepreneurs with potential bioscience start-ups. We pitched a portable molecular biology laboratory, one that would allow non-specialists to carry out experiments at home and help them get engaged with the cutting-edge discipline of bioengineering. Our team was lucky enough to win a small amount of funding to build a prototype and, thanks to a lot of hard work, bento•lab has now become a reality. The latest version of our toolkit weighs only 3kg, fits on an A4 footprint, and will make working with molecular biology orders of magnitude more accessible.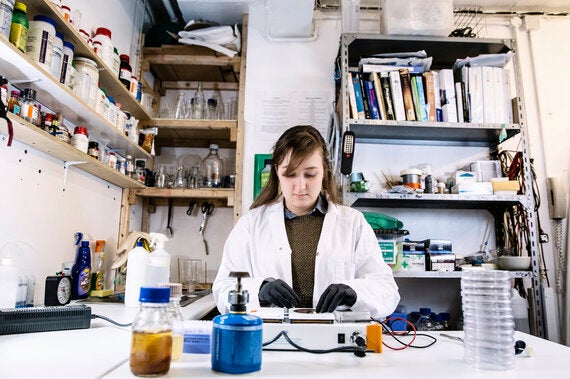 Bethan working on the Bento Lab, credit: Royal Academy of Engineering
My journey so far has taught me a lot, and there is still quite some way to go. Every business is different and no two career paths can ever be the same, but there are some lessons that I know I would have benefited from when I was starting out:
1. There's never a perfect time to start
One of the challenges we all face is thinking that there's a perfect time to start your own business. The harsh reality is that this mythical moment never arrives. There will always be challenges and excuses to delay making that decision, but at some point you need to get past those mental roadblocks and take the plunge.
2. Appreciate your own potential
Students often don't realise how much they are capable of accomplishing. After all, going through the education system is no easy task. You don't have to wait until you are no longer a student to get started. If you have an idea that you think might be worth something, go ahead and give it a try.
3. Don't be afraid to make mistakes
When starting out as an entrepreneur, it's natural to feel under pressure to always make the right decision, and to keep risk-taking to a minimum. In reality, each mistake represents an opportunity to learn a valuable lesson, and the early days of your business are the best time to take risks. Young people are rarely taught that making mistakes - so long as you learn from them - can be a good thing.
4. Gain credibility by entering competitions
In business, credibility is not necessarily proven by your age or qualifications, but rather your passion and your actions - your ability to deliver on your aims. Investors tend to like people with experience, who have already started a company. But as a young person, there are so many opportunities to get started before seeking investment.
In the UK, there is already a huge variety of competitions open to young entrepreneurs with funding, mentorship and exposure all readily available. As well as the RAEng award we were runners up for, the Royal Academy of Engineering also runs the Launchpad Competition which offers once-in-a-lifetime business mentoring from the Academy's Fellowship and invaluable networking opportunities, as well as training and £15,000 of funding to help get a business idea off the ground. It's open to would-be entrepreneurs aged 16-25 who have an engineering or technology-related idea they want to turn into a business, and it's open for applications right now.
Having people believe in the vision that you're pitching is incredibly motivating, and the association with a prestigious organisation can help to generate interest from future investors.
5. Be prepared for change
What you don't always realise as a young entrepreneur is that your hypothetical business can become a reality very quickly, and that this brings changes that can come as a surprise if you aren't prepared for them.
Since coming together for our first student competition, there have been some big changes in the way my team and I manage our idea and the company we set up. At the time we were simply a group of friends passionate about developing an idea we felt strongly about, and there were no real consequences to be faced if things went wrong. Since setting up Bento Bioworks as a company, we've had to come to terms with the fact that the project belongs to other people as well as ourselves, and that we have a duty to our investors, customers and partners not to let them down.
6. Seize every opportunity with both hands
When I first started out, I would often hold back on applying for opportunities because I felt under-qualified. It took me a long time to realise that other people weren't handicapping themselves in the same way, and therefore getting funding, experiences and advice that I could just as easily have won. I wish I'd been given this advice two years ago, but I now know you have to give yourself a chance and have faith in your own ability to succeed if you expect anybody else to take you seriously.
So to anyone with an idea for a business - go for it. If you really believe in it, and are passionate about driving it forward, the sky really is the limit!