Communities in Kenya have been keeping bees for honey for longer than any can remember -the product both a valued food and a respected medicine in rural parts.
Nowadays, apiculture is gradually being commercialised, as people realize that they can make good money not alone from the amber liquid, but also from the by products - bee wax, propolis, bee pollen, royal jelly and bee bread.
It is for this reason that renowned beekeepers and individuals with an interest to invest in the venture in Moricho, Rongai, teamed up to form Segemiat Self Help Group. The name Segemiat literally means 'beekeeper' in the local Kalenjin tribal dialect, I learn.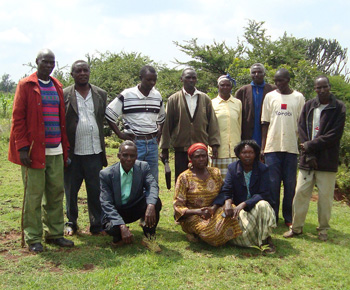 The group, comprising nine men and six women was started in the year 2011 after Self Help Africa field officers toured the area.
According to chairperson, Mr. Amos Rabi, Self Help Africa encouraged them to form the group, and then provided training in activities such as hive care, processing honey products, developing suitable forage crops and other relevant issues.
Later Self Help Africa provided them with eleven Kenyan top bar hives, a catcher box, a smoker and a honey harvesting apron at the commencement of their enterprise.
Upon acquiring the hives, group members agreed to put them at a common place because they were not enough for each member to take home. Amos adds that putting the hives together is strategic as it makes it easier to communally conduct routine maintenance.
A trip to the site is an uphill task as the land is not only rugged but dotted with thorny shrubs which limit movement. The shrubs are there to keep children and straying livestock away, explains the chief.
The 51 year old who has lived in Moricho since 1980 is amongst the experienced bee keepers in the group. He has been practicing beekeeping alongside farming for more than ten years,and has grown his enterprise to the five hives that he manages today.
Although he says that his family eats most of the honey produced from his hives, Amos Rabi earns ksh, 4,500 per hive (€44) and per every harvest after selling the surplus.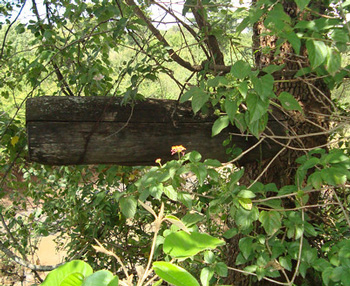 "This is good money considering that these are not modern Kenyan top bar hives which are known to yield more", he happily tells me, adding that they are yet to harvest honey from any of the hives donated by Self Help Africa.
Another group member, 40 year old Selina Cheptugud, is quick to point out that the hives are not to blame but inadequate crop cover from which bees obtain nectar. She explains that in 2011, rain levels in the location were extremely low and hence affected the area vegetation.
Bees migrated to other places in search of food and water becase of the shortage, and only returned early this year at the start of rains. It is due to this favourable climate that the widowed mother of six is optimistic that things will get better this time round. She intends to use her share of proceeds to develop her seven acre farm and also educate her children.
Segemiat Beekeepers have a positive outlook, and because of this have invested in the future - purchasing timber, nails and iron sheets, with a plan to construct 15 more hives for their members. We have spent 13,000 ksh (€130 on improvements)says 48 year old Catherine Chemoiwa, whose farm is beside a dam where the bees can forage for water..
Upon completion, it is anticipated that each member will be assigned a hive. However, those without large chunks of land will have to put theirs at other group members' farms or at the common site. This is to ensure that there is ample space for bees to move around and hence minimize chances of them coming across people or livestock.
Though they are yet to harvest any honey, the group has already come up with an elaborate marketing mechanism. 'We plan to start selling at village level, and will then move to the markets in and around Rongai', explains 39 year old David Lekirawa.
The father of six tells me that the first thing he will do after making some sales will be to purchase either a cow or a goat so as to always remind him of the help received from Self Help Africa.