Hi! My name is Daniel Smith and I constitute one half of the band The Noisettes alongside my best mate for 15 years, Shingai Shoniwa. I guess you could call me the 'Andrew Ridgeley' to her 'George Michael' (Wham! for you young 'uns) but the business of prancing about with a guitar on a big stage is a LOT of fun and I'd recommend it to anyone and I honestly don't care if Andrew Ridgeley is renowned for being a bit of a figure of fun for not being as successful or well known as George on top of the "what did he actually do in the band?" aspect that constantly hovers over his head - look at the videos: The Man Was Having A Great F*cking Time! (BTW I must warn you, i swear like a Navvy. I do apologise in advance.)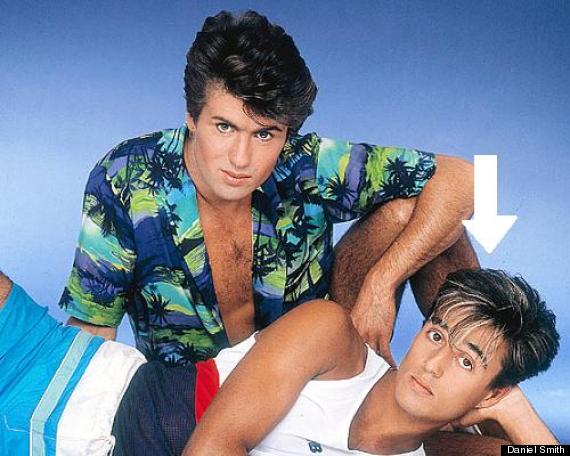 ----------------------
Friday 1 June 2012
Looming heavily on the horizon of our calendar for Sunday 3 June is a show in front of 90,000 people for the Queen's Diamond Jubilee Celebrations in Battersea Park. Things are off to a terrible start. I have just, in one singular decisive instant, ruined ALL THREE of my white shirts (not to mention my bed sheets) by recklessly tossing a black and white print shirt in the wash which has bled everywhere. Three hot washes later and the stains are still there! FUUCK!!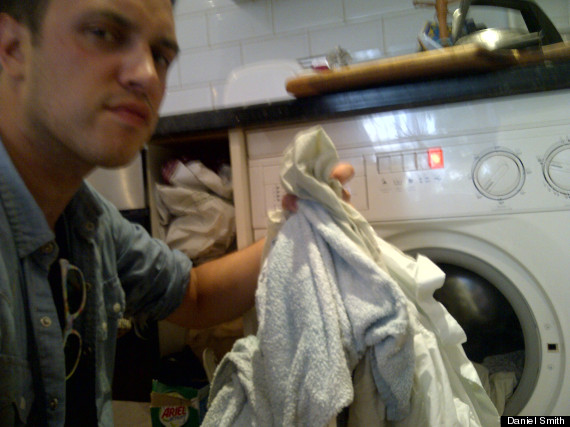 I have noticed over the last week that our humble country is starting to get Union Jack Fever in a big way.
Was up on Regent Street yesterday... it looked like London on VE day straight after the Second World War! Bunting, huge flags, shops which have turfed out most of their usual merchandise to be replaced with Union Jacks, Union Jacks are EVERYWHERE! In Lancing (West Sussex), an innocuous gazebo on a public footpath HAS BEEN TURNED INTO A GIANT UNION JACK, ladies are wearing Union Jack leggings, indie kids are wearing Union Jack skinny jeans, cats are eating Union Jack flavoured cat food; What is going on?!?!?!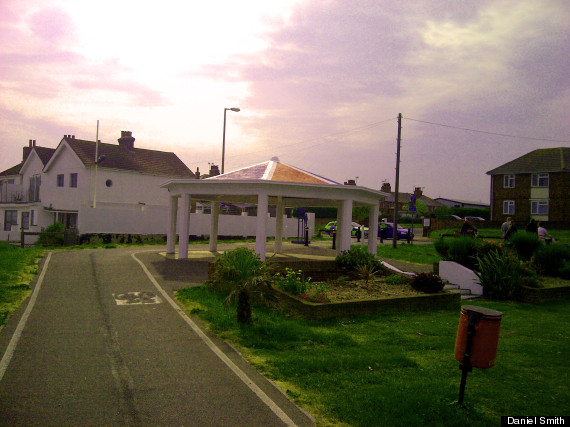 But it's a good thing though. Good for morale really in these dire Orwellian times of constant war and economic meltdown. Sometimes it feels like Armageddon is stood outside the front door having knocked his deathly knock three times and everyone inside the allegorical house is quietly having a bit of a watery-eyed nervous breakdown.
Fuck THAT, let's party like us British do.
----------------------
Saturday 2 June 2012
Not much happened today other than I biked it to Worthing and nearly got thrown off my bike by a granny driving a shiny green Daewood.
Today was the first proper day of the Jubilee Quadrilogy. Its not spin apparently, you who are reading this (after the fact, so you probably already know what happened): according to the news, England has officially got its patriotic boots back on and is up for doing a serious jig tonight. I had an early night in the end as I got rather drunk the night before, and need to be as fresh as the proverbial daisy for Sunday.
----------------------
Sunday 3 June 2012
9:40 am: On the train from Brighton (BTW that's where I call home at the moment, Shing lives in Chelsea) very early today, bearing in mind that we're not onstage till 6pm. I'm supposed to arrive at a designated hotel to pick up an outfit to wear for the gig at 12pm but I am making sure I don't get bamboozled by long queues so aiming to get into battersea for 10:30am.
Its very quiet and 'Zen' on the train. It was raining so hard last night that it sounded like someone was holding a giant frying pan full of sizzling bacon over my head. Rain is predicted to carry on till Monday so wondering what the crowds are going to be like today?
Everybody was speculating as to whether or not Our Queen was going to have a good time yesterday.
There's a white-haired man in his 50s sat opposite me wearing a navy pinstripe suit, a straw stetson hat and has a brassy Etonian accent which he's using to charm a young girl sat opposite (the Cad!). He's got a crisp copy of the Sunday Times open and his head is buried deep in it vacuuming up the whys and wherefores of yesterday, but never mind all that - I can't help smiling like someone freshly embarked on an 'E' because there's a massive picture of a grinning Queen Elizabeth on the cover. Go on lass!
I love it when the papers put their claws away, although maybe there's a 'D-notice' on and all the organs of the press have to pump out utopian scenes of flag waving toddlers eating Union Jack cake, beery football supporters, all belonging to different tribes, huddled together in the same pub singing God Save The Queen, red-faced and bushy tailed underneath a giant Union Jack flag, and Grandmas and Grandpas sitting on a lush green lawn with the family about having a picnic atop a Union Jack blanket. Maybe I'm just being a bit too cynical for my own good.
I'm being a bit paranoid about the Plod contingent today (sorry, 'Police'...that's the Croydon boy in me coming out). Carrying a massive suitcase in one hand and my 'Epiphone' mandolin in the other (which comes in a brown briefcase), I'm making sure I look as fey as possible just in case said Plod think that I might be a dodgy terrorist type...and for that reason I am currently wearing massive hi-top concentric pink and yellow trainers, a beige mac, cheeky fake white Ray Bans with a tropical colour scheme on them, black jeans, green gingham shirt, and a black waistcoat with swirly dragon pattern (which I nicked off my Mum), complete with a vague homage to punk in the form of a giant white safety pin holding it all together. Could go one of two ways.
10:26 am: Just realised that I look like a slightly camp Columbo, but still managed to get past the massive throng of police who are cheerily ushering the many, many thousands of Union Jack-ed up people who have gone out and shown incredibly stiff upper lip support in face of the grey drizzly weather. Go on England! (Sorry about my crap pictures. Obviously, a David Bailey, I am not)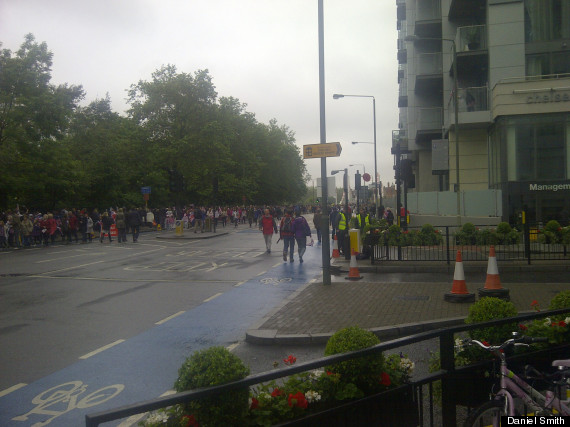 11:45 am: Arrived in good time at the hotel (The Pestana Chelsea Bridge) and waiting for an outfit to show up. Have been told that we only have 30 minutes to set up our Spinal Tap-worthy stage rig which usually takes two hours on a good day. Yikes! Hanging out with Shingai's mum Leoba and her auntie. Tickets which were selling for five quid initially have sold out and are changing E-hands on Ebay for as much as £300! Getting texts from people scouting for spare tickets but I don't have any. My mum and dad were coming but bailed at the last minute so I passed their tickets on to a young couple who couldn't get into a gig we did last week in Camden as they were under 18. Asking them to pretend to be my Mum and Dad at the gate was probably not such a well-thought-through idea.
Ronnie Wood was going to make a guest turn today. He was rehearsing next door to us early in the week and popped his head round the door. Unfortunately he won't be making it down today as all the roads in the near-neighbourhood are closed and he'd have a nightmare getting on site. Lovely fellow and he says he'll definitely come and join us for another gig further down the line!
Did I mention that the weather seems to be holding up okay? (What makes you think that from now on I'm writing retrospectively?!) Slightly grey skies but kind of warm and promising. I'm telling Leoba (Shingai's Mum) that I have a strong feeling that the sun will come out in force later.
1:30pm: Getting suited and booted with Shingai, Toby Couling (drums), Tim Vine (keyboards, not the stand up comic) in the hotel room. You can see Chelsea Bridge out of the window. It, and all the other bridges in London are closed, and heavily patrolled by the Police. There's a lot of tough looking SAS boys wearing black boiler suits in speed boats zipping up and down the Thames generally looking hard and ready to get a Skirmish on.
Good old Shing! She's choosing which crazy outfit to wear. The blue half winged gown with rubber feathers or the red garlanded dress with sheer see-through panels? Red Garland is the winner of course! I've got these boots on. Look out!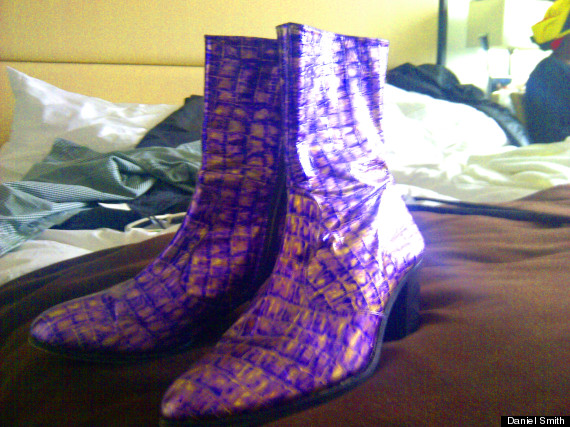 2:30pm: As they say in showbusiness, "don't be late for the hanging about," and that well-used phrase certainly applies now, as we've done a lot of hanging about waiting for a golf buggy to take us on site. Unfortunately every single buggy on site has a flat battery according to someone on the other end of a radio sounding like they'd quite like to be sedated with a large brandy instead of trying to shepherd dead golf carts about.
3:00pm: On site! Missed the Flotilla!!! At the precise moment it ambled past, I was head down with two massive suitcases and a mandolin walking for all I was worth from the hotel to the stage in the park. F*cking golf buggies! Oh well, this is why we have iPlayer...
So many people in the park but not so many at our stage. Hoping that when the Royal pageant has gone past it will fill up over here. Great band called The Boxettes onstage. Five girls acapella singing and beat boxing!
4:30pm: Great Scott!! Starting to rain quite heavily! Beloved Shingai, Rhianna Kenny (backing vocals), Bobbie Gordon (backing vocals) and Naz Adamson (bass) are here now from the hotel.
5pm: To say that it's raining hard right now is as gross an understatement as saying something like "Lady Gaga likes to dress up a bit". Its almost a f*cking monsoon! People are leaving in their droves!! "Come back!" Its just gone past the festival tipping point where its still sort of bearable because you've ingested a few beers and what-have-you but now you just want to go home and get warm and dry. Nowhere to sit backstage. Our dressing room tent is filled up with all of our sad equipment sheltering from the rain. Feeling a little bit glum myself to be honest.
5:15pm: The Selector featuring Pauline Black are playing and in my glum state, I wandered up on to side of stage to see what they were like and got hit by their good vibes full in the face and then start dancing like a loon. There's still quite a good-sized crowd out there and they are telling the rain to "go f*ck itself" and are having a rollicking good time! Woo hoo!
Toby and Shingai have sauntered up and caught the vibe too. There is still hope for this...
6:10pm: We're getting ready to go onstage. The PA crew for the stage are a bit behind due to the monsoon. Dan Yems and Reuben Humphries (an ace drummer in his own right who is subbing for us today) help to get our gear on the stage. Strict curfew is at 7pm so me, Toby and Naz (bass) get involved pushing gear on and cabling up microphones. I'm getting heckled by some people down the front who I've met before, and due to the rain I'm suffering a little from the effects of some wine which I've recently consumed. I never drink before a show...unless it looks like the show may be a total disaster then I allow myself a token sherry or something along those lines.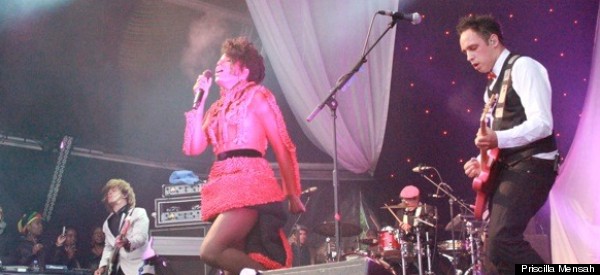 6:15pm: We start playing... Don't Upset The Rhythm is first. Whilst jumping up and down like an idiot with my guitar, in the back of my mind I feel like I can relax. Looks like it's actually going to be a good gig. Shingai is pacing up and down the stage like a mythical Thor looking to chuck a lightning bolt at someone. Everyone is giving it their all.
6:20pm: Due to how hectic the day has been, I don't feel that myself and Shingai have had a moment to really connect properly. Kind of like ships passing in the night. Pressure does that but in one of the new tracks, Rag Top Car, we have a moment together and it's really good. Playfully dipping the volume in parts and stretching out the 'outro', me and Shing are back! It's a good feeling. We have another great moment firing out triplets (musically speaking) discreetly at each other in Every Now And Then. Nobody in the crowd would probably notice but Naz does and chuckles. Toby and me get a right old 'gurn' going on during Saturday Night and I love nothing better than charging at his drum riser during the last chorus and jumping up and doing a robot dance with a silly face on. I also make a bit of a tit of myself dancing next to Tim, Rhianna and Bobby. Happy days!
9:25pm: The gig finished at 7pm. It was a good gig in the end thanks to the crowd who stayed and the rain did actually stop shortly before our set began. "Nobody died" as many workers in the world of rock 'n' roll are fond of saying, although I may be a bit premature saying that. I will leave you now with this scene of me hanging off the back of a speeding golf buggy (seats are taken up with equipment and suitcases and my friend Shazad) as it is being driven back and forth around the park in the pitch darkness with no lights. Our driver thinks she knows the route to Chelsea gate but after many wrong turns and lots of confused consulting of a worn out map, I've got a feeling that Brighton is a long, long way away. Ciao.