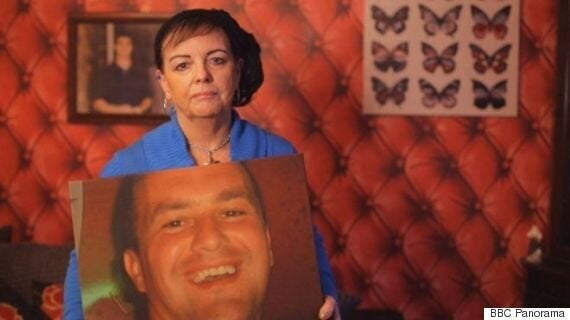 In a busy pub a man is brutally murdered. The killer doesn't feel the need to hide his face. What does the silence of witnesses mean for a community struggling with gang violence?
"That coward has got away with killing Lee with no balaclava on in front of 30 people. It's like the murder never really happened, and that's sad."
Patricia Erdmann sits in a living room that is a shrine to her dead son Lee. Pictures of the 37-year-old on holiday, at weddings and with his five children are everywhere. She has an engraved marble memorial to him by her bed. Patricia admits to crying herself to sleep some nights.
Lee was drinking in The Wellington pub on Regent Road in Salford, Greater Manchester, in the early hours of Saturday 10 September 2011. He had been laughing and joking with a man at the bar and got up to go to the toilet. The same man shot him in the back when it was turned.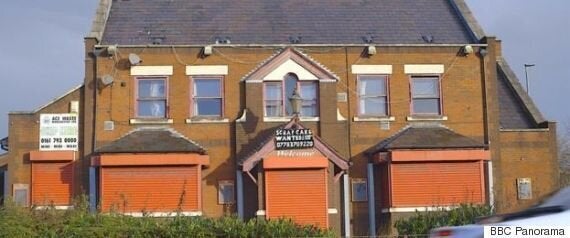 The Wellington pub where Lee was murdered
"The bullet went straight through Lee's heart and he just fell to the floor and then he went up to him and shot him in the chest again," says Patricia.
"Then he just stamped constantly all over his face. After he'd shot Lee he just threatened everybody in the pub." The killer is thought to have stolen CCTV footage and left.
Patricia says her son "wasn't an angel" but that he was not in a gang. Police sources told Panorama that he fell out with a man who was.
Even though the police have asked repeatedly for witness to come forward and interviewed hundreds of people, as well as putting the case on Crimewatch, no-one has been willing to stand up in court as a witness.
The murder remains unsolved. Patricia says she knows people are scared of revenge attacks but is desperate for someone to speak out.
"There's 30 people in that pub, even mothers. How would they feel?" She says "everybody in Salford" knows who killed Lee. But the police don't have enough evidence to charge anyone.
Former Detective Chief Superintendent Don Brown, who ran Project Gulf - an intelligence-sharing project aimed at taking down organised criminal gangs - says there is an ingrained wall of silence in places like Salford. "There was a time when a van actually drove around Salford saying 'Grassing is harmful to your health'."
The coroner in the Lee Erdmann case, Jennifer Leeming, criticised the lack of co-operation from witnesses as she recorded a verdict of unlawful killing. ''Lots of people know what happened and who was responsible but those people are not giving evidence because they are frightened."
Nazir Afzal, the former chief crown prosecutor for the North West of England, says that the fact nobody has been brought to justice sends a dangerous message to others.
"The impression will be that people are above the law," he says. "Clearly some individuals will feel that they can get away with murder."
But Lee Erdmann's isn't the only unsolved gangland murder in Salford.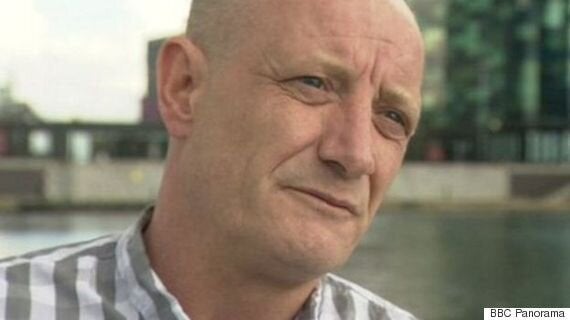 Paul Massey was shot outside his home
Last July Paul Massey, a man labelled Salford's "Mr Big" was shot on the driveway of his home, with a machine gun, in broad daylight. Massey had been sentenced to 14 years in prison in the 1990s for stabbing a man. But he claimed to have renounced his gangster past and in 2012 ran for mayor of Salford receiving a small but significant 2,000 votes.
In a BBC documentary that was never broadcast, Massey predicted his own death and said he "he pitied the person who did it" because of what his friends would do.
Paul Ferris was one of those friends - a convicted gunrunner from Glasgow who now writes books about his criminal past. "It's a never-ending cycle and it's a cycle that can only be broken when there's enough bloodletting," he says.
Ferris says he won't cooperate with the police. "The people that we were involved with don't engage with the authorities. We're not there to help them solve crimes - that's their job."
Despite this, Ferris says even if the police do their job it won't stop "street justice" being served. "If the police found the person who did it, they've got to survive prison, and there are a lot of friends of Paul's who are still in prison."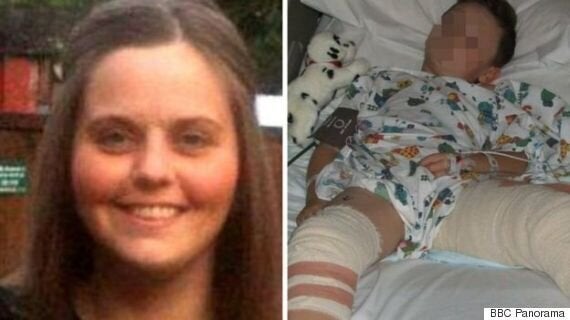 Jayne Hickey and her son Christian were shot when two men knocked on their Salford front door
Police have asked for help in solving the Massey murder - again describing a "wall of silence" stopping people coming forward with evidence.
So far they have not charged anyone and in October, in a shooting linked to the murder, gunmen turned up at the home of a man called Christian Hickey.
Police believe that he was the intended target but instead, at close range, they shot and injured his seven-year-old son Christian Jr and his wife Jayne.
It was an appalling incident even in Salford's long history of gang violence.
"For me it crossed a line," says Greater Manchester Police Assistant Chief Constable Rebekah Sutcliffe. "Even [for] those people who do have a distrust of policing or haven't had a positive relationship with policing in the past... that line has been crossed. Come forward and tell us what you know about what's happened."
For some in Salford though it's more complicated than simply "tell us what you know".
Having spent time in prison himself in his teens and early 20s, Graham Cooper now works with young people in Salford, showing them an alternative to gangs and guns.
He dismisses the claim there is a wall of silence in Salford. Rather, people are conscious of the risk of retribution and know the police have lots of different ways of catching criminals that can be just as effective.
He says that constantly criticising the community won't encourage people to come forward, and that everyone is shocked and angered that a seven-year-old has been involved in the violence.
In a Christmas letter, seven-year-old Christian Hickey asked Santa to help the police catch the men who hurt him. So far the police have been unsuccessful. They're still asking for witnesses.
Subscribe to the BBC News Magazine's email newsletter to get articles sent to your inbox.
Watch Catrin Nye's Panorama report Guns, Gangs and the Police on BBC One on Monday 8 February at 20:30. You can catch up via iPlayer.