ICW - Insane Championship Wrestling - has been relentlessly gifting fans with announcement after blessed announcement. Having already announced the Fear & Loathing X will be taking place on 19 November (tickets here), we have had news that in addition to their February and March tour dates (details and tickets here) there will be April and May dates too, calling at Bournemouth, Birmingham, Glasgow, Leicester, Cardiff and a London show at the Islington Assembly Hall on 14 May (details below). Before all of that, the company holds its 6th Annual 'Square Go' - which takes place 5 February at the O2 Academy Newcastle. Like a Royal Rumble on speed, the Square Go will likely be a brutal and impassioned affair. Not only that, two of the alumni of the recent WWE UK Championship Tournament - Wolfgang and Trent Seven - will go toe-to-toe again for ICW in a World Heavyweight Championship match. The event, billed as ICW's biggest ever outside Scotland will see 30 men compete to be the number one contender.
One man already announced for the Square Go is Lionheart. A ferocious competitor, Lionheart is a veteran of the UK scene. He's wrestled matches for WWE, TNA and more. He's competed for the Ring of Honor World Championship. Having been warned that he might never wrestle again after a career threatening injury, this man showed the real heart of a lion and returned only a short time later, stronger than ever. In a rare interview, we got to speak to the man himself to find out a little more about what drives Lionheart. Make sure to get to an ICW event to see him live or catch him on-demand before he's snapped up...
How do you value your relationship with ICW?
I value it very highly. ICW give us the opportunity to do things a little bit differently than we would with other companies. Obviously we work for a lot of different independent companies and that's great, we love it, it's fun but ICW gives us that opportunity to be exposed to a much wider more mainstream audience. Not only that but because of the nature of the product - the over-18 market - there's a lot more emotionally invested and it's a lot more fun for us. So they give us some pretty cool experiences to be honest with you. I nearly threw Sha Samuels down a bowling lane tonight, it's was nice little addition to the match -doesn't happen all the time - but if the crowds having fun, we're having fun.
You've been wrestling for some time, what's the current position for Lionheart?
I've been wrestling now for about 13 or 14 years. With me right now, the crowd gets on my case and calls me a "fanny". So we have this "Lionheart is a fanny" chant which seems to be going down as a popular theme song choice for the live crowd - and that's great. It's a great interaction for me. It allows me to have more fun and do my job a bit better. My job at the moment is to be the biggest fanny I can be - and so far, so good!
Lots of ICW talent has been picked up by WWE - is that your goal?
Yeah. I honestly think that anyone who says that's not their goal, they should potentially reassess what it is they're looking to achieve. So that's always been the dream and always will be but for now, until such time as that opportunity comes along, we're having a lot of fun doing this.
Who do you rate on the UK scene and who would you like to face that you haven't yet had the chance to?
Honestly, so many people. The UK Wrestling scene, for a while now has been the hottest bed of talent in the world of professional wrestling. I can honestly put my hands up and say I think we are the best in the world at what we do. I could literally stand here for hours rattling off names of guys but let's just say British wrestling's in a good place right now.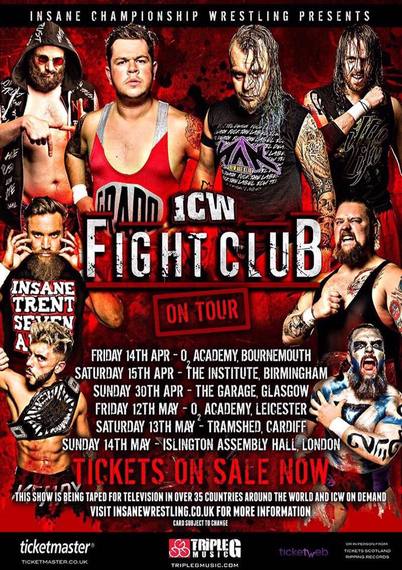 You wrestled AJ Styles and the match left you with a broken neck....
Yes, I wrestled him and a move went wrong. My fault. I moved my head the wrong way and broke my neck in two places. I was out for a year, came back and since had a re-match with him and that's the extent of my relationship with him. It's a non-issue. I'm doing well and glad to be back and doing this to be honest with you.
Who inspires you - who's your wrestling hero?
Initially it was the Rock. He was the reason I wanted to do this. Then once I become more of a fan and more involved with wrestling I appreciated the work of a lot of other guys - Chris Jericho is a big influence on me, Eddie Guerrero. Guys that are really good at what they do - like Shawn Michaels, Bret Hart, Kurt Angle... nowadays I take a lot of motivation from the British guys because they're achieving great things.
There are few more inspiring than Lionheart - make sure to follow him on Twitter and see him live at a show near you...