Traditionally the West Country and specifically Plymouth wouldn't be the first place that came to mind when thinking about wrestling. London sure, Glasgow - well who hasn't heard of ICW? Maybe Preston in the North or IPW in Kent but Plymouth? Well be prepared to have your frame of reference changed for good because slowly but surely over some seven years the little known Plymouth Wrestling Association (PWA) has been building a reputation and a roster and it looks like it's about to hit it big.
The markers of PWA's impact have been promising. Earlier this year, for the first time WWE's NXT brand made its way to Plymouth, in what was a debut outing for the company. They sold out in around an hour and that momentum is something on which PWA is keen to build.
PWA's mission as the company sees it is to provide "world-class local professional wrestling". As it was put it to us, the company's crew "bring in the best talent we can" and have the passion and desire to build the company into the West Country equivalent of the independent trendsetters Progress, PCW or RevPro.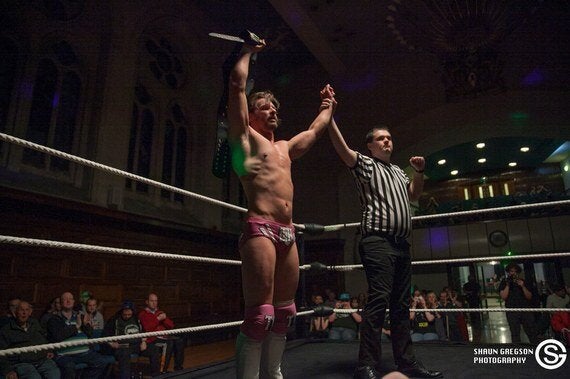 PWA's Got Talent: Tyler Hawke with the Belt
PWA aren't joking when they refer to the "best talent" they wish to secure. In April, the company hosted none other than Royal Ramblings favourite Drew Galloway defending his TNA World Title on their anniversary show. PWA see the use of British, above imported talent as a key selling point. With their biggest show to date, "Heat Wave" taking place on Sunday 31 July at the Plymouth School of Creative Arts, the company is trying to set another high bar in that regard. Two of the biggest UK stars will be there to entertain in the title bout, namely Tyler Hawke and Eddie Ryan. Chuck Cyrus of TNA British Boot Camp 2 fame will be in town as well as Kelly Sixx and a returning Chris Andrews.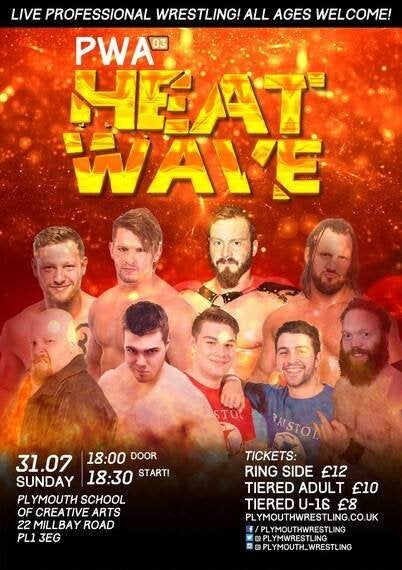 A quick scroll through PWA's previous roster pickings shows that the company has used the best of the British scene. From El Ligero and Martin Kirby to Dave Mastiff and Joel Redman there is clearly an interest from top talent in the goings on in Plymouth. At a previous event Jinny and Pollyanna went at it and hopefully PWA's women's roster will also be developing as the promotion grows.
PWA's Adam Sibley explained a little to us about the promotion's approach to their shows. "We have been running regular shows for seven years now, most recently on a monthly basis or so. There are two key parts to each event, the first is booking the best talent around and the second is the storyline elements that build and evolve each time. Similar to WWE's lead-up to Wrestlemania, a lot of our storylines build towards and culminate with our anniversary shows each April. We have recently moved to a new venue in Plymouth called the Plymouth School of Creative Arts and this Sunday's show (which will be our third at the venue) looks set to be our biggest and best yet".
Questioned on why people should visit the South, Sibley continued "People should come south to see our shows as we showcase the best of local talent that you might not see performing anywhere outside of the South West at the moment, so there are some real hidden gems". "We also pride ourselves on only booking the best talent we can find so each card is stacked from top to bottom with brilliant wrestling. On top of this our new venue is very new and state of the art and is a great venue for wrestling".
It's clear that Sibley and PWA as a whole are passionate about their promotion. Sibley concluded that: "PWA wants to put Plymouth on the wrestling map. We are run by fans of wrestling, so we want to give the people of Plymouth and further afield a top class promotion that is known for delivering great matches every time they put on a show".
Local fans should already know of PWA which is involved in the community and has benefitted from local council funding (not to mention crowd-funding!). If not, its time to get to know it. There are still a few tickets left for Plymouth Wrestling Association's "Heat Wave" on 31 July at 1830. Make sure to check the Facebook page for details or get tickets from the PWA website with tickets starting from as little as £8!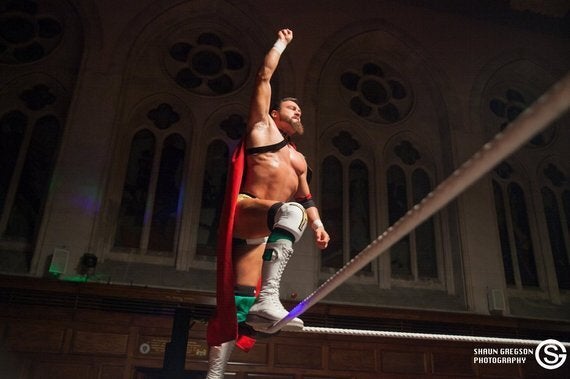 Eddie Ryan - Will his hand be raised on 31 July?