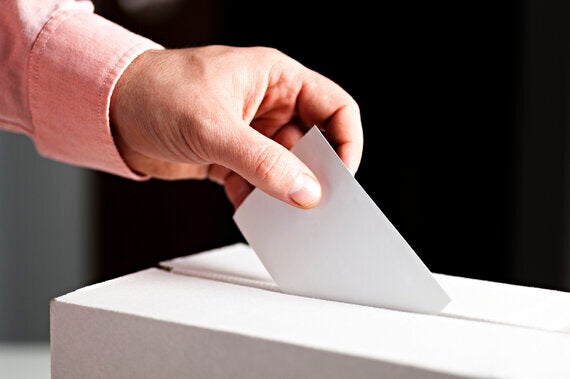 We find ourselves mere weeks from the General Election in May, and yet the policies that will form the blueprint for higher education remain murky and confused.
The importance of higher education is clearly recognised by all the major parties. This is not surprising given the recent figures published by Universities UK which showed that it contributed £73billion to the UK economy in 2011-12 (the latest figures).
Higher education is about more than these key figures though. Yes - it is a vital part of our aspiration to be leading the new knowledge based economy, but it also provides a transformational experience for individuals. The numbers seeking higher education are increasing and applications topped 500,000 for the first time this year. The need for people to develop new skills as the pace of change increases is also growing, with masters degree provision becoming a new area of focus for example.
The question then becomes - how do we support these additional demands on education by individuals and employers, whilst also ensuring we maintain what is recognised as one of the world's leading higher education sectors in an increasingly competitive market?
The diversity of the sector is a key asset, but there are some common questions that need to be addressed.
How do we allow more students to access undergraduate and postgraduate education and maintain the level of resource required to teach - especially in high costs subjects such as science and engineering?
How do we continue to support the expansion of higher education in an affordable way? We have not yet made the impact we would like on social mobility and once you reach masters level the contrasting engagement by different parts of society become even starker.
How do we ensure we can continue to fund world leading and internationally recognised research wherever it is found given the higher levels of investment by competitor countries?
As I write this article, Labour has still not fully clarified its policy on tuition fees and explained how it will fund its ambition to cut the fees cap from £9,000 to £6,000 and make up the lost revenue. Some observers have even claimed that the party is being deliberately vague, as explaining the plan before the election might even drive voters from the party if they can't explain in a feasible way how the gap can be closed in a time of austerity.
The other two major parties are similarly tight lipped about if they will maintain the current funding structure or increase/decrease the fee ceiling. Even at £9,000 the current loan system is now estimated to be at a point where 40% will not be paid back - the threshold at which it becomes more expensive to the state than the old system.
Finally we have the Liberal Democrats who, by any estimation, erred badly when they reneged on their promise over tuition fees following the general election in 2010. Nick Clegg has apologised several times for this killer blow to his party's credibility over education policy. He has not however, answered the question as to if he would commit again to scrapping the student charges of up to £9,000 which may be his only option for redemption in the eyes of younger voters or those who felt betrayed in 2010.
The Green Party is experiencing a groundswell of support at universities and has set out its policy statements on education, which include abolishing university fees. The party claims there would be no student loans as there would be no tuition fees and living costs would be met by student grants. While questions may be raised by some about the feasibility of this plan, there can be no doubt it has struck a chord among a large swathe of the electorate - possibly due to the lack of ambiguity. It is difficult though, to see how this can be delivered. There are only so many cuts that can be made to the defence budget!
The fee issue aside, as the Vice Chancellor of a university dedicated to addressing real world challenges, there are policies I believe the main parties should adopt in order to ensure that higher education remains the bedrock of our economy and relevant on the world stage. As yet, with the focus on £6,000 or £9,000 fees there has been little debate about the bigger picture, - i.e. the total unit of resource and the wider range of activity universities need to undertake.
For example, the political parties must see beyond the issue of student visas and immigration and think about what will be truly best for Britain. Teresa May's insistence on repeatedly attempting to force graduating international students back to their own countries is eroding this country's reputation - possibly irrevocably. The situation has become so bad that at the end of January a cross-party group of MPs has submitted an early-day motion to get international students removed from the UK's net migration target. It should be the proverbial no-brainer as even the vast majority of the public in a recent poll said they were in favour of allowing international students to stay on and work after they finish their degree - so refusing to recognise the benefits international students bring is hardly a vote winner (apart from among a small minority). A clear policy stating that there will be an easing of restrictions on graduates working in the UK after finishing their course would assist not only our reputation, but in the long term further fuel our economic recovery.
At LSBU we work with employers to provide students with the skills industry and the economy need. With the focus on the state funding and individual contributions (loans system) there has been little consideration of the third key player - which is the employer. Are there ways to engage them in funding the system? At LSBU 20% of our students are funded through employers - surely a model that could be considered further - especially at postgraduate level where 70% of our students are employer sponsored. In this regard there are some interesting points being made by labour that warrant further consideration if they can be used to build on what we currently have in place.
A commitment to increase the amount of GDP the UK spends on Research and Development will help the UK compete against countries such as Germany, France, Japan and South Korea which all invest a greater amount than Britain. Labour's shadow education minister Liam Byrne has said as much, and yet we still have not seen any commitment from any of the major parties in this regard. Whilst we are in a period of constraint the investment in universities research is what will help drive the future growth of the economy and business links - it is vital for the future that we seek to at least match some of our key competitors in terms of the level of investment. If there is additional funding available, surely this has to be a key area for investment?
Finally we are now moving to a point where education is compulsory to age 18 - should we not look holistically at pathway from school to further and higher education to determine relative areas of strength? Why for example do we insist on such a high level of examination at age 16 when we could look more creatively at a four-year qualification for those aged between 14 and 18? This would support development and prepare people for either work and apprenticeships or higher education. With the rapid growth in people now entering education with vocational awards we need to step back and try and simplify the system in a way that supports employers and young people in the early stages of their development and consider new ways higher education can work with employers on post-18 study pathways.
It's becoming apparent that the major parties may be dragging their feet despite growing pressure to reveal their higher education policies, which may suggest to the more cynical that they are worried early scrutiny may reveal gaping holes or risk tremendous backlash. Wherever the truth lies, let us hope that the wait will end soon. This is a precious and vial area of activity which deserves some big ideas - the sector is more than willing to engage in this vital debate.