Right this second all around the world, millions of children are in danger. Huge numbers of children are caught up in emergencies, like conflicts in Syria and South Sudan and natural disasters like Typhoon Haiyan in the Philippines.
Children have lost their families and friends, their homes and schools and for many, their childhoods, which could be gone forever.
In the Philippines 1.7million children were forced from their homes when the Typhoon swept through their communities. I saw myself how children's lives have been destroyed and how they are slowly recovering with the help of UNICEF. As a father, it was a moving experience and the memories of the children I met will stay with me for the rest of my life.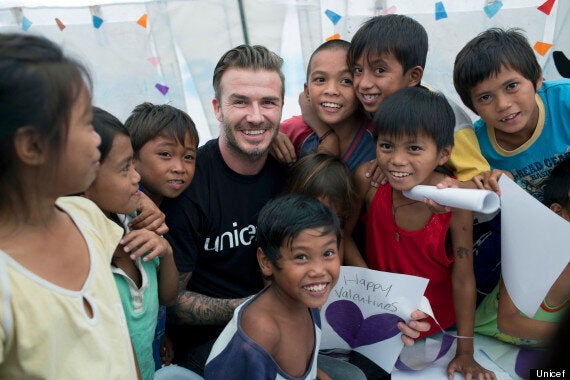 David in Tacloban last week with young victims of Typhoon Haiyan
Children in emergencies face the danger of violence, disease and being exploited. In Syria and nearby countries, hundreds of thousands of children are living a life of fear, scared for their lives and their families. Some 1.2million children are refugees and many have seen and experienced horrific things that will haunt them forever.
We all want the best for our children but sadly many parents around the world, who are living through conflicts and disasters, are unable to give their children the best. Instead they are forced to watch as they suffer, powerless to prevent it, which must break their hearts.
Every child deserves the right to be safe and protected. Children around the world need our help and they need it now.
I'm so proud to be a UNICEF Goodwill Ambassador. I've seen how UNICEF helps children - they save their lives and help them recover from crisis. In the Philippines I visited 'Child Friendly Spaces' where children are getting the chance to be young and play again. After the horrors they experienced they are now getting their childhoods back.
UNICEF is working round the clock to reach as many children as possible. To carry out their life-saving and life-changing work, UNICEF is today launching their Humanitarian Action for Children appeal to reach 59million children in desperate need of help.
The appeal will help treat children who are suffering from malnutrition and immunise children against killer diseases. It will help make sure families have clean water to drink and allow children to go to school and get an education.
Funds will also help children who have experienced and witnessed terrible and unthinkable things, to get the psychological support they need to recover.
As a parent, and as a human being, I can't stand by and watch children suffer. And I know you can't either.
Please get behind UNICEF and help make a difference to children's lives around the world - www.supportunicef.org