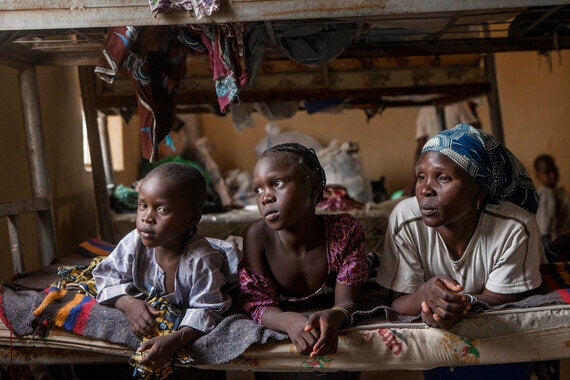 We are one year on since the tragic abduction of 276 girls in Chibok, north-eastern Nigeria. Can you imagine still not knowing if your daughter or sister is safe, looked after or even alive?
Last year's BringBackOurGirls movement captured the world's attention but, since then, scores of other girls and boys have gone missing - abducted, recruited by armed forces, forced to flee violence. There are now hundreds of thousands of children facing danger every day as a result of the escalating violence Since the conflict began, over 1.5 million people - including 800,000 children - have fled Boko Haram's brutal violence.
Across Nigeria, Cameroon, Chad and Niger, thousands of children have been victims of grave human rights violations. Many have been killed or subjected to unimaginable violence and abuse; children have been sexually abused or forced into marriage, many have been recruited as combatants and made to fight alongside armed groups. Most worryingly, children and young people have been deliberately targeted in attacks on schools, like in Chibok, often followed by mass abductions. There have been reports that children were forced to carry bombs strapped to their bodies, which were then detonated remotely in public places.
When the heartbreaking news broke last year that the Chibok girls had been taken, Unicef immediately condemned the abduction of the girls in the strongest possible terms, and called for their release. Since then, we have worked with other organisations on the ground to gather evidence on the grave violations committed against children, so that actions can be taken to hold perpetrators accountable.
It's plain to see that these children - from the Chibok school girls to orphaned boys escaping into Chad - have one thing in common: they are all missing out on childhood, on life. Children are missing their education; children are missing their homes and families; and children are missing access to health care. They face danger every day and are deprived of their most fundamental rights.
We've stepped up our humanitarian assistance to the children and families who have been displaced by the crisis. We are providing clean water and life-saving health services, restoring access to education by creating temporary learning spaces, delivering therapeutic treatment to malnourished children and ensuring that they receive psychological support from trained personnel, in collaboration with other UN agencies, governmental authorities and local partners. Since the abduction of the girls, Unicef has trained professionals in counselling, who are themselves training 600 community volunteers on psychosocial interventions for children in the affected areas. In addition, the opening of two Unicef offices in the north-east of Nigeria, Bauchi and Maiduguri, will help us reach out to children more quickly and more directly.
Unicef is calling on all parties to give the highest priority to the protection of refugees, returnees, internally displaced persons and host communities. The large majority of displaced people are actually being hosted by communities with very limited resources rather than refugee camps, putting substantial pressure on those families and societies. Humanitarian aid agencies must be given unrestricted and safe access to affected areas to provide assistance to populations affected by the conflict -- especially children, who are the most vulnerable and in danger.
The shortfall of humanitarian funding remains a key challenge for us, along with the deterioration of the security situation. We are urging all international donors to ramp up their financial support for relief efforts in Nigeria and the neighbouring countries.