Ousman Konteh was born at home on 26 July - the day after the quarantine was declared on Massesebe Village, the centre of the latest Ebola outbreak in Sierra Leone's Tonkolili District.
"I had planned to go to the health centre to deliver, but then the barriers were put up around our home and we could not leave," said Rahmatou, Ousman's mother. "I was a little frightened because I have never given birth before. The day before I delivered my feet were hurting, and then the whole night my stomach was hurting, and by the time my husband's grandmother came, I had already delivered."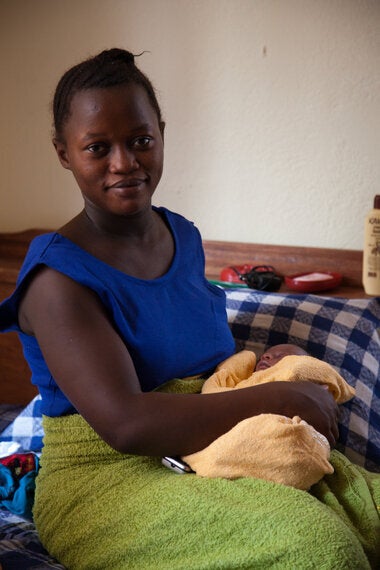 Rahmatou Sankoh with her eight day old baby, Ousman Konteh. Unicef/Kassaye
The 49 households that make up Massesebe were under lockdown after a man who had travelled to the village from Freetown for the Eid celebrations, died of Ebola. This was the first Ebola case in Tonkolili District in five months. 498 people, including 101 children under five, were quarantined in the village and two people confirmed as being Ebola positive.
Given the vulnerability of newborns, Rahmatou and her husband Mohammed spoke with a team of Unicef supported psychosocial counsellors. The parents agreed that mother and child should move to the nearby Observational Interim Care Centre where children are cared for in a child-friendly environment by trained Ebola survivors who do not run the risk of contracting or transmitting the virus.
"I was not feeling good about being in quarantine after I gave birth because everyone was coming, touching the baby, and touching me," said Rahmatou.
As the rest of her family watched, Rahmatou crossed the orange tape quarantine barrier and with the assistance of the gloved ambulance crew, entered the vehicle with her baby.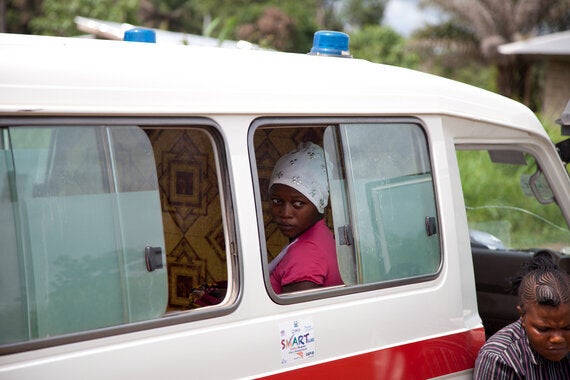 Rahmatou and Ousman wait in the ambulance before heading to the Observational Interim Care Centre. Unicef/Kassaye
Across the boundary, Mohammed and the rest of the family looked worried. Looking back at them from her seat in the ambulance, Rahmatou started to cry:
"When I was going into the ambulance I was thinking that I was already condemned to be an Ebola patient and I was not too sure that I was going to a safe place. Before, I had only seen sick people going into the ambulance."
Following the Ebola outbreak earlier in the year, a strong stigma developed around ambulances as they became associated with Ebola related deaths. Dispelling these fears is a major on-going effort as the country works to reach zero-cases.
Upon arrival at the care centre, Rahmatou was welcomed and registered by the centre's frontline staff - all of them Ebola survivors - and one of the centre's care-givers bathed Ousman and gave Rahmatou new clothing. A day later, Rahmatou had settled in, her initial fears allayed, despite missing her family.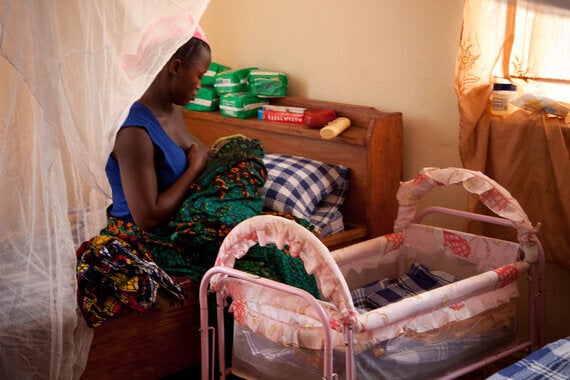 Rahmatou Sanko with her infant Ousman at the Unicef-supported Magburuka Observational Interim Care Centre. Unicef/Kassaye
As part of the psychosocial support provided to the community, Unicef staff members take photographs and short videos of separated family members to assure their loved ones that they are safe. Back in Massesebe, Mohammed was also missing his wife and son:
"At first, I didn't feel good about being separated from my wife and child, but after talking to her on the telephone and seeing the photographs of where she is, I am OK with them not being here because they are staying in a safe place."
The Tonkolili outbreak marked a set-back for nation-wide efforts to get Ebola cases down to zero. It came just on the back of a successful surge of Ebola prevention activities in northern districts dubbed Operation Northern Push, which suppressed a surge in cases there.
Unicef supported the response to this latest outbreak by providing water, sanitation and hygiene (WASH) supplies, by supporting social mobilization activities in Massesebe and the surrounding villages to ensure residents were fully informed and prepared to prevent further spread of the virus, and by providing support for counselling to minimize the stress and trauma of being in Ebola quarantine.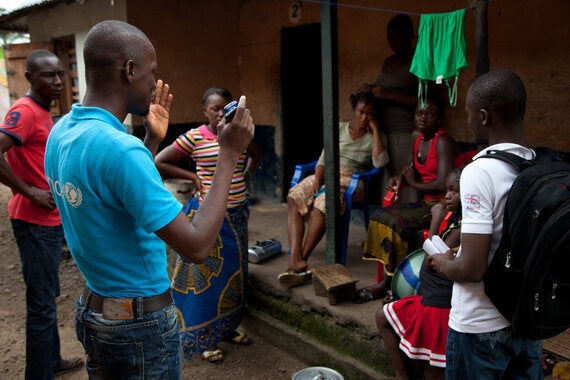 Unicef Field Support Officer Kassim and members of the Unicef-supported social mobilization teams going house-to-house speaking with community members in Tonkolili District about how to prevent the spread of the deadly virus. Unicef/Kassaye
The Massesebe quarantine has now been lifted for the majority of homes, with the whole village expected to be declared safe on 23 August. Rahmatou and her baby have been released from the Observational Interim Care Centre and returned home to their village. Unicef provided the family with a package - including mattresses, a crib, and hygiene material - to ease the transition.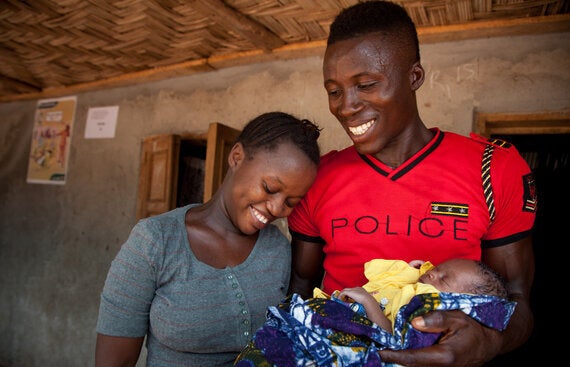 Rahmatou and her two week old baby Ousman are reunited with Ousman's father, Mohammed. Unicef/Kassaye
Rahmatou said she was happy to be out of quarantine. Her concern now is what the family will have to eat as the lockdown has meant that Mohammed was not able to go out to the farms. Mohammed said he was very happy to have his family back. His focus has turned to something familiar to every parent:
"My wish is for my child to be educated. He should not be like me. I am working hard so that my child can be educated and not have to drop out of school."
Unicef's response and ongoing efforts in Sierra Leone remain under-funded. You can donate to help the children affected by the Ebola crisis here
Unicef Sierra Leone thanks major partners DFID, OFDA, EU, IrishAid and Japan for supporting the response to the Ebola crisis