Six months since the latest conflict in Yemen began, more than 500 children have been killed and another 1.7million are now at risk of malnutrition.
That's the devastating news coming from our colleagues working inside Yemen, where the situation seems to be getting worse by the day. Across the country, nearly 10million children are in urgent need of humanitarian assistance.
Thousands have been forced out of their homes and familiar surroundings, deprived of safe places to play and friends to play with.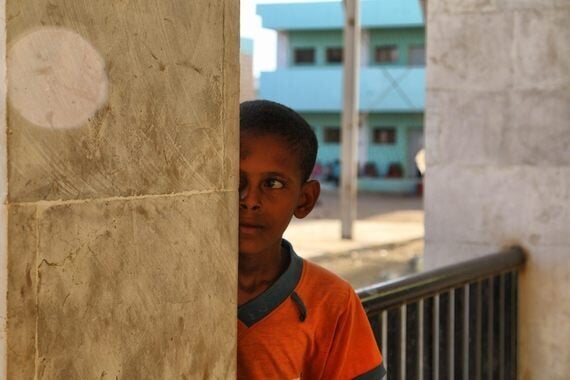 Abdulrahman Al-Omari, 12 years old, stands in a school where he is currently living after being forced to flee his home.
Abdulrahman Al-Omari, 12 years old, is one of these children. Recounting the day that he fled his home, he says:
"I still remember that day when the rocket shelling was heavy. My mother woke us up, pushed us out of the door, 'run run run' she said. We found ourselves here, in this school. I want to go back home, I want to be safe, I want to be with my friends, I want to have my life back. "
Lives of children like Abdulrahman are the norm. Attacks on civilians and infrastructure have become a common feature of the armed conflict in Yemen and children are getting caught in the middle. Schools, hospitals, roads and bridges have been damaged, and public services have collapsed. Supplies of food, fuel and medicines are critically low, and the lack of safe water and proper sanitation poses serious health risks to millions of people.
Just recently vital water supplies intended to reach people in the worst conflict-affected areas were destroyed after the bombing of a warehouse used for humanitarian supplies in Dhamar, south of Yemen's capital, Sana'a. In a country where water is already one of the most scarce resources this has had a seriously detrimental effect.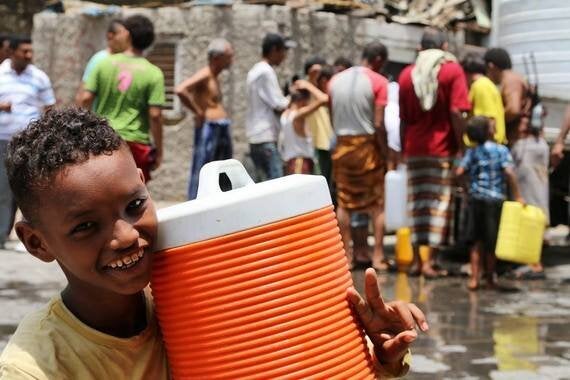 Fahmi Khaldon Omar, 10 years old, collects his families water supplies while others stand in a queue behind him.
20 million people are struggling to get water on a daily basis and there are often endless queues of people waiting for their daily supplies. Fahmi Khaldon Omar, 10, has just collected water for his family but it is clear that children are bearing the brunt of this crisis. Fahmi explained that:
"I haven't had a wash for a month. The bad water we used to get from dirty well made my little brother Hamada sick. We want to live like other children of the world. We deserve to be happy"
Yet the recruitment and use of children in the conflict has also sharply increased. In 2014, 156 children were confirmed to have been recruited and used in armed groups, while this year the number has already quadrupled to 606. This is unacceptable, every child has the right to a childhood and currently in Yemen this is simply not an option for many.
While it is clear that the children of Yemen are suffering and need urgent help, it is often easy to overlook this crisis amid ongoing conflicts in Syria and the current European refugee and migrant crisis which dominate headlines.
These children are no less worthy of our help though. Six months of conflict have exacerbated the problems that Yemen previously faced to a now critical stage and we urgently need to do something about it.
The good thing is that Unicef is one organisation that continues to work in Yemen and is committed to improving the lives of these children.
Since the beginning of the year we have provided over three million people with access to safe water and helped deliver measles and polio vaccinations to over five million children. In response to the nutrition crisis we have admitted 93,000 children under five with severe acute malnutrition to therapeutic care and given 1.2million children micronutrient interventions. Psychosocial support has also been high on our agenda, helping nearly 240,000 children to cope with the horrors of this conflict.
As we mark six months of conflict in Yemen, we must continue to call for all parties to respect the lives of civilians and children. We must continue to work to improve the lives of these children so that they can enjoy their childhood again.
Unicef's work in Yemen is drastically under-funded, lacking 67% of the funds that we need to keep these children safe. To continue our work supporting these children we need your help.
Popular in the Community