How to be a Vegan King or Queen in Japan
Being vegan is cool for the mind, body and spirit. But how practical is it when travelling to Japan?
Japan is the land of sushi and fish stock so at first vegans and vegetarians may be concerned. But there is no need to worry. Vegan food is known as Shojin Ryori - the food of the monks.
With a little research, it's possible to find restaurants and ryokans that will feed you sumptuously from Tokyo to Kyoto and even in remote ryokans in Shikoku.
Ryokans serve huge breakfasts and 5-10 course dinners so you will need only a light lunch if at all. It's not cheap, but the yen has devalued by over 40% in the last year so prices are similar to Central London or New York.
Japan is full of humble and helpful people eager to please, but try explaining by telephone or email that you are vegan and you are likely to hit a brick wall!
Having been vegan for 20 years I know that perseverance wins the day wherever I travel and help is always at hand.
My guardian angel came in the guise of the wonderful Tomoko Nel who is based in Guernsey. For a small fee, she translated my diet into Japanese and also telephoned and emailed the ryokans and hotels to firm up the details, charming the chefs and managers along the way.
Here are my highlights of two recent trips to Japan:
1) Bon restaurant Tokyo. All vegan. 5-8 courses.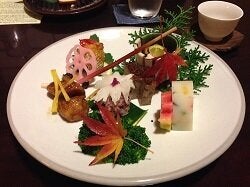 2) Gora Kadan, Hakone. Top hot water spa with fabulous vegan food on request in advance. Breakfast below (and lunch!)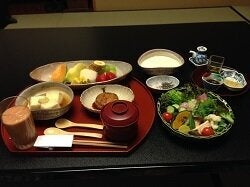 3) Arai Ryokan, Shuzenji. Natural hot water springs in beautiful place not far from Mount Fuji. Amazing Zen Vegan food on request in advance.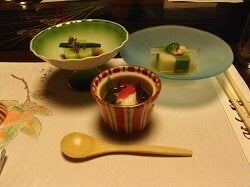 4) Tokyo Shiba Tofuya-Ukai. Under Tokyo tower upmarket vegan friendly restaurant famous for its tofu with beautiful surroundings of koi fish and japanese gardens. Book ahead.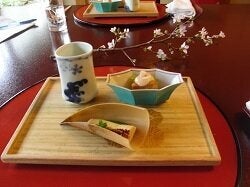 5) Yamatoya Besso Ryokan, Shikoku Island. Another hot water spa.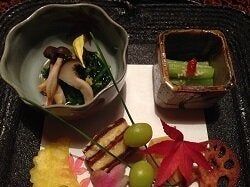 I also visited Koyasan, the resting place of Kobo Daishi, the famous monk. There are many monasteries to stay that prepare Shojin Ryori food.
Vegan heaven awaits in Japan. I guarantee you will experience the best vegan food in the world in Japan.
David Green has been vegan for 20 years and is author of The Invisible Hand, a book which explains how material and spiritual success are inextricably interlinked. It also includes how food and diet affects the mind.