History has shown that like oil, I do not mix well with water. I can take a bath solo, I'm referring to the blummin' great ocean; resting place of suffered shipwrecks and pirates, home to the 200-ton whale. The sea is to be seen and not underestimated or tampered with. It arouses a deep anxiety. We admire its beauty and breadth, but it is feared in equal measure. British novelist - and yachtsman - Hammond Innes wrote, "He who lets the sea lull him into a sense of security, is in very grave danger."
So there was windsurfing in Windermere; a brief outing which failed to produce any water-skimming due to lack of wind, the sports most vital ingredient; and telling a fib on the release form about my asthma, when scuba diving in Swanage, nearly resulted in death. I passed on scuba in Ko Tao - my lesson learnt in Swanage - and held the guide's hand when snorkelling with the lemon sharks and stingrays in Bora Bora. I'm no hydrophobic, but it's a well-understood fact to those who know me, that I'm best kept land-bound and dry.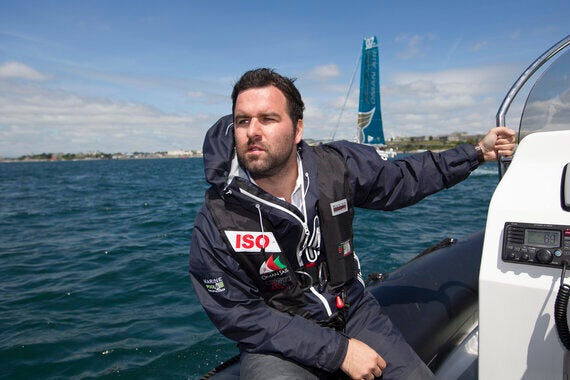 But while in Plymouth, a city with its own rich maritime history, I took to the waters again when it hosted the penultimate stopover of the inaugural La Route des Princes multihull race, giving visitors the chance to watch world-class 70ft yachts race. I boarded a catamaran and joined the crew of Oman Air-Musandam. The fact I had zero sailing experience or nautical knowledge didn't appear important.
Without armbands - and the lofty statue of Sir Francis Drake in the background - I figured this would be the turning-point, despite still being preoccupied by its dynamism and deadly capability, I would face the ocean.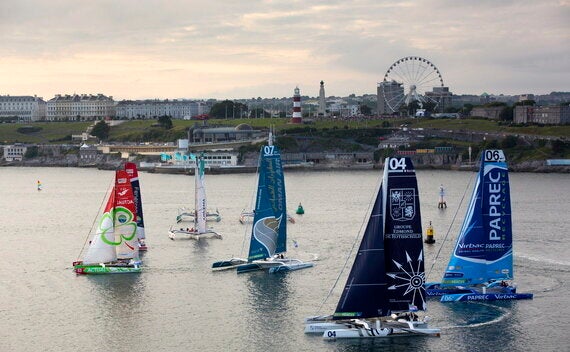 With 2,450 miles of offshore racing in all, linking Valencia to Roscoff on the Bay of Morlaix via Lisbon, Dun Laoghaire and Plymouth, each leg was carefully orchestrated to coincide with particular events. The three-day layover in Plymouth scheduled for late-June ran over Armed Forces Day and Plymouth's Festival of Sail. What use was it mounting one of these colossus catamarans without an audience?
The Oman Air-Musandam crew are the most international in the competition: French, English, Irish, Australian and Omani. The Skipper, Sidney Gavignet, has several world tours under his belt and is a former winner of the Volvo Ocean Race and the Rolex Sydney Hobart Yacht Race. The Sultan of Oman has pledged millions into rekindling Oman's maritime heritage while raising the country's regional and international profile. I'm fairly sure he has no idea of my participation, but Sidney seems to think it's all above board, and more importantly, that I won't drown.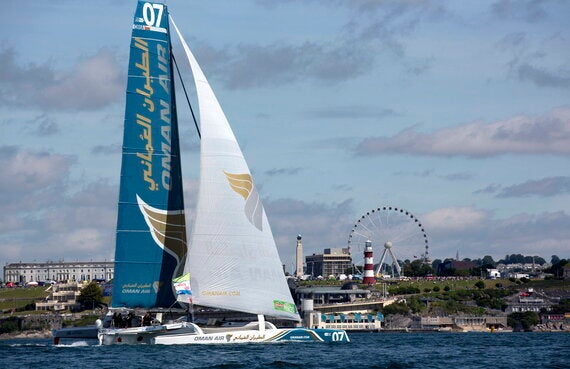 On a Saturday morning after coffee and fresh scones (it's Devon, so clotted cream first and then strawberry jam), I joined the crew for the morning races. I had sailed with the team the day before, but as a spectator only, dry-proofed and tucked away from harm. This time I'd be put to work. The eighth member nobody wanted.
I took grinding responsibilities, stationed near the boom. The grinding handle is a two-man synchronised pedlar that you manually (and frantically) cycle with your hands. The movements are similar to that of a boxing speed-bag, except you have added resistance and are required to cycle both forward and backwards.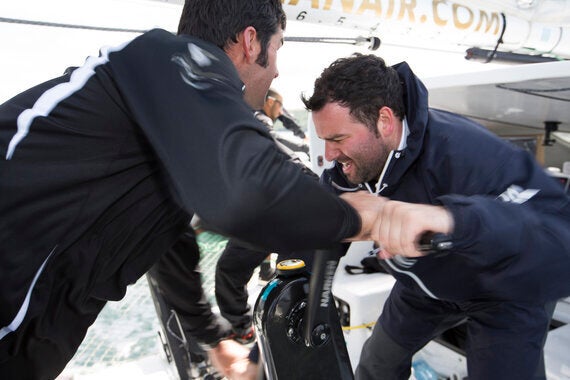 Arm and shoulder movements are fine at first and I participate as and when called upon. Gavignet calls commands against the wind from his captaincy chair, and each crew member reacts with immediate effect; this isn't just a race against our competitors, but nature too. There's a clunk from the pedlar with each change of direction. You have to be strong and in-sync with the other grinders. It requires a forceful burst of athleticism as well as endurance. After a matter of minutes, the flood gates open and my shoulders drop. Oxygen is thin and lactic acid spills through my muscles, turning my forearms to jelly.
From the Hoe around the harbour, the swell of the public looked out to sea, as my floppy limbs failed in their duties. I could see the red and white stripes of Smeaton's Tower and the 196ft wheel. Sea Cadets were performing drills and The Royal Marines Volunteer Cadet Band marched and beat drums.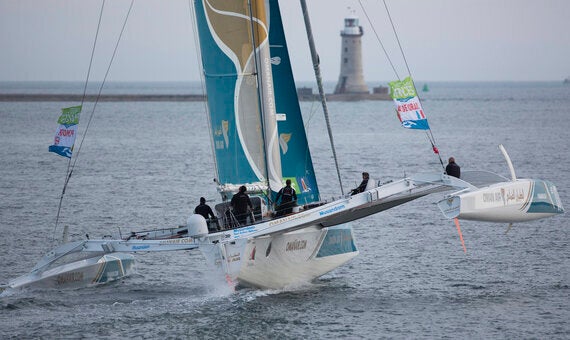 The boat skims the surface of the water at around 40 knots (about 46 miles per hour) and with each smooth turn raises its leeward daggerboard some 15 feet. The acceleration is remarkable. It almost reaches tipping-point, but each time manages to balance just perfect, reading the flow and break of each wave. Things don't always run smoothly though. Spindrift capsized in the waters off Dublin leaving a crew member with a fractured pelvis. Jacques Guichard was airlifted by helicopter to hospital while the boat was made secure. A clear sign of the potential dangers on these large multihulls.
And in May, the entire sailing and sporting world was shaken when during a routine training exercise with Oracle, for the 34th Americas Cup, British Olympic gold medalist Andrew Simpson was killed as his Artemis's AC72 capsized doing a bear-away -- a downwind turn away from the breeze -- and broke up. Simpson was trapped underwater beneath the wreckage for ten minutes, though it remains unclear whether he died by drowning or from another cause. Upon his victory with Oracle Team USA, Sir Ben Ainslie dedicated the win to his friend.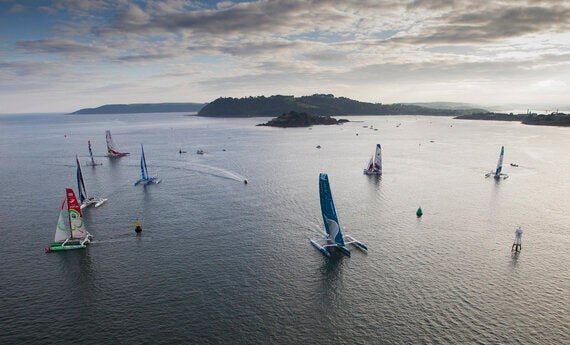 I hopped off later that day after several hours of inshore competition. The points showed an even score, neck-and-neck between Oman Air-Musandam and Edmond de Rothschild. This would go down to the wire.
After an exhilaratingly close contest in the final leg (Plymouth to Bay of Morlaix in Brittany), Oman Air-Musandam were pipped to the post by Edmond de Rothschild and Skipper Sébastien Josse, to finish second in the MOD70 class. After four legs and 3,045 nautical miles it came down to a matter of seconds.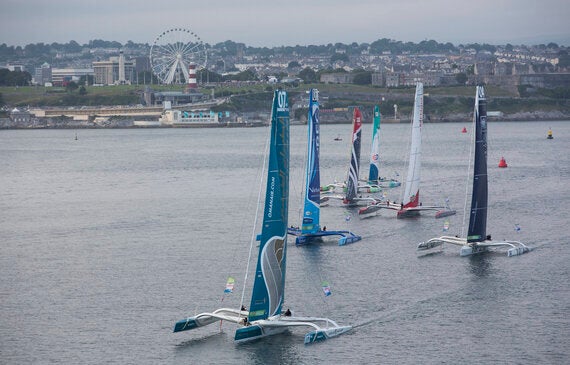 I feel a sense of responsibility. Maybe I could have helped to tip the odds, gone some way in securing the victory. I arrived fresh and ready for action; but these guys are super-fit nautical pros who have been out at sea for almost a month. I was not the Ainslie or Drake they hoped for. Less inspiring, simply tiring. Just a floppy-armed, wheezing Brit on sailing work experience. But I was given a rare insight into the expensive and dangerous world of multihull racing.
It's highly competitive, as expected, and centres around teamwork, communication and an understanding of your fellow crew members. You have to be fit, strong and have your wits about you. It's not all soft currents and beauty. Mother Nature exercises at sea, and She is never to be underestimated.
Overall Standings - MOD70 category:
1. Edmond de Rothschild; 167.5 pts
2. Oman Air-Musandam; 159 pts
4. VIRBAC-PAPREC 70; 128 pts
All photographs are copyright of © 2013 Mark Lloyd
Please help support the Andrew Simpson Sailing Foundation, who work to honour Andrew's life and legacy by encouraging youngsters into sailing and to enjoy the water as much as he did. Find out more atwww.andrewsimpsonsailing.org
Related