Beginning at Blanes, some seventy kilometres northeast of Barcelona, the varied coastline of the Costa Brava has long been a popular holiday destination.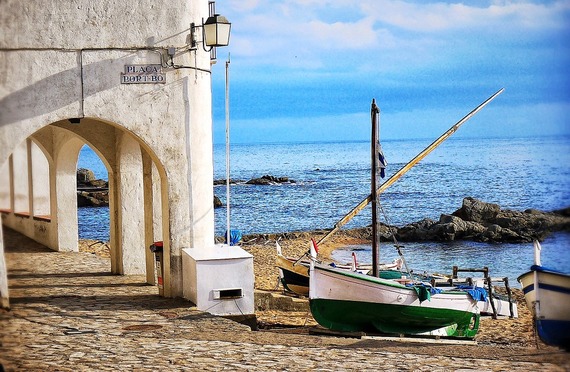 Calella de Palafrugell is one of the Costa Brava's treasures. Photo by Joaquin Aranoa (Public domain).
Sometimes associated with low-cost tourism, this coastline was popular with the 1950s Hollywood set - think Elizabeth Taylor, Kirk Douglas, Ava Gardner and Sophia Loren. And while Hollywood may now party elsewhere, much of the coast remains unspoiled.
It's true that doesn't apply to the entire Costa Brava. When package tourism first took off, some towns changed beyond all recognition as the construction of new hotels went unchecked and, for many people, the reputation of Lloret de Mar tarnished the entire Costa Brava. Whatever its reputation internationally though, locals have continued to enjoy the many unspoiled areas that still exist.
Why go to the Costa Brava?
Many people immediately think of beaches of golden sand, but that is only part of the story. The coastline is immensely varied and while there are several long stretches of sand, the coast gets its name from the rugged stretches of coastline full of small rocky coves.
But the Costa Brava is more than just beaches, sea and sailing. The area was settled first by the Greeks and then the Romans, leaving behind important archaeological sites. The area is also associated with art and music, with several important festivals over the summer.
And of course there is food and wine. While many restaurants offer the tourist staple of paella, Girona is home to El Cellar de Can Roca, currently considered third best restaurant in the world and previously Roses boasted Ferran Adria's ElBulli. Those two establishments alone have spawned restaurants up and down the coast run by disciples of both.
Beaches
While the Costa Brava's reputation was for some years sullied by Lloret de Mar, it is understandable why the resort became popular in the first place. It has great long sandy beaches with smaller beaches and coves close by and it's a shame development was allowed to go unchecked for so long. But just out of town, towards Blanes, you'll find the beach of Santa Cristina. It's a real gem.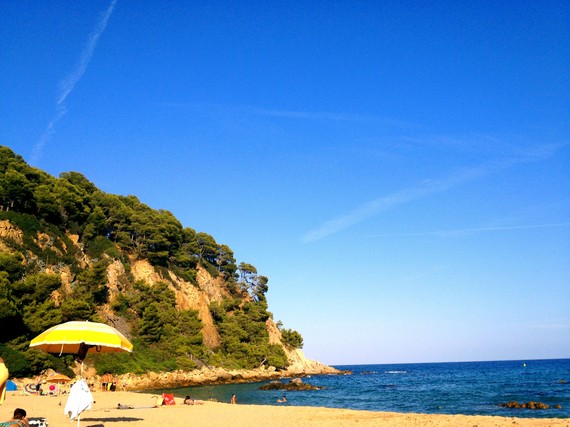 It's hard to believe the beach at Santa Cristina is next to Lloret. Photo by author.
The central Costa Brava consists mainly of the quintessential pine-covered cliffs over rocky coves and the small fishing towns in the area between Palafrugell and Begur are delightful. It's no wonder that in the 1950s Hollywood made the Costa Brava its home from home. There is even a statue of Ava Gardner within the castle walls at Tossa de Mar. She stayed in the town while filming Pandora and the Flying Dutchman with James Mason in 1951.
Cap de Creus and the very northern Costa Brava are starkly beautiful. The most famous town here is Cadaques, but Port de la Selva is also amazingly quiet, even in August. Weekends get busier as people head out of the cities, but during the week it is hard to believe it is high season. Further north is the even quieter Colera.
Culture
For music Cap Roig Festival attracts a mixture of local and international artists. The festival takes place throughout July and August with concerts in the botanical gardens of Cap Roig castle near Calella de Palafrugell.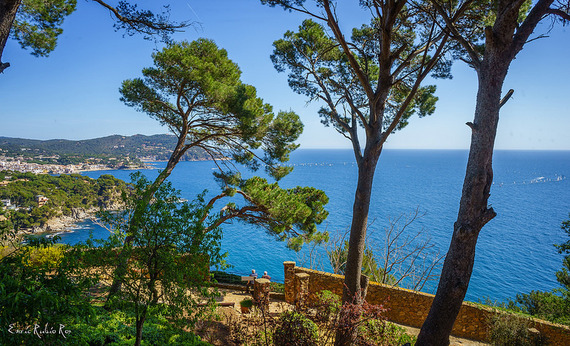 The view from the botanical gardens at Cap Roig. Photo by Enric Rubio Ros. Licenced under CC BY 2.0.
The other big summer festival is Porta Ferrada, held in the harbour area of Sant Feliu de Guixols. This year the festival includes Jamie Cullum and UB40 but there are three consecutive days given over to jazz, as well as dance and theatre.
Other towns also put on music over the summer months. Platja d'Aro has become known for its Nits de Jazz, an open air concert held on the beach every Friday night between the end of June until the beginning of September. You can also hear a variety of musical styles at Peralada Castle during its annual festival.
The Costa Brava is not just about music though. Salvador Dali is the best-known artist from the area and his three museums in Figueres, Portlligat and at Pubol Castle are definitely worth visiting. As well as viewing his more surreal works you can see how he developed over his lifetime. Portlligat is near Cadaques, which has a long association with artists. If you need an excuse, it's one way to combine the beach with culture!
And don't miss the Greco-Roman ruins at Empuries or the various medieval towns found throughout the area, including Tossa de Mar's old town and it's castle.
Gastronomy
ElBulli may be no longer but its influence is still felt throughout Catalonia. El Cellar de Can Roca in Girona has twice been ranked as the world's best and disciples of the Roca brothers have made their presence felt too. Serious foodies with deep pockets should book well in advance but if your budget is more modest then head for Maran on Gran Via de Jaume I. Their take on some classic tapas dishes are extraordinary.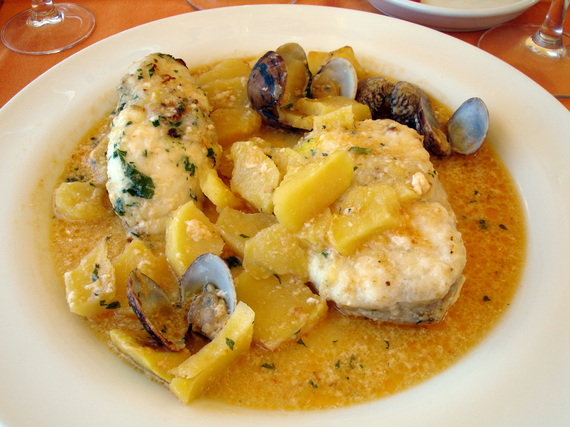 Tossa de Mar's culinary speciality is a fish stew called cim i tomba. Photo by Mauricio. Licenced under CC BY 2.0.
Back on the coast though, Els Brancs is the only Michelin-starred restaurant in Roses since Adria closed the doors to ElBulli. Adria's influence reaches to Blanes, where Sa Lola is run by his disciples.
But the Costa Brava is much more than haute cuisine. Many restaurants specialise in cuina casolana, or good old home-style cooking. Some highlights away from the coast are Mas Pou in Palau-Sator and El Trull d'en Francesc in Boadella. At both you'll find Catalan staples such as botifarras (a type of Catalan sausage spiced with pepper) served with white beans. You'll also find pig's trotters and veal cheeks. For seafood try La Taverna de la Mar, right on the beachfront at S'Agaro, or the restaurant at Hostal Sa Rascassa overlooking the sea at Begur's Cala d'Aiguafreda.
Food is much more seasonal throughout much of the Mediterranean and the Costa Brava is no exception. Many towns have festivals celebrating ingredients such as mushrooms (Llagostera), prawns (Palamos), anchovies (L'Escala) or sea urchins (Sant Feliu de Guixols). Many restaurants in Tossa de Mar serve cim i tomba, a fisherman's stew that originates from the town made from fish, onion, potatoes and garlic, while Blanes celebrates its suquet, another fish stew.
So while Lloret de Mar continues to be the Costa Brava's party central, it is hardly typical. For anyone wanting to combine a relaxing beach holiday, good food and drink with some great live music, the Costa Brava is hard to beat. And from the UK it is easily accessible.
David Leigh writes about Catalonia's northern stretch of coast at Costa Brava Lifestyle.
This post has been published on HuffPost's blogging platform. The views and opinions expressed in this blog are those of the author and should not be taken as those of HuffPost. HuffPost does not allow bloggers to acquire products, access or accommodation for review in the site's name.