On Wednesday FC Barcelona confirmed the 2016 Joan Gamper Trophy will be played on 10th August against Italian club Sampdoria.
As usual this annual competition is to be played at Barça's Camp Nou stadium and although the match isn't the most important in Barcelona's calendar, it does give supporters a chance to see the players before the real work gets underway.
But what is the Gamper Trophy and why is it played? This article takes a look at the history behind this annual summer fixture.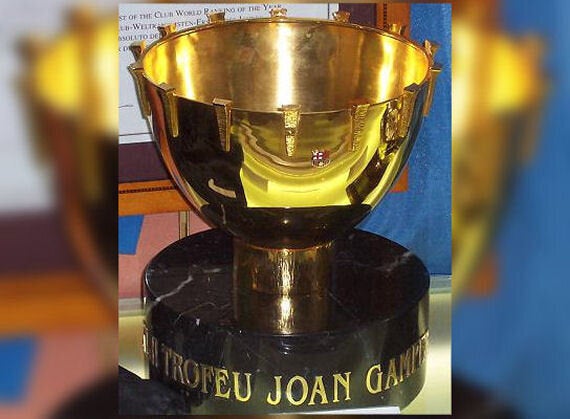 Hans Gamper
In 1898 Swiss national Hans Gamper visited his uncle in Barcelona while on his way to Africa. He fell in love with the city and rather than continue his journey, Gamper decided to stay.
A keen sportsman who had played for FC Basel and FC Zurich, of which he was a founder, Gamper helped publish sports magazine Los Deportes in Barcelona. In 1899 he placed an ad in the magazine asking for football lovers to contact him as he wanted to be able to organise some matches in Barcelona.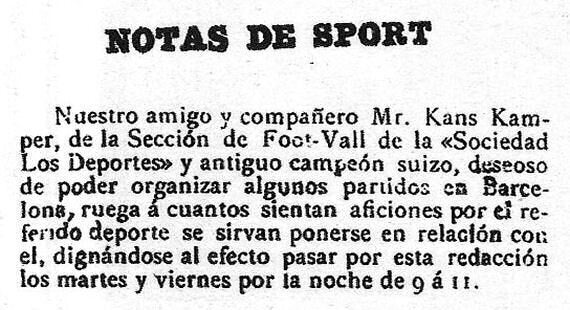 Joan Gamper's ad in Los Deportes
Note that his name is given as Kans Kamper in the ad. While the H in his first name would be silent in Spanish, it is unclear why he also changed his surname. He later adopted a Catalan first name and became Joan Gamper, the name by which he is remembered today.
Founding FC Barcelona
A number of players contacted Gamper as a result of his ad and Football Club Barcelona was born in 1899.
Initially Gamper was a board member and player. After all, he was just 22 years old and just wanted to play football. Between 1899 and 1903 he played 48 matches for the club and scored more than a hundred goals.
But by 1908 the club was on the verge of extinction. Poor performance because the retirement of key players resulted in little success, and that meant finances suffered.
To deal with the crisis Gamper became president, a position he held on various occasions until 1925. Until then Barça had played at a variety of grounds. But Gamper successfully approached local businesses to fund a home stadium and began a recruitment drive to increase membership.
In 1909 the club moved into its own stadium, with a total capacity of 6,000. But by 1922 membership had swollen to 10,000 and the club moved to a new stadium at Les Corts with 20,000 capacity.
Sadly his last term as president was marred by controversy. At a match in 1925 Barça fans jeered the Spanish National Anthem, something still done today by large sections of the crowd. They then cheered the British national anthem.
Spain was then under the dictatorship of Primo de Rivera, who accused Gamper of promoting Catalan nationalism. He removed him as club president, expelled him from Spain and shut the stadium for six months. Although Gamper eventually returned to Barcelona he ended his life in 1930 after suffering depression.
The Joan Gamper Trophy
In 1966 club president Enric Llaudet decided to honour FC Barcelona's founding father by creating a pre-season tournament and so the Trofeu Joan Gamper (to give it its Catalan title) was inaugurated.
Between 1966 and 1996 the Gamper Trophy consisted of a series of matches played between FC Barcelona and three invited teams. Originally the tournament consisted of two semi-finals, a third-place play-off and the final.
However, that was reduced to a single match in 1997 because of the increased number of matches and shorter close season.
As you might expect, FC Barcelona has dominated throughout the lifetime of the Gamper Trophy, but prior to 1997 sometimes failed to make the final. On six occasions in those 31 years they came third. Since the competition was reduced to a single match FC Barcelona has lost on three occasions.