While Barcelona is perhaps most associated with architecture, football and warm weather, as one of the hippest cities in Europe it is also a great destination for live music.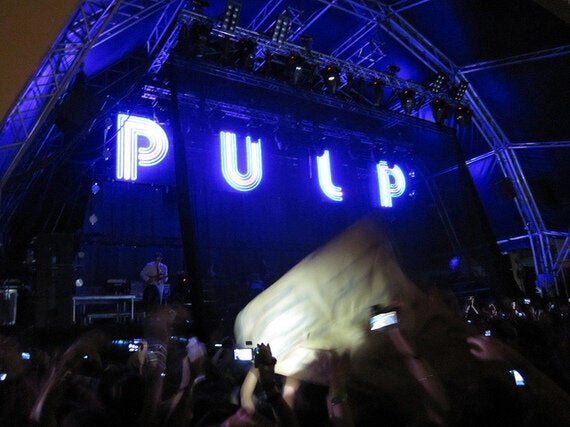 Major artists such as Coldplay, Adele and Beyoncé often play at one of the two big venues at Montjuïc, Palau Sant Jordi and Estadi Olímpic. Some of the biggest names in rock have played to capacity crowds at FC Barcelona's Camp Nou stadium.
And indie bands often play gigs at smaller venues like Bikini, Razzmatazz or Sant Jordi Club. Remember when Arctic Monkeys started out? In those days a sell out concert meant Razzmatazz 1 with its maximum capacity of 2,000. But as well as regular gigs, Barcelona also stages a number of major music festivals.
Primavera Sound Festival
Probably the best known festival in Barcelona is Primavera Sound, which started out quite modestly but by 2015 attracted an audience of 190,000.
Taking place in late May or early June, the festival features a mixture of artists and music styles. Artists with long careers such as Neil Young and Iggy Pop have played Primavera in the past. But so have indie bands such as Pulp, Radiohead, Franz Ferdinand and, in 2016, The Last Shadow Puppets, Alex Turner's side project with Miles Kane.
The festival takes place at the Parc del Fòrum, where it moved in 2005 after outgrowing the Poble Espanyol. This move was important for the festival as it was only after relocating to the larger venue that Primavera Sound Festival really gained traction internationally.
For the last few years the festival has featured stages at venues across Barcelona in addition to the main stages at the Parc del Fòrum.
Sónar
Founded in 1994 as the Festival of Advanced Music and Multimedia Art, Sónar takes place each June with the focus on electronic music and in recent years has attracted an audience of 120,000.
The festival is slpit into Sónar by Day, which in recent years has taken place at the Fira Montjuïc near Plaça Espanya and also includes screenings; and Sónar by Night at Fira Gran Via area in L'Hospitalet de Llobregat. Some of the artists who have performed at Sónar over the years include German electronic music pioneers Kraftwerk, Pet Shop Boys, Grace Jones and Chemical Brothers.
Cruïlla
Reaching an audience of 46,000 in 2015, the Barcelona's Cruïlla Festival features an eclectic mix of musical styles. Cruïlla is the Catalan word for crossroads and symbolises the meeting point of all types of music.
Originally taking place at Mataró, the festival moved to Barcelona in 2008 and has grown from strength to strength ever since. Past bands have included Asian Dub Foundation, Public Enemy, Iggy & The Stooges, Billy Bragg, Morcheeba, Damon Albarn, Franz Ferdinand & Sparks and Led Zep legend Robert Plant with his current band, the Sensational Space Shifters.
Barcelona International Jazz Festival
Each autumn sees Barcelona's International Jazz Festival take place over a two month period with concerts at a number of venues. Dating back to 1966, when the Dave Brubeck Quartet played, the festival has featured such jazz legends as Duke Ellington, Count Basie and Miles Davis. More recently it has also featured crossover artists like Jamie Cullum.
Since being established the festival has taken place annually except for a three year period in the late 1970s and since 2002 has been sponsored by Barcelona brewery Voll-Damm.
The 48th Barcelona International Jazz Festival in 2016 marks half a century since that first festival and although the program has not yet been announced, it should feature a variety of concerts and other events such as Jazz & Food.
La Mercè and BAM
Every year in late September the centre of Barcelona is taken over by La Mercè, a festival in honour of one of the city's two patron saints. The catholic feast of Our Lady of Mercy (La Mare de Déu de la Mercè in Catalan) is celebrated on 24th September but in Barcelona the revelry takes place over a week.
Traditional daytime activities include processions featuring papier maché giants, bands playing traditional Catalan instruments and displays of human towers that have to be seen to be believed.
But at night there are concerts staged around the city as part of Barcelona Acció Musical, or BAM. The festival dates back to 1993 and although it doesn't tend to attract big international names it includes emerging acts from Catalonia and the rest of the world performing dance music, electro, rock and pop.
Other events in Barcelona
There are a number of other events where you can listen to live music in Barcelona over the summer, although these tend to be local acts. Poble Espanyol hosts summer concerts, sometimes with big name artists.
The Festa Major de Gràcia is one huge outdoor party that takes place in mid-August. Among the events that take place over several days and nights you'll have the chance to hear local bands. Festa Major de Sants is similar and the whole neighbourhood is taken during the event toward the end of August.
Popular in the Community