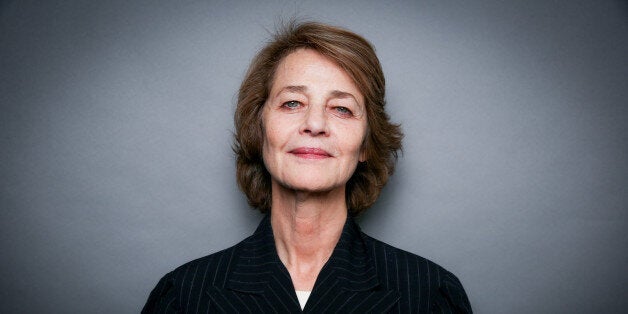 "The truth is we ain't in those rooms and until minorities are, the Oscar nominees will remain lily white." Spike Lee
Charlotte Rampling has spoken on the "lily white" Oscars episode - the outrage linked to the absence of any African American nominees in this year's roll call of the industry's "finest." Rampling's remarks on the proposed boycott of the ceremony - the boycott is racist against whites - rather demonstrate that an actress capable of intelligent performances does not necessarily an intelligent actress make. She has since apologised for the remarks which may have been "misinterpreted." The retraction has a ring of prepared statement at a critical point in the actress' career where she is on the Oscar campaign trail, but the damage has already been done. Some responses to her balderdash are supportive, stating that the ceremony has nothing to do with race, but everything to do with talent.
The view has been more or less ratified by Michael Caine who famously appeared on the David Cameron campaign trail with Gary Barlow. The Caine view is that black actors should be patient. He has also offered, "In the end you can't vote for an actor because he's black." Thanks Sir Mike. It all amounts to balderdash from lazy thinkers. The idea that in 87 years of the Academy Award only 12 African American performances have been Oscar worthy, while another 32 have been nomination worthy is beyond the *ahem* pale.
The implication from Rampling's supporters, that African American talents are excluded because they are not good enough, is stupid and wrong. The situation is symptomatic of the United States' racial issues. It is a reflection of a colour barred industry enclave in a nation with epic racial problems. One might wonder why the boycott has taken so long to surface. However, having said that, Hollywood is essentially a big business dinosaur, and the Oscar ceremony for all its pomp and circumstance is actually little more than a big industry promo night. Just why African Americans view the Oscars as an all important glass ceiling is something of a puzzle.
The impression is that it is supposed to be some sort of meritocracy, but actually the film, music and fashion industries are the true winners. The ceremony, broadcast live to several countries, propels DVD sales and bumps box office receipts, while the gowns and suits worn by attendants are the bigger story on the international press pages in the weeks that follow. The ceremony is a long, dull occasion. The worldwide media gorges on it and regurgitates it; so many bankable stars in the same place at the same time it is difficult to ignore. Even if you see it as a load of cobblers, it is likely that you will be pleased for a winner that you like. Nonetheless, the ceremony tricks audiences into thinking that the little golden figurine is historically momentous, when in fact it perpetuates backward ideas.
This revered academy, which has made Rampling a 2016 Best Actress nominee, views English Language films made in Australia, Canada, New Zealand, the United Kingdom or Ireland as films per se. It means that those filmmaking territories retain a bizarre advantage at the American ceremony. Everything else is filed under the foreign language category. It is altogether rare for a foreign language film to "clean up" on Oscar night, as it were. Ang Lee was disappointed to win the Best Foreign Language award for Crouching Tiger, Hidden Dragon (2000), but not that year's Best Picture. Why?
The above is an illustration of how anachronistic the ceremony is. It reveals an early 20th Century Hollywood view of the world. Whether a film is Spanish, Argentine, Senegalese or Icelandic it is simply classified as a foreign language film. There is no Best African Language Picture or Best Spanish Language Picture category. Why honour films in a foreign language at all? It is also worth noting that film commentators are unanimous in their belief that quality holocaust films like The Pianist (2002) or Schindler's List (1993) are shoo-ins at the ceremonybecause a substantial number of academy voters are Jewish. Does anybody else remember Steven Spielberg's 11 Oscar nominations and zero wins for The Colour Purple (1985), and the staggering difference that Schindler's List made?
Surely Rampling must have found it bizarre that her friend, Steve McQueen, was the first ever black man to direct a Best Picture winner in 2014. The award has never been given to an African American. This is scandalous! Spike Lee's Do The Right Thing (1989) is a Best Picture nominee if I ever saw one. The Los Angeles and Chicago Film Critics Associations Best Picture winner and Palme d'Or nominee occupies the American Film Institute's 100 best films, but the academy sniffed at it with a Best Original Screenplay nomination. Boyz In Da Hood (1991) is another of the great films in American cinema history; easily as affecting as Terms of Endearment (1983) or Ordinary People (1980), but its director John Singleton's efforts were overlooked by the academy. In the two categories in which he was nominated he lost out to Thelma and Louise (1991) screenplay, and Silence of the Lambs (1991) directing. Is Silence of the Lambs really better than Boyz in da Hood? Discuss.
Whenever an African American wins an award it is viewed by the African American community as historic, and that is fair enough; the Oscar is routinely mistaken for cinema's highest honour. The academy, like the Hollywood system, is deeply discouraging to black American talent, and to a disturbing extent. The awards are few; decades pass between them. Hattie McDaniel won for her portrayal of a maid. Whoopi Goldberg for her portrayal of a con woman. Halle Berry for her portrayal of a single mother on the ropes who receives simulated anal penetration from Billy Bob Thornton. Jennifer Hudson won by playing a wronged singer. Mo'Nique won by playing a monstrous freak from the projects. Octavia Spencer for her performance as a maid. Lupita Nyong'o- not an African American as such- won for her portrayal of a slave.
Sidney Poitier won by being nice to nuns. James Baskett for his Uncle Tom figure, Uncle Remus. Lou Gossett Junior with his characterisation of a brutal and abusive member of the marine corps. Denzil Washington by playing a mouthy soldier, and again by playing a corrupt cop. Cuba Gooding Junior won for his portrayal of an avaricious, money-grabbing athlete, "Show me the money!" Morgan Freeman for his failed, half blinded ex boxer. Jamie Foxx for his womanising, heroine addict, soul legend. Forest Whitaker took the prize for his portrayal of a psychotic African dictator. David Oyelowo's outstanding Martin Luther King portrayal failed to impress the academy. Those who think that racism is not an issue with Academy voters need to consider the black performances that the academy chooses to honour.
So no Miss Rampling! The boycott is not racist against whites. It is a legitimate protest against racism in American entertainment. Respectfully, you should know better and use your brain before you blurt.