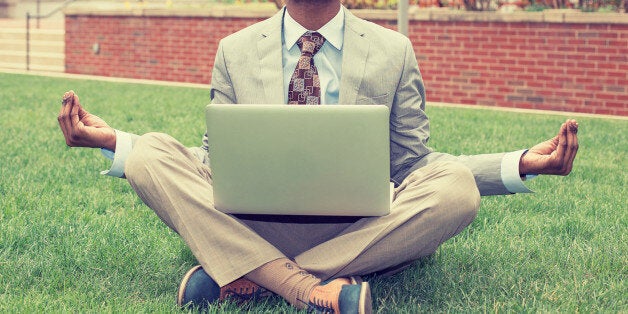 It's 2016 and the stress epidemic is at an all-time high. It almost feels like everyone is stressed out. Yet, right at our fingertips, consumers now have access to cutting-edge wearables, smartphones, and other technologies that can help them combat stress and improve their overall health. You now have the means to take it upon themselves to be proactive about stress and its long-term effects. While individuals may have greater access to advanced technologies and applications that can help them manage stress themselves, numerous organizations are providing employees tools to reduce stress through corporate wellness programs.
In recent years, the number of corporations offering employees corporate wellness programs has risen dramatically. In fact, according to a recent article published by the Chicago Tribune, corporations spent approximately $6 billion on wellness in 2013 and that number may exceed $8 billion in 2016.
To that point, organisations implementing employee wellness programs has been increasing largely because of the impact employee stress and stress-related health problems are having on their financial bottom line. For many employers, high employee stress levels have lead to increased absenteeism, higher health insurance costs, decreased company productivity, and other costly problems.
Employee stress and stress-related health problems are costing employers more and more every year. According to the Centers for Disease Control and Prevention (CDC), U.S. employers are losing approximately $225.8 billion every year due to productivity losses related to employee absenteeism. In 2011, Kronos published the Kronos Global Absence Survey which found, among other things, that the most common reason employees "play hooky" from work is because they "felt stressed/needed a day off."
Leading companies around the world are providing corporate wellness programs aimed at helping employees reduce their stress and improve their overall health. Adobe, Aetna, Ford, General Mills, Goldman Sachs, Google, Intel, and other leading corporations have implemented wellness programs that include a stress reducing technique called mindfulness. Mindfulness-based stress reduction (MBSR) is described by WebMD as "a program that helps you learn to calm your mind and body to help you cope with illness, pain, and stress.", and it has decades of evidence-based practice behind it, pioneered by Jon Kabat-Zinn at the Center for Mindfulness in Medicine.
A number of studies have been conducted within the past decade about the effectiveness of corporate wellness programs and mind-body techniques when it comes to reducing stress. A 2010 study by Harvard Business School, "What's the Hard Return on Employee Wellness Programs?" found that employee wellness programs improved employee productivity, reduced absenteeism, and helped boost employee morale.
A 2012 research paper entitled "Effective and Viable Mind-Body Stress Reduction in the Workplace: A Randomized Controlled Trial," published in the Journal of Occupational Health Psychology, takes a look at worksite stress management programs based on two mind-body stress reduction techniques; therapeutic yoga and mindfulness. The research found that "both the mindfulness-based and therapeutic yoga programs may provide viable and effective interventions to target high-stress levels, sleep quality, and autonomic balance in employees." In addition, the paper states that "emerging evidence also suggests that mind-body programs may demonstrate cost savings through decreased medical utilization (measured by office visits to community health centers), medical insurance claims, and increased productivity."
Corporate wellness programs provide a number of benefits for both employers and employees. For employees, a corporate wellness program that features stress reduction techniques can help them decrease their overall healthcare costs, avoid acute medical events, prevent chronic health problems, improve workplace efficiency, and provide other benefits leading to a better quality of life. For employers, reducing employee stress via a corporate wellness program can help the company reduce absenteeism, improve on the job safety, and increase work productivity. The biggest benefit for employers is the reduction in costs associated with stressed and unhealthy employees. U.S. employers are losing approximately $300 billion every year due to stress-related employee absenteeism and healthcare costs.
An effective corporate wellness program begins with wearables, smartphones, and machine learning. Wearables and smartphones include components such as physiological sensors and accelerometers that can be utilized by applications to provide detailed health and stress information. Wearable and smartphone applications can leverage machine learning (and artificial intelligence) to deliver interventions and stress reduction techniques in real time; techniques such as mindfulness, deep breathing exercises (device-guided breathing), biometric feedback, and meditation. Machine learning also allows applications, like BioBeats' Hear and Now, to provide real-time insights into an individual's stress levels and overall health.
A corporate wellness program that provides employees effective stress management tools, wearable, and smartphone stress management applications, in particular, can help those employees improve their health and quality of life. This, in turn, can help reduce the costs incurred by companies related to employee stress and stress-related health problems.