As Andy Murray helps to steer Great Britain to a Davis Cup win against France at Queen's, we have to ask the question: Where would British tennis be without Andy? The answer is: Nowhere.
Lack of opportunities for youngsters to play tennis at grass-roots level in schools, alongside the overpricing of courts has led young people to be dissuaded from playing tennis and potentially forging a career in tennis.
After the closure of the high performance programme at the National Tennis Centre in Richmond last year, many young British hopefuls who have tried to follow in the footsteps of Andy such as 2011 US Open boys champion Oliver Golding and Harry Meehan have given up as a result of the strict regimes and the lack of support.
Oliver Golding said on twitter:
Tennis is a brutal sport. Players need all the help and support they can get. Money is an advantage we have over other countries, use it!
Hard courts all over London charge extortionate prices to play for an hour, with many young people not having the money to pay and play, catering instead for older players and wealthy families who can afford this.
On one side of the argument, the prices put in place could deter young people from antisocial behaviour on the courts, but ultimately it serves as a financial barrier for young people who may be interested in taking up the sport, forming an elitist ring around Wimbledon and providing an explanation for the lack of British talent progressing into the professional ranks.
Golding in an interview with Simon Briggs from The Telegraph also said:
"It's surprisingly difficult to find places to play in London. Either the clubs aren't keen on having performance players based there or, if they are keen, they don't have adequate facilities."
Great Britain remain behind other countries for this reason, with France occupying ten players in the men's singles top 100 compared to Britain's three, with Slovenian-born Aljaz Bedene only this year being granted UK citizenship.
Displays in the Davis Cup and Wimbledon, like that of James Ward's Davis Cup comeback against John Isner in Glasgow, has generated positivity towards a wider birth of British talent coming through. Indeed Heather Watson's performance against Serena Williams at Wimbledon offers a lot of encouragement, but there remains a lot of work to be done, certainly if we are to find a tennis player as good as Andy Murray.
Encouragement for tennis needs to be implemented at grass-roots level. Children who develop a natural interest in the sport should be encouraged to pursue it. Tennis should also be made more available in State schools, which will give us a wider birth of talent to choose from.
As a nation we rely too heavily on Andy Murray to carry our hopes and expectations on his shoulders, he could have easily lost his match against Gilles Simon in the Davis Cup, a set and break of serve down, he looked finished, physically and mentally, having already battled through two days of tennis against France's top players. When he eventually retires, British tennis will look very sparse without our sporting talisman.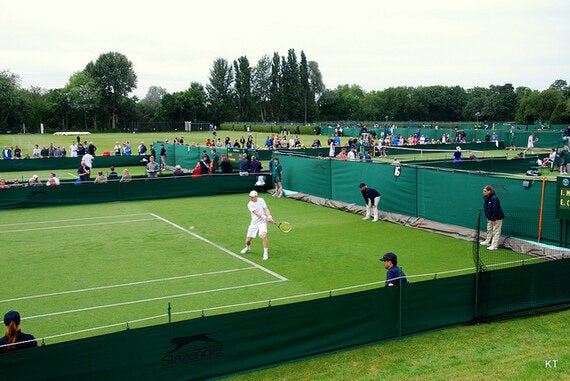 Related