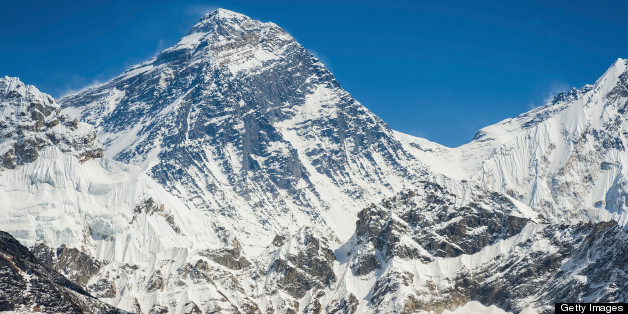 Getty Images
My name is David Tait - I'm an NSPCC Trustee and 'charity mountaineer' having now successfully climbed Mount Everest four times - in 2005, 2007, 2009 and 2011. I climb to raise both awareness and money for the many violated kids - one of whom was I. This is my one of many dispatches that will accompany my effort to summit for the fifth time. I hope you follow along, find it interesting, and spread the word. There are many children in our society who know only too well that monsters truly do exist.
Dispatch 17, BC to BC via C2 [6400m]&C3 [7500m] - Part 1.
Where are the forecast gales? It is a little early to begin berating some anonymous Swiss weather guru, but nevertheless, in the context of my goal, he skates on very thin ice. My watch alarm chirped me awake at a very unpleasant 4am today with a singular and unpopular express mission; return to BC until the "outlook improves". After a quick shot of coffee, we, alongside members from other expeditions began the long, tedious but thankfully downhill march to first desolate C1 and then, having negotiated the icefall once again, a relatively warm and welcoming BC. The formidable wind speeds are expected to rise but then fall allowing a brief window on the 8th/9th - but the news changes hourly - we shall see.
This latest acclimatization rotation had begun on 2 May, when at 2am, I dragged myself from my exquisitely warm sleeping bag and hauled myself upright and into the frigid night as I had done on three previous occasions this season alone. This latest foray was to see us sleep a number of nights at C2 [6400m] and then venture higher clashing with the Lhotse Face, finally spending a painful night at C3 [7500m].
Something has happened inside me: I used to run the icefall gauntlet with barely a flicker of concern. It has always been blatantly obvious that this creeping ice monstrosity holds immediate power over life and death - but for some reason I've never fully registered its true threat. I have blundered through countless times; numb to the degree of loss I would suffer if I died.
Things have changed in my life. I now, for reasons both close and removed from my past appreciate what is around me and quite how lucky I am. This has not always been the case - for many reasons I have feared 'giving my all' - but no longer.
The avalanche of a few days ago was a moment when the value of those you love crystalizes in microseconds. Previously I may even have considered the near-death experience a "rush", but now all I can focus on is how desperately I want to once again see Vanessa and the boys. The Icefall seems to threaten this and I loathe it for this very reason.
Camp 2 sits in the shadow of Everest's Western shoulder - an elongated array of multi-coloured tents scattered on the glacial moraine that originates at the foot of the icy Lhotse Face. By virtue of its position the sun declines to make an appearance and warm the camp until 8.30 am leaving ones down-suit the only realistic dress code. The personal tents surround the two full size mess-tents, one used for cooking, the other for dining. It is from C2 that the personal tents must be shared - something I find extremely unpleasant.
The cook tent serves as our kitchen and the sleeping quarters of many of the Sherpas who work so hard both in camp and on the mountain to make our climbs a success. The strength and stoicism of these young lads is a sight to behold. Description eludes me. The vast and spectacular Lhotse face and the Western face of Nuptse make up the complete backdrop to the head of the Western Cym, the home of harsh C2.
After a bleak and dull rest day we rose to climb to the furthest point of the acclimatization schedule; Camp 3, 7500m, cut into the frozen face. Down-suits are compulsory: the risk of falling victim to the bitter katabatic winds on the Lhotse face posing too great a risk to extremities [mine in particular].
We all left camp a little after 6 am and after an hour had covered the snowy distance between C2 and the Bergschrund; a fold or crevasse that marks the point where the near vertical Lhotse ice wall 'butts" the ground and grinds on. A single file balancing act, using both Jumar and Karabiner is necessary to negotiate this minor crevasse, before the serious assault on the face begins.
Suddenly one looks up - the ice one must climb soars away at 45-50 degrees and is dotted predominantly by load-carrying Sherpas, each suffering wildly, their cargoes suspended from forehead bands. Occasionally one passes a Western climbers, mute with misery - seemingly bewildered by the climb's difficulty - surely this has been anticipated?
I pass, but very slowly, keen not to lose my crampons purchase on the near clear blue ice. Grateful for the recent transit of so many Sherpa boots, I point my toes into previously cut toe hold, wincing every time the terrain demands I take my weight on the toes of my right foot - my avalanche damaged calf can ½ cope: the leg black and blue. I choose to walk 'duck-style', forcing the entire inside edge of my boot into the ice - hence little pain.
Now within the last hour of the ascent I feel the familiar lung-tear of true altitude. I resort to a slower, but more tolerant 1 step: 4 breaths regime, fearful that those following will soon accumulate, itching for an opportunity to pass. However, my pursuers drop away.
Four hours after leaving C2 I finally creep my way into C3, the spectacular ice-shelves still being populated with tents - I can finally rest.
One single night, without the use of supplemental oxygen awaits. Few, if any, can eat or sleep the first time this hellish camp is visited - it's very much an endurance exercise. The time these harsh, elevated circumstances afford ones red blood cells to alter is invaluable - I hunker down, await my tent mate, start melting ice on my little stove and blandly contemplate the next 36 hours of misery.
Dt
www.davidtait.com
www.justgiving.com/david-tait3
www.twitter.com/taiteverest