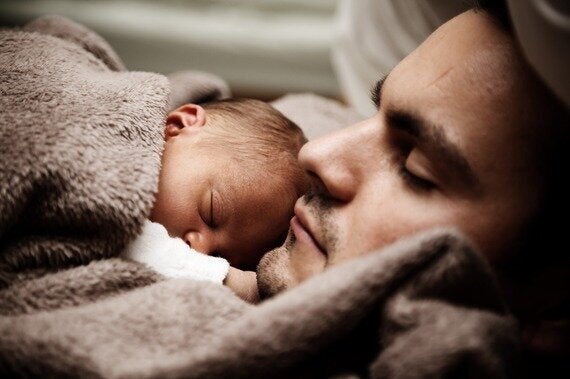 There was a loud sigh, the sound of snoring and then a sudden jolt as he jumped, waking himself and his wife up. Yes, the other evening it was another dad who fell asleep first during the relaxation session at the end of one of our Wise Hippo hypnobirthing classes. And you know what? It's so often the way!
You see hypnobirthing classes aren't just for mums. The techniques you learn - visualisation, mindfulness, guided meditation and breath work are not gender specific.
These techniques are all aimed at getting you to pause, to slow down, to quieten your mind and relax your body. They are ways of dealing with stress and fear - not just for pregnancy and birth but for those daily upsets that make us worry or feel anxious.
They are techniques you can use at work, when commuting, when you're with people who stress you out, and sometimes best of all - to help you fall asleep.
Yes they're for pregnancy and birth but they're also for beyond, and especially useful when you have a newborn.
Sometimes I start class one with a dad who doesn't feel that the classes will be for him - he's just there to support his wife, right? Well to a certain extent yes - it's just that the supporting role is of key importance.
As the birth partner, he will learn all of the techniques, so that he can help his partner stay calm, or bring her back to a state of calm, and work with her as a team to have their baby.
He will learn how to confidently question medical staff if he needs to. He will become the protector of the birthing environment and the timekeeper - timing surges (contractions) so mum can concentrate on making herself as comfortable and relaxed as she can be.
My husband is very proud of the fact that the midwives at our homebirth said he was 'an assistant midwife' for the night (he was tempted to add it to his CV!). It was the first hypnobirth my midwives had seen and they couldn't believe how involved and supportive he was.
And you know what? That's one of the things that sold hypnobirthing to me when I was pregnant.
I have to be honest, three years ago, when I first googled it - I thought it sounded a bit weird and also a bit too good to be true? From all the blogs I read it worked - so why wasn't everyone using it?
The problem is it's hard to explain in a few sentences the massive change hypnobirthing has on your life, not just your pregnancy and birth.
It changes the way you think about birth, so that instead of feeling scared you feel confident and excited. It helps you to tap into your own birthing instinct. It helps you trust your body and get your mind out of the way (it shuts up that negative voice in your head). And it helps you deal with any stressful or upsetting thoughts you have generally.
Anyway, when I spoke to my midwife three years ago and asked her if I should do the Wise Hippo course, she said: 'YES! I wish more people knew about hypnobirthing'.
She also said that every hypnobirth she'd been at, she couldn't tell that the women were in labour and that the dad's were so involved. And that went on to be the case for us too.
Now all the birth stories I get from mums I've taught talk about how much the techniques helped 'us'. They all say how integral the dads were and how they couldn't have done it without them.
And you know what? I also get birth stories from dads, sometimes as well and sometimes instead of the mums - because the dads are front and centre. They're the Oscar-Winning Best Supporting Actors in the birth stories of their babies.