Diane Abbott's Daily Reports from the floor of the DNC: Day One
Monday was the first official day of the Democratic National Convention here in Philadelphia. But as dawn broke over Philly, there was a spectacular rain storm complete with thunder and lightning. For Bernie Sanders supporters, of a religious bent, this may have seemed proof that God herself was not pleased with the Democratic Party's eventual choice of nominee Hilary Rodham Clinton.
One of striking things about the Democratic Convention, here in a hot and muggy Philadelphia, is the number of visible Bernie Sanders supporters everywhere with their tee shirts and badges. Nor do they seem defeated. I commiserated with one Sanders supporter about her hero's loss, only to have her reply with a gleam in her eye "It's not over yet" Whether this means trouble on the floor of the Convention, we will see.
However Sanders people will be pleased with the resignation of the DNC chair and Florida congresswoman Debbie Wasserman Schultz. A leak of emails confirmed, what many had suspected all along, that the DNC leadership were firmly anti Sanders. The email leak left Schultz with no choice but to stand down.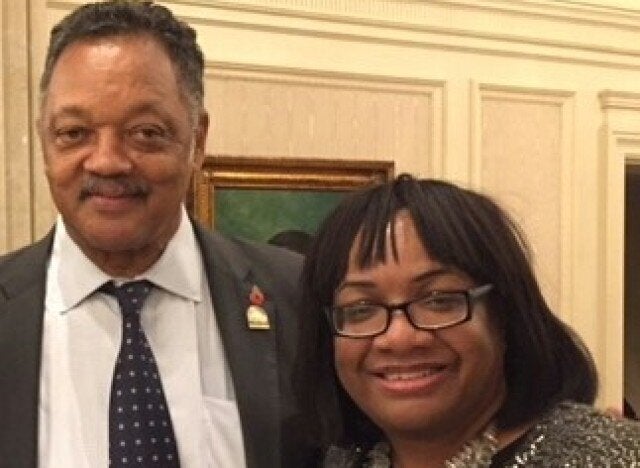 I spent Sunday evening with Civil Rights legend Reverend Jesse Jackson, whom I have known for nearly thirty years. He couldn't walk ten steps without people begging for selfies. And it was the older Sanders people who would murmur proudly, referencing Jackson's trailblazing 1984 and 1988 campaigns for the Democratic presidential nomination, that he was the first would-be presidential candidate they ever voted for.
There is lot of interest in Jeremy Corbyn here. Most of the nonsensical British media coverage has not impacted on ordinary Americans and they see him as a progressive insurgent on the Sanders model with Sanders uncanny ability to enthuse idealistic young people. Sanders' program, with priorities like a higher minimum wage, government health care, breaking up big banks and rebuilding infrastructure, is also very similar to the current Labour leadership.
Later today the convention will hear from: young immigration campaigner Astrid Silva; Senator Bernie Sanders and Michelle Obama. Giving a young campaigner a keynote speech on the first day demonstrates how, just as in the British Labour Party, American Democrats see immigration as a key issue. Sanders will get a last chance to set out his progressive agenda. Michelle Obama is one of the most popular figures in the Democratic Party. Her speech is meant to strike a unifying note as well as the passing of the torch from the Obama era to the Hilary Clinton era. In fact the theme of the day is "United Together" Perhaps this is a theme that the British Labour Party will, in due course, embrace.
Diane Abbott is the shadow health secretary and Labour MP for Hackney North. She is currently attending the Democratic National Convention in Philadelphia as an international delegate representing the Labour Party
Related