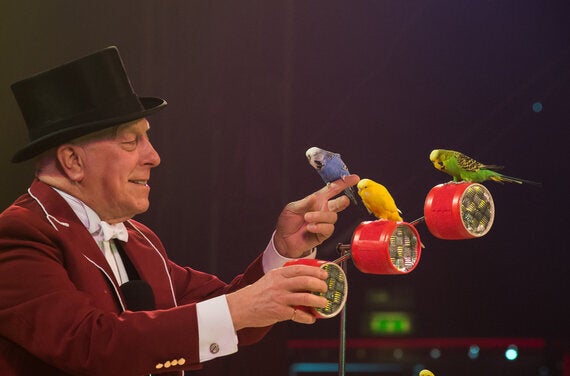 Norman Barrett OBE (Photo: Piet-Hein Out, courtesy of Zippos)
Circus is in fashion. A certain type of circus, anyway. Two years ago, Britain's leading circus school attained 'national' status when it became the National Centre for Circus Arts. This year, the Edinburgh Fringe will get a £600,000 dedicated Circus Hub that will bring twelve contemporary circus shows to the Scottish city from as far a field as Canada, Australia and the Czech Repulic.
According to Ed Bartlam of promoters Underbelly, "We want to create a real focal hub for the very broad genre that is circus and in that present a really high-quality programme of different styles."
So it was sad to see Bartlam's co-director Charlie Wood sweepingly dismissing the biggest part of circus' 'broad genre,' and a part that represents nearly 250 years of circus history, in an interview with the Guardian. "Circus is not necessarily cliched, hack, silly stuff in a big tent," said Wood. "We've tried to get away from the old understanding of what circus is - nasty big tops and animals and hack clowns and so on. Circus can mean something, it can have a narrative, it can be theatrical and it can have fantastic skills in it."
During the research for my book Circus Mania, I experienced what is indeed the 'broad genre' of circus, from the big budget spectacle of Cirque du Soleil to the blood-splattered Circus of Horrors and small scale companies such as Circa which is more typical of the type of circus found of the festival circuit (you can see Circa at the Norfolk and Norwich Festival later this month).
There's no doubt that modern circus can be good. Of the acts appearing at the Circus Hub, Canada's Cirque Alfonse wowed London in 2013 with the hugely accessible and enjoyable lumberjack circus Timber!
But, sad to say, much 'narrative' and 'theatrical' contemporary circus has left me yawning. While the shows feature circus skills, they seldom deliver the variety or atmosphere of a circus, and in trying to "mean something,' they frequently lose circus' most vital element, it's sense of fun.
It was my visits to the sort of traditional big top-in-a-field circuses that Wood decries that made my heart beat faster, brought my senses most fully alive and imprinted me with memories that I'll never forget. Sitting ringside at the now defunct Great British Circus, with grass underfoot and the smell of hotdogs and horses in the air, I marvelled at the immensity of elephants, swishing their trunks about to sniff the scent of the popcorn machine, their gleaming tusks so close that I leaned back in my seat. The skill and artistry of the tiger trainer was as compelling as that of the acrobats on the static trapeze.
At the still very much extant Circus Mondao, which is run by a family that has been in the circus 200 years, I was transported to a magical plane by the sight of plumed spotted horses cantering through the atmospherically lit sawdust; and reduced to helpless laughter by a soaking wet clown sliding the full diameter of the ring on his belly in a tsunami of spilt water.
Animals and genuinely funny traditional clowns are things contemporary circus would rather forget, but in turning its back on them, in the way Wood does so crassly, it loses its soul and, I would dare to say, a lot of its pulling power. For it's the traditional circuses that have always existed on box office takings alone while most new circus relies on sponsorship and public funding.
Last year, only one circus, the deeply traditional Peter Jolly's Circus, fielded an act I was prepared to drive half way across the country to see: Thomas Chipperfield presenting the last lions and tigers we may ever see in a British big top. No contemporary circus show would have tempted me to travel a fraction of that distance.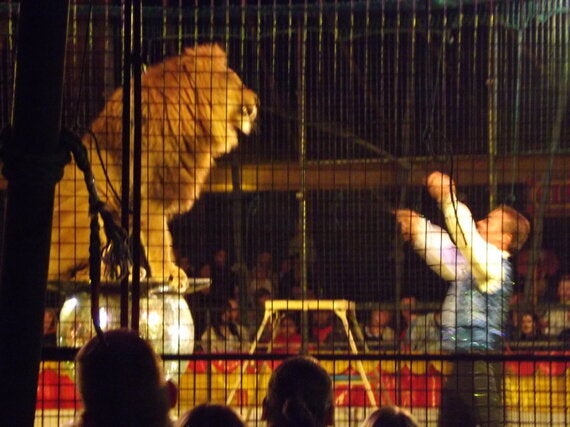 King of the cage: Thomas Chipperfield (Photo: D McPherson)
The big cats were a roaring success, but predictably attracted roars of disapproval from animal rights protesters. With a long-promised ban on wild animals in the circus looming over our big tops, it seems even traditional circuses would rather go quietly into the night than rage against the dying of the circus lights.
This year, no UK circus has big cats or elephants and the biggest part of circus' appeal, for me, has left the big top with them.
Zippos, arguably Britain's most popular circus, continues to use its ring for the purpose for which it was designed - the display of horses - and long may they continue to do so. They also have ringmaster Norman Barrett OBE's performing budgies. It was a shame to see the Guardian's article on the Circus Hub take a swipe at them, too: "Circus in 2015 is far removed from memories of doleful clowns squirting water from a flower, sequinned trapeze acts, and Norman Barrett and his performing budgerigars. It's more physical, edgy and sexy," writes Mark Brown.
I'd rather see some lions. But given the choice between Barrett's budgies and one of the 'circus' shows on the Hub's programme, which is thrillingly billed as "A poetic search for inner peace and the liberation of prejudice," I'll take the the budgies.