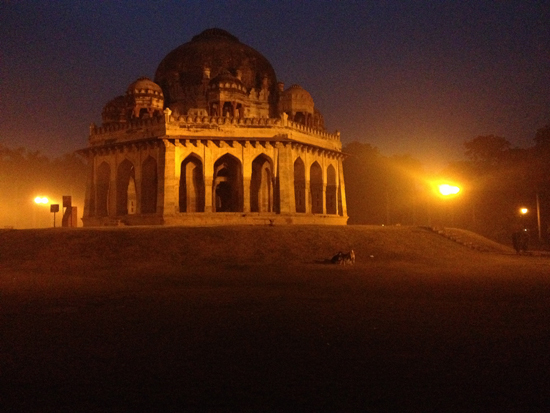 After what was one of the worst flights I have ever had (Air India with a 14 hour unscheduled delay in Mumbai) I finally got to New Delhi in time for their Art Fair Week. Much like Frieze, it is one event after the other, and very exciting it was too (and that was not just the water buffalo on the road, or tuk tuks coming at you on the wrong side of the street).
Art Alive's exhibition When High and Low Art Meet paired kitsch 19th century gods painted by Ravi Varma with modern works made in reply to them. Highlights included Himanshu Verma's Lad holding Weapons of Seduction, A Ravi Varma Matrix of Femininity (below right, Varma left)
and A Rajeswara Rao's I Love You Damayani (below).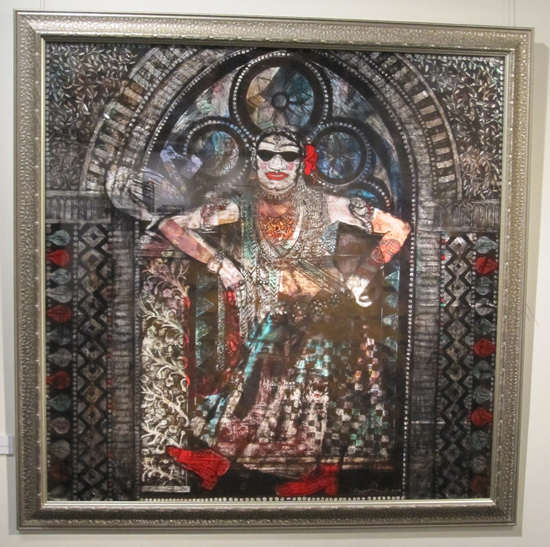 Tate Modern used the Khoj International Artists Association space to mount a project called Word.Sound.Power. This very exciting sound based show sat in a deprived local neighborhood that is being developed. Opposite the site (where the water buffalo roamed) was a huge shopping mall, which along with the usual global brands, a Hilton Hotel (seen in the distance below left), was also running a Disney Princess Academy (below right).
Nikolaj Bendix Skyum Larsen's Arise video (below) featured three very poor local lads who were trying (with help from Khoj) to break out of that poverty by break dancing.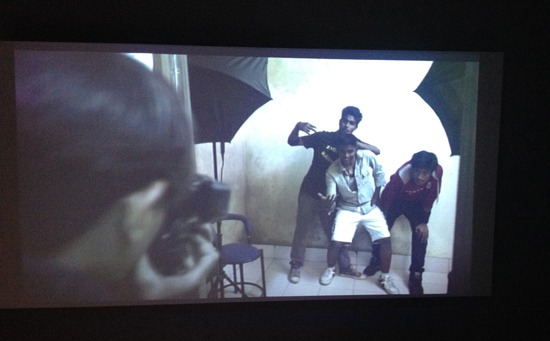 Many of the local embassy spaces mounted shows, and famed artist Anjolie Menon (whose work was on many stands at the fair) opened the Hungarian show (below left next to Tibor Kovacs their Cultural Counsellor). Unknown Journey at the Korean space paired Park Sung Yu with Mahaveer Swami, who remade traditional Korean miniatures so their subjects looked more Indian than Korean (below right).
Patrick Rimoux projected three films onto the front of Alliance Française's building for his Formes & Lumiere show.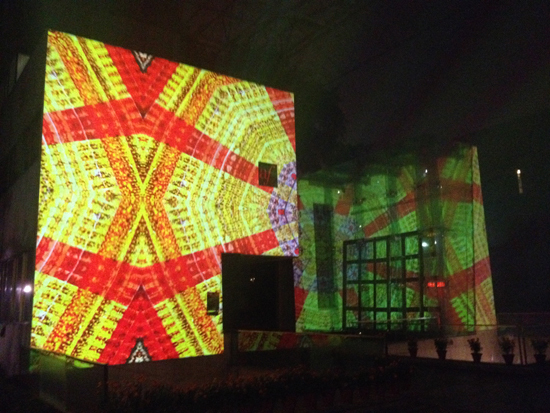 The Aesthetics Project brought Francesco Clemente to the India International Center. In conversation with Jyotindra Jain, he kept trying to discuss the erotic nature of many of his works (presented in his Made In India book) but Jain nervously cut him off. Asked what he considered to be his home country, Clemente, who has lived part time in India for over 25 years, replied "the body of a woman" and said that much of his work was about "entering the body of a woman". Jain gulped and blushed. The National Gallery of Modern Art presented two really wonderful shows. The first comprehensive review of Amrita Sher-Gil (1913-41) who tragically died young and a Subodh Gupta retrospective with a full sized Banyan tree covered in stainless steel called Dada (which in Hindi means grandfather).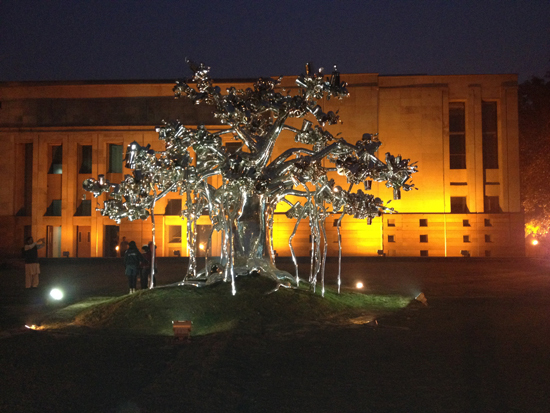 The Kiran Nadar Museum of Art and Outset India presented Sonia Khurana: Oneiric House/Round about midnight. Khurana made many remarkable installations throughout the private art deco house (which the owner kindly lends yearly).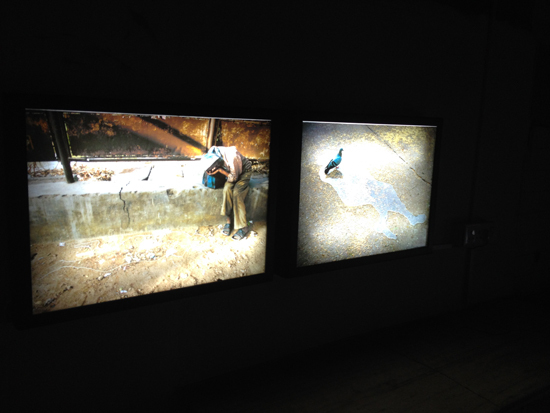 The New Delhi Art Fair itself did not disappoint, and as well as presenting the major Indian galleries, it also had a reasonable number of foreign ones. The standard was generally high, with a number of outstanding pieces (like most global art fairs) and below are pieces I liked.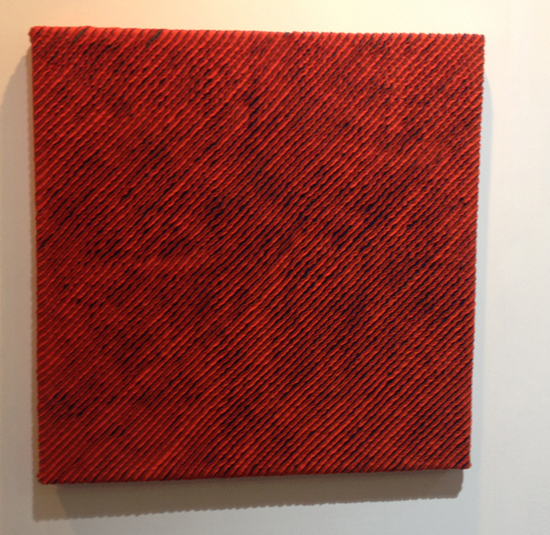 Alice Tomaselli, multi-coloured fibre work at MK Search Art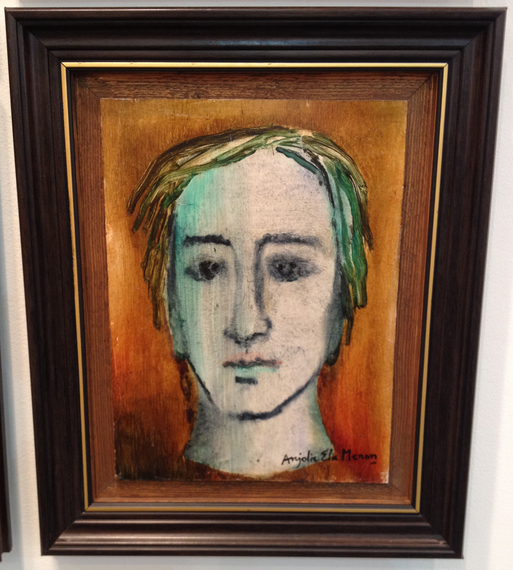 Anjolie Menon, MIK the Rock Star at the Vadehra Art Gallery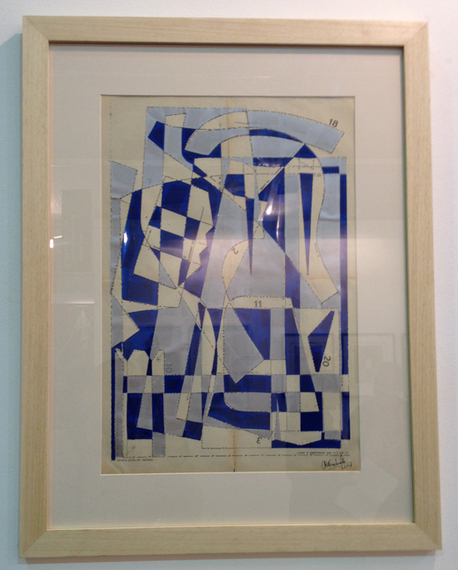 Hormazd Narielwalla's one man show at the Birla Academy of Art & Culture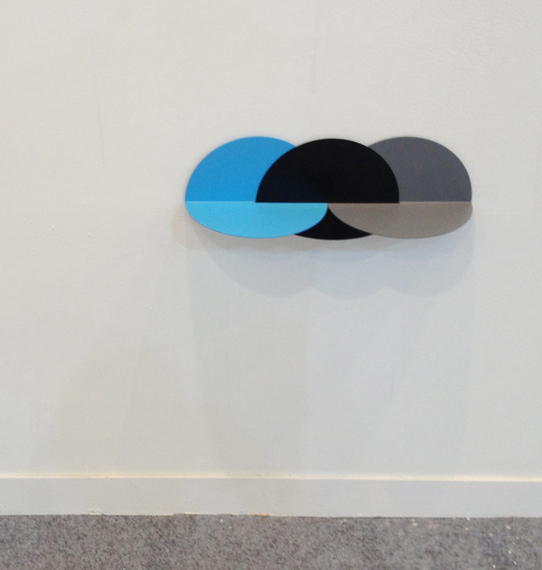 Prem Sahib's sculpture at Jhaveri Contemporary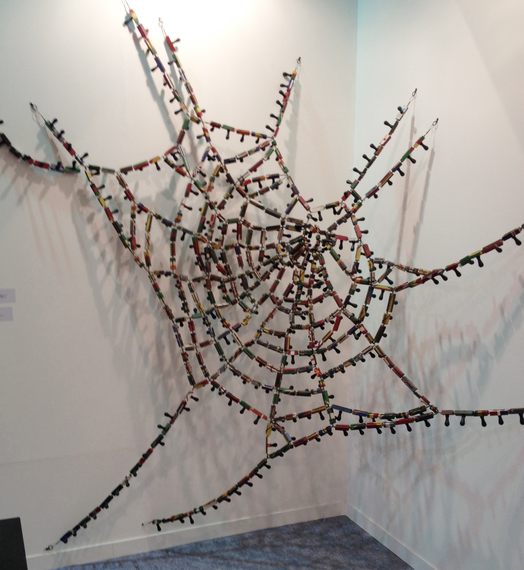 Reena Saini Kallat's spider web installation at Nature Morte Gallery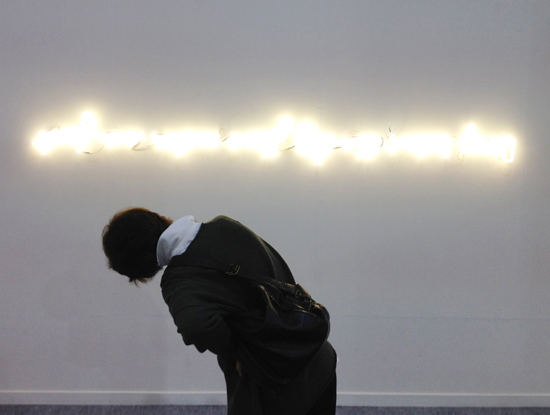 Shilpa Gupta's upside down neon sentence Deep Below, the sky flows under our feet at Vadehra Art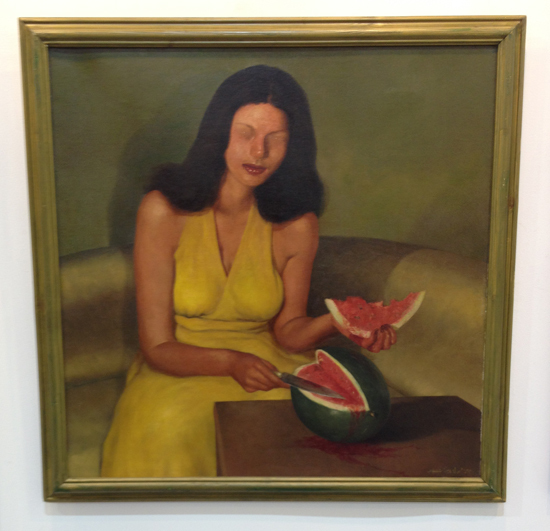 and the very disturbing "Lady with Water Mellon" by Bikash Bhattacharjee at Emami Chisel Art
All images: Michael Petry, 2014