Lynne Franks' story epitomizes the four pillars of Arianna Huffington's Third Metric: well being, wisdom, wonder, and giving back.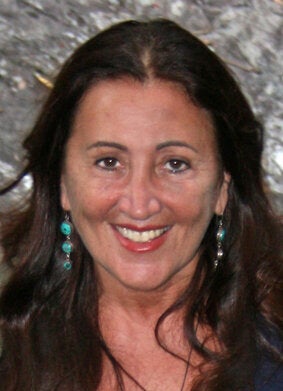 If I spend 33% of my time doing work that I get paid for, but I still believe in - 33% of my time on things I don't get paid for, but are where I want to give my time and my energy and my expertise for nothing - because I really believe in those - and the remaining time for myself - for walks, listening to music, reading a book, my family and the people I love - then that's pretty well balanced. So, that's how I'm always striving. I'm not that organized to have it a third and a third and a third, but that is my intention. That's what I put out to the universe, that's what I want, and that's how it kind of works.

- Lynne Franks
After a highly successful career in PR, which included the creation of London Fashion Week and the British Fashion Awards, Lynne Franks has become a champion of women's empowerment, sustainable business practices, and social justice issues. She advises major corporations and grassroots organizations on women's engagement and is the UK co-coordinator of One Billion Rising, the global campaign to stop sexual violence to women and girls.
Lynne's interest in philanthropic endeavors stems from her first job, when she found that the PR company that hired her could do as much good through campaigns and messaging for charitable causes as it could for its commercial clients. This was her first indication that her work could reflect her spiritual practices, which are based on Eastern philosophy, Buddhism, and the understanding of karma.
Lynne has been friends with Eve Ensler, founder of One Billion Rising and author of The Vagina Monologues, for 20+ years. She has worked with Ensler on a number of activities over the years, including Ensler's project to combat violence against women in the Democratic Republic of Congo. Lynne collaborated on One Billion Rising in 2013 by organizing an event in Majorca, where she lives part time. She has organized an event there every year since.
When Monique Wilson left the position of UK coordinator to become the global director for One Billion Rising, Lynne found herself stepping into the role. As a result of this year's focus on sexual abuse of children and young people under her direction, the work that One Billion Rising is doing in the UK is expanding:
I'm working with grassroots people, media, all kinds of areas, to say "Well, let's come up with some kind of national conversation on what we can do as communities to make sure this terrible situation of child abuse doesn't continue in the UK."
In 2000, Lynne founded SEED - Sustainable Enterprise and Empowerment Dynamics - a provider and community for women's learning programs based on her pioneering women's business book The Seed Handbook, the feminine way to create business. Lynne describes it as the first book to teach women how to start a small sustainable business based on their values and passions, and thousands of copies of the handbook have sold in many countries and in different languages. SEED has evolved into a whole series of programs and has "taken on its own life and created an energy," which was Lynne's intention.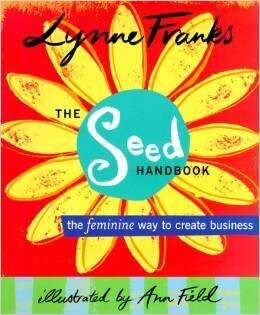 The Seed Handbook - book cover
Lynne says that many people write to her saying they're inspired by SEED, which she describes as a subtle route to empowering women. She is developing additional ideas from it, including a community initiative for a learning and skills center - probably in a café format.
So, after 15 years, SEED is about to take on a new life - as things do with me - and I'm very excited about it. And it's as relevant now as ever, if not more!
Lynne also holds BLOOM retreats, which are focused on well-being and creative leadership, in her home in Deià, Majorca . She is launching these in the UK as well.
On the personal side, Lynne has two children in their mid-to-late thirties and five grandchildren. But she is still an active care giver - her mother, who has dementia, lives at home in the UK with carers and Lynne manages this situation by traveling between Majorca and the UK. She has animals as well and says that the biggest responsibility in her life, apart from her mother, is caring for her dog and cats. Her family is very close and they see each other frequently.
With all the personal and professional responsibilities that she juggles, Lynne still finds time for the self care that she believes is essential for well being. This is something she did even when her children were small:
...one of the most important things I did when I had young children was to create that [time for myself]. It was a lot more difficult then... With technology, we now have freedom of choice. We didn't have it before. In the 70s and 80s when my children were growing up, there were no mobile phones, there were no emails. We weren't online, we didn't have Skype. [It was] a very different way of working...
Her spiritual practice, which nurtures her body and mind as well as her spirit, has been part of her life for many years and takes different forms. These include 5 Rhythms dance, meditation, chanting, and finding time to be in nature as much as she can:
... connecting with the beauty of what is God's gift to all of us that we tend to take for granted ... listening to the birds sing and watching the stars ... it's all very, very important for me. It restores me.
Lynne reflects that she has been living life on her own terms for more than 30 years and marvels at her own wisdom as a much younger woman:
Somebody sent me a film of an interview that was done with me 30-odd years ago and one of the questions was, "What would you advise young people?" And I said, "First of all, I would advise them know that they're not immortal, just be aware. And the second thing is to be responsible; that they too can give towards creating a better world and starting to be aware of that at a younger age." Now, I was staggered when I saw that I was saying that at 39. It was 30 years ago. But I thought that was wonderful; I'm very proud that I felt like that then and I feel like that now.
She has fashioned a life where she says everything is fun:
Everything in my life is fun, to be honest. Spending time with my grandchildren is fun. Going for a walk with my dog is fun. Meeting my girlfriends for coffee in the village is fun. Everything is fun. Doing my work is fun. If I didn't find it fun, I wouldn't even do it.

I'm very blessed. As my 11-year-old granddaughter reminds me, "Just give gratitude every day, Grandma. You've got the most wonderful life." And I have; I created that.
Upon further reflection, Lynne noted that remaining true to her values and beliefs has always kept her on "the path for good," which, at this point in her life, is to encourage as many as possible to contribute in every way they can to create a new co-operative future based on equality and safety for all.
She fervently believes that her women of her (baby boomer) generation:
...need to take the world forward as leaders because the men - there's no question - have screwed it up. So now is our time. Now is our time.

... we women have to take leadership roles in community, in business, in politics, and we have to do things a different way. It's the revolution.

... and we have to do it from a place of love.