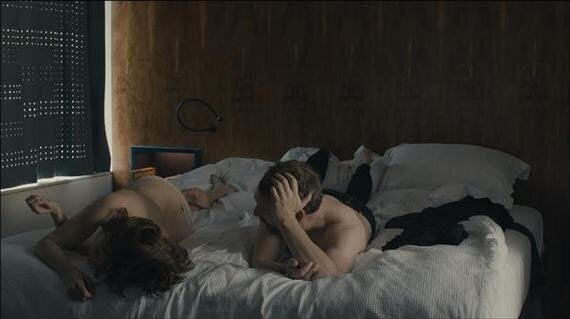 Of this current golden age of female British directors (Andrea Arnold, Clio Barnard, Lynne Ramsay, Lucy Walker and Sophie Fiennes, to name a few), Joanna Hogg is the Terrence Malick, the understated maverick and perhaps the most intriguing of the lot. A former photographer and apprentice to Derek Jarman, she is a pointillist of human motive: every shot is composed with the rigour of an old master, packed with painterly juxtapositions, quilted with signs and symbols.
A tonal cross between Noel Coward and Michael Haneke, her debut film Unrelated was a startling examination of childlessness, upper-middle class ennui and the smugness of families, with Tom Hiddleston at his most youthfully beguiling. Her second, Archipelago, tempered the lyricism of the Tresco landscape with a darker feel for claustrophobia, stasis and silence. Both works revolved around family holidays (in Tuscany and the Scilly Isles respectively), but Exhibition, her latest offering which premiered at the London Film Festival on Saturday, is her first film to be set in a city. It is comfortably her strangest so far.
The film deconstructs the architecture of the marriage between performance artist D (played by Viv Albertine, former guitarist of The Slits) and architect H (conceptual artist Liam Gillick) through the decision to sell their beloved London home, a modernist labyrinth that shimmers with symbolism. It is an extension of their relationship, a House of Dorian Gray where the couple's personalities and moods percolate into its colour schemes (red for her; blue for him) and even their names have a coffee-table minimalism. Hogg's usual pastoral soundscape of crickets and birdsong gives way to traffic, alarms, sirens, shouting, and the thunder of the home's own sliding doors.
The house is their only child. During a dinner party at theirs, a local couple witter on about their children, and the wife even gets up to check through the window that her son is doing his homework; later, when the neighbours return the favour at theirs, D looks back at her own house with the same maternal vigilance in exactly the same pose. D and H become increasingly protective of their home in the face of intruders: an argument with a builder over their residential parking space is about more than a parking space (as if their house weren't hermetic enough, H suggests erecting a big gate saying "Fuck Off!" to keep people out). Towards the end, in one of the film's most moving images, the couple hold hands in silent anguish over the dining-room table as the estate agents show around a busybody surveyor. Hogg is the absolute doyenne of on-screen reactions to off-screen turbulence: the terrible row between Tom Hiddleston and his father in Unrelated is shown from the perspective of the reluctant listeners, just as the mother's worst argument with her husband in Archipelago occurs off-screen.
However, the house is also the forbidding parent, who paralyses the couple with a deleterious, womb-like cosiness: the recurrence of the spiral staircase, especially the moment where H chases D up the stairs, is a sad reminder of the children that will never do the same ("it's not a family home", their neighbour sniffs). D, in particular, demonstrates a pulsing emotional attachment to objects. There is an awful visual rhyme between the film's opening shot, in which D hugs the window seat (she later hugs a garden rock in the same way), and that grim, passive bedroom scene where she faces the wall and her husband tries to undress her.
This brings us to the bedroom scenes, which are as depressingly intense as any I've seen on film and abetted by actors Albertine and Gillick, whose performances are unstudied marvels. She is unsmiling, vinegary and shares nothing: for a performance artist, it is telling how often her face is turned away from the camera (the back of her head in her study; facing walls; looking out windows; face down in the bed or the swimming pool). He is cerebral, sexually parched and has a (nicely unelaborated) history of erratic behaviour. A bedtime reading of Herman Hesse's Steppenwolf (a deliciously throwaway high-literary reference) both infantilises D and ushers in a fellow study of middle-aged, self-reflexive outsiderdom. In the first sex scene, the contortions of the duvet and the sprawling, not-tonight languor of the limbs underneath have the voyeuristic anti-eroticism of a Lucian Freud . The lethargic afternoon session mentioned above, which starts with H drawing the curtains and D just sort of lying there, brings to mind that peerless description of unrequited male lust in 'The Wasteland':
Exploring hands encounter no defence;

His vanity requires no response,

And make a welcome of indifference.
After rather too much indifference to his rubs and pecks, H stops exploring and admits defeat with balls as blue as the wallpaper. But her libido is dormant, or misplaced, rather than burnt out. She records memories of erotic dreams into a dictaphone, at first in private, later with H in bed next to her. More sadly, after H has nodded off one night, she puts on split knickers and high heels, smothers herself in oil and masturbates. Their marriage, for most of the film, is emotionally and sexually occluded, as rusty and tepid as their dodgy boiler. Even though they live and work in the same house, they spend a lot of time talking over the telephone (distant phone calls is another Hoggian motif, as with Anna's desperate hunts for Tuscan reception in Unrelated and the mother's tetchy chats with her husband in Archipelago, though D feels no closer to her husband than these two). But once D is offered an artistic lifeline by a woman called Susan, and once she finally allows him to give her sympathetic creative advice, the dam breaks and the brook of intellectual intimacy runs through it.
The title Exhibition, another one-word wonder and as with the best titles, invites multiple interpretations. It refers, most clearly, to the gallery space D is offered towards the end of the film, a cathartic moment (again over the phone) and possibly the first time we see her smile. But it also calls to mind various forms of exhibitionism and, although H is physically exposed (in her work; in the pool; in the bedroom), she holds an awful lot back. Ironically, Exhibition is more internal than Hogg's previous work and embraces a sort of cinematic style indirect libre, where one can't quite tell whether certain scenes are memories or fantasies: a flashback to H and D's wedding night (those stairs again); a flame-blowing tuba-player in Trafalgar Square; a Fellini-esque sequence where H and D interview each other on stage, watched from the stalls by a second D (this became particularly meta when our screening was followed by an actual Q&A with Hogg and Albertine!) Some may find this frustrating, but it takes Hogg's work into ever more ambitious planes, where she fabulates even the more everyday sequences with the surrealist symmetries, the woozy aestheticism and the synchronic fire of a dream.
At the Q&A after our screening, Hogg was asked whether she felt British and she said not really, as she's always felt like a bit of an outsider and doesn't really know what British means. This makes sense and, though I started by lazily lumping her in with that sparkling roll-call of compatriots and though most of her characters come from that most stereotyped of British classes, Hogg is probably our least British director. It is reductive and fruitless to draw too many parallels between an artist's life and their work, but she would seem to decant her own social otherness into all her films: her cinematic sensibilities belong, if anywhere, to a sort of pan-European arthouse, closer to, say, Turkish master Nuri Bilge Ceylan than anyone from these fair isles. Having said all that, I do hope Hogg continues to collaborate with Tom Hiddleston, who has a cameo as a slick estate agent in Exhibition, as they could become the Scorsese and De Niro of British arthouse for years to come (intriguingly, Hogg gives Scorsese 'special thanks' in the end credits).
Discussing the film afterwards with my lovely friend (and fellow Joanna Hogg disciple) Checky, we agreed that, of Hogg's three films, this is the one we'd least rush to see again. This is not a criticism: it is starker, slower, less linear, more oneiric than her previous work, but no less fascinating or satisfying. It is a wonderful, bewitching piece that cuts through the architectonics of a long-term relationship like the replica house-cake H carves up at their leaving party. It has the soul of a Turner Prize-winning film installation, the visual strictness of a Dutch painting, the psychological vagaries of a modernist novel and, somehow amongst all that, a wry humour. Regardless of how British she is, Hogg is an artist to be cherished and Exhibition is her most exciting film so far.
Popular in the Community