The ugliness of UKIP has yet again reared its ugly face and been exposed by Enfield local election candidate William Henwood and his racist comment about Lenny Henry. Henwood said "Lenny should emigrate to a black country. He does not have to live with whites." after commenting on Lenny's view that ethnic representation in media and broadcasting is poorly represented & needs to improve.
Henwood then told BBC Radio 5 Live: "I think if black people come to this country and don't like mixing with white people why are they here? If he (Henry) wants a lot of blacks around, go and live in a black country."
First and foremost William Henwood is out of touch and it's inappropriate and backward for any politician or political candidate to ask a British person to emigrate regardless of their ethnicity, background or race. LBC late night radio presenter Cristos Foufas then picked up on Henwood's comment and asked his listeners on twitter whether "it was offensive"?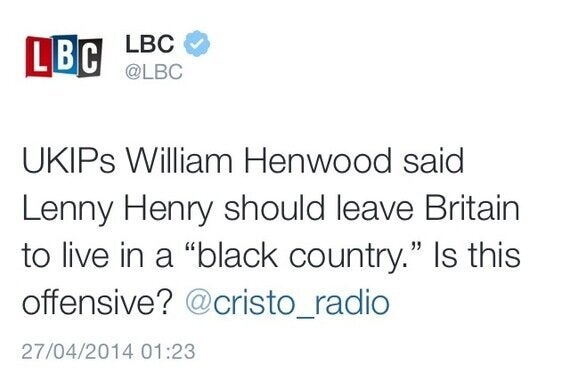 Of course it was offensive, should we be given the right to tell people regardless whether they are British to go back to their Irish, Spanish, Nigerian, Indian and other descendent places of origin. Nope, because it's racist and ignorant. UKIP seem confused on who they are trying to appeal to. They openly say they are merely addressing the immigration issue concerning Eastern Europeans. Lenny Henry is not Eastern European? He is British, born and bred who has contributed fully through his profession as an actor and comedian. The builder featured in UKIP's recent advertising campaign was found to be an Irish Migrant Worker. So it seems UKIP are having problems trying to find British born workers on their immigration spin.
With regards to the diversity debate Lenny Henry is right. I often question why certain broadcast outlets fail to represent our multicultural society. In many cases it's the same old stereotype when I often visit various media and broadcast outlets and witness the typecasting with Black and Asian security guards usually found at reception and middle class White executives elsewhere. It's worrying and sometimes depicts an elitist middle class playground with no room at the inn for ethnic or working classes. Lenny is right to address the issue and should be highly commended. I am glad Ed Vaizey, Culture Secretary and Danny Cohen, BBC Director of Television are working with Lenny and various media outlets to combat the problem and help to ensure more steps are taken to improve greater roles and opportunities. The recent launch of local TV network London Live has helped to address this with more placements of ethnic on and off screen talent to offer a broad and diverse mix. More should be done elsewhere by other outlets.
Beyond Media and Broadcasting it's a raw deal with parliament and other institutions still lacking in terms of reflecting that social and cultural change. If changes were implemented I'm sure the likes of William Henwood and his cronies would refrain from passing such absurd, old fashioned and racist comments. As for UKIP they are a bunch of old Men with cigars who still live in 1970's Britain with closet far right ideologies. Those days are over and done with. Does UKIP actually know what being British means and what it represents? I would love to meet up with Nigel Farage and put that question to directly him. He would probably attack me with unnecessary facts and statistics and end up saying "We're not racists, we love Black, Asian and ethnic people". I will not judge and allow Nigel to have his say. Let's face it if we trace our family trees and background I bet none of us are actually British. My close circles of friends, the majority are born and bred in Britain but their family origins are varied. It's pointless to address.
Education is vital and key to ensure ignorance does not infiltrate or play centre ground to the next generation. It can be damaging from the outset through taunts and bullying as these types of comments are picked up and breed ignorance and hatred. More initiatives need to be put in place to weed out this type of nonsense. Let's not allow bigotry to destroy what's great and unique about Great Britain.