Tumblr has recently made headlines, not just because it is loved by professional bloggers; but because of its acquisition by Yahoo! for $1.1bn.
Conversations and comments are mixed about this high profile acquisition; many of Tumblr users disliked the news and decided to move their blogs to Wordpress. One report suggests that 72,000 blogs on Sunday, 19 May 2013, moved from Tumblr to Wordpress in just one hour.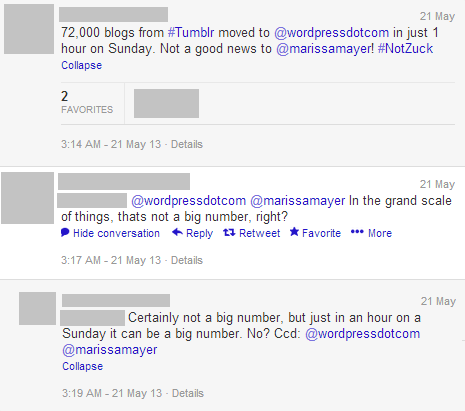 Marissa Mayer, upon her employment, promised to bring the best content and experience to Yahoo!'s 700 million monthly visitors. She axed a few services in order to put most of her attention on mobile and content. Since Tumblr is very popular among mobile users and social media savvy individuals, this is highly likely to be the main factor for Yahoo! to buy Tumblr. The world of tech and content is quite familiar with such high profile commercial proposals; for example acquisition of Instagram by Facebook for similar price tag and recent rumours about acquisition of Waze by Facebook in 2013.
Yahoo! also, similar to the Facebook's statement about Instagram, made a promise to not screw up Tumblr: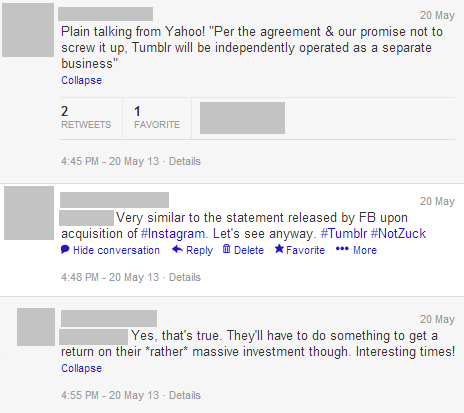 But that still did not prevent passionate bloggers to showcase the roadmap which Yahoo! would probably have in mind for the future of Tumblr: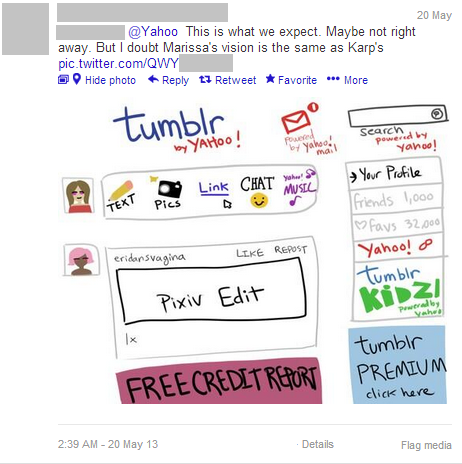 Tumblr claims 300,000million monthly visitors and this is indeed an attractive figure. Just imagine when Tumblr is part of Yahoo! the overall traffic to the group will be well over 1 billion monthly visitors; this will be the best ever news for advertisers and the most lucrative business for Yahoo!. There is an interesting report by GlobalWebIndex about what actually Yahoo! has bought. According to GlobalWebIndex, number of active users on Tumblr has fallen since Q2 2012.
Despite all the news and buzz about acquisition of Tumblr by Yahoo!, very little attention has been given to the strategic aspect of the acquisition; but there are of course some interesting tweets by individuals on Twitter: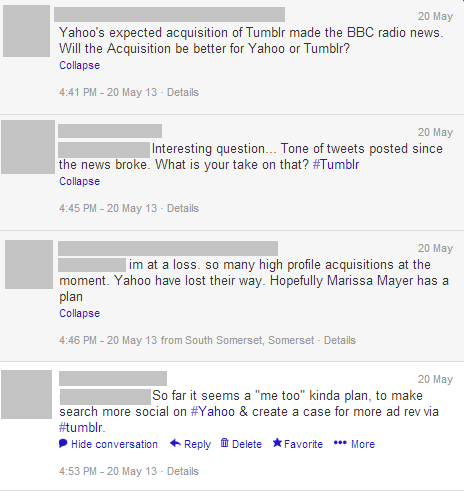 But what can actually lead one to understand why Yahoo! acquired Tumblr is surely beyond online conversations; where real demographics and geographic factors become valuable. For example, Tumblr is the most popular platform in the Philippines compared to the rest of the world; this is while the UK is ranked 10th in the list, according to GlobalWebIndex.
The debate is still hot and the feeling is still love and hate like. The future of Tumblr for users may not be exactly what Yahoo! and David Krap are now dreaming for; but what would this mean to brands and agencies?