Following World Aids Day yesterday there's been a lot of awareness and media coverage about the disease and the virus that causes it (HIV), but you may not be so familiar with a similar virus called FIV.
Feline Immunodeficiency Virus (FIV) is the deadly feline version of HIV and can lead to the breakdown of a cat's immune system. The disease has no cure but can be easily prevented.
We've carried out research at PDSA which reveals that nearly 900,000 cats in the UK aren't neutered. Unneutered cats are more likely to get into fights which is the primary way this deadly disease is spread.
Once a cat is infected with FIV there is no cure. With no vaccine available, neutering our cats is the best way to protect them as it reduces the chances of them coming into conflict with each other.
Entire male cats are those who present the highest risk, so if you own a tom cat who likes to get into the odd scrap it might be worth getting them tested by your vet to be on the safe side.
My rescue cat Talisker, was actually brought into the PDSA hospital where I worked as an abandoned stray kitten. Shortly after he was admitted, we tested him for FIV and thankfully he was negative for the virus. I fell in love with his cheeky nature and decided to adopt him. As soon as he was old enough I got him neutered to help protect him against a range of potential illnesses, including FIV.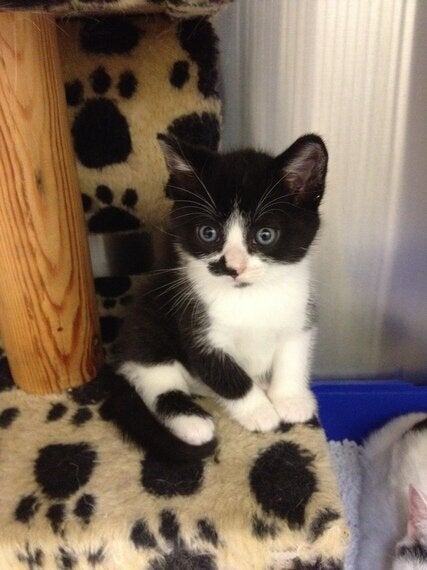 My cat Talisker when he first came into the hospital before I adopted him
If you haven't yet got your cat neutered I urge you to speak to your vet about booking them in. It's a simple procedure and can help safeguard their health in the long-term.
Thanks to funding support from players of People's Postcode Lottery we'll be delivering 30,000 neutering operations this year and educating pet owners about all the benefits it brings.
While the virus cannot be transferred to humans, early diagnosis for your cat will mean you can take measures to help them remain healthy. In fact, with good healthcare and by taking some simple steps to keep them safe, there's no reason why a cat can't enjoy a good quality of life for many years with the disease.
In the event that your cat is diagnosed with FIV, you can protect them and also prevent the risk of them spreading the disease to other cats by taking some simple steps:
Neutering - It's vital that an FIV-infected cat is neutered as this can help reduce them fighting with other cats you might have in your household.
Keep them indoors - Once a cat is diagnosed with FIV it's best that they become a house cat to avoid contact with other cats and prevent the spread of disease.
Companions - If you other cats in the household it's possible they may also be infected. However, the risk of passing the virus is very low unless they fight. It's best to feed an FIV positive cat from a separate food bowl, as saliva can spread the virus.