It's not only human waistlines that are expanding: our pets are now facing the same fate. I've seen increasing levels of pet obesity over the years and it basically comes down to pets taking in more calories than they use.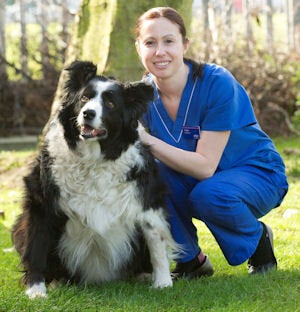 The levels of treats that owners feed pets can be a key factor in this 'over-calorification' and PDSA's latest study shows that more than 10 million pets are getting fatty, high calorie treats. It seems that owners are sharing their own unhealthy eating habits with their pets in a well-intentioned but misguided attempt to make their pets happy. Our PDSA Animal Wellbeing Report found that takeaways, biscuits, chips and even alcohol are all part of this obesity crisis.
The research, carried out by YouGov, also showed that around nine out of ten owners (87%) give pets treats, despite the fact that 91% realise the resulting obesity can reduce their pet's lifespan.
I personally think that this is one of the biggest welfare concerns facing the nation's pets. It's effectively a silent killer - it leads to long term health issues that can cut a pet's life expectancy and drastically reduce the quality of life in some cases.
But all this is entirely preventable. Which is why it's important that vets, nurses and other pet care professionals make every effort to help pet owners feed the best diet they can, and assist them if their pet needs to lose weight.
This can be done through so many different ways: weight clinics, diet advice sessions and making sure pet owners understand the importance of weight and shape control, through posters, leaflets and education programmes.
This is where PDSA's Pet Fit Club comes into its own. Over the last nine years, the contest has transformed the lives of some of Britain's fattest pets, many of whom simply wouldn't have survived had their weight issues not been tackled. Entries are now being accepted for this year's competition - just visit the website to enter, or pick up an entry form from your local PDSA store or pet hospital.
But it's not just these featured pets that we help. The story of fat pets is always popular with the media - perhaps, from their perspective, a chance to share a shocking photo to provoke a strong reaction from their readers. But in the grand scheme of things, we know that highlighting the issues of pet obesity encourages owners to take a fresh look at their own pet, and think about what they are feeding them. By following a pet's weight loss it also demonstrates to owners that it really is possible to get a pet thinner and fitter!
"I am delighted to see that PDSA Pet Fit Club is continuing to make a real impact on pet obesity, by raising awareness of the issue and helping to transform the lives of many pets who were heading for an early grave due to the severity of their weight problems."
When I look at pets that we've helped; pets like Ruby, a Jack Russell that lost one third of her weight to become a svelte sweetie it makes me feel great and proud.
And that's what Pet Fit Club does - it shows pet owners that it can be done as well as how it can be done.
Owners can enter their pets into our Pet Fit Club at www.pdsa.org.uk/petfitclub; the deadline for entries is Sunday 27 April 2014. I urge those who feel their pets are too large to have a chat with their vet first of all, but also think about entering our competition. We'll help you in every way that we can to help get real results for you and your pet.