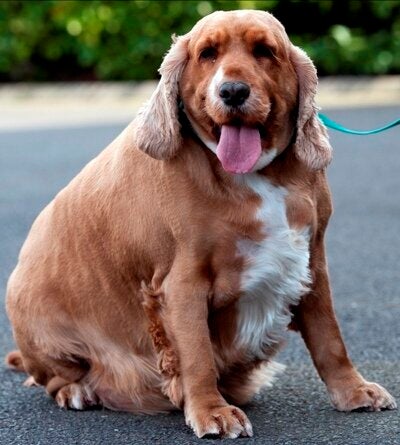 You may have seen in the news recently that many parents in England are failing to recognise that their children are overweight until the problem has reached an extreme level. Well, at PDSA we have just launched our tenth annual Pet Fit Club competition, and some of the stories behind the early entrants for the competition show that pet owners are also failing to monitor their pets' weight issues.
For example, in one case it seems that the owner didn't realise whether it was fat or fur making her dog look overweight. The owner said that she didn't understand how big her dog was until her canine companion was groomed, which exposed the true extent of her pets' size.
I've been a vet for many years and sadly I feel that pet obesity is one of the major issues affecting pet health in the UK. It's often unrecognised by pet owners, who may not notice gradual weight gain, or may simply regard a chubby pet as cuddly and well-fed. This is why I feel body shape assessment is really important in obesity control and it's where we help pet owners understand how to do an assessment - using both eye and hand. It involves looking at your dog, their scale results and running your hands over their body. Your vet can help show you how to assess your pets' body shape, or you can watch our video for a demonstration.
Findings from our latest PDSA Animal Wellbeing (PAW) Report say four out of five veterinary professionals have seen an increase in pet obesity over the last two years. This is likely to get worse as 80% of vets and vet nurses believe there will be more overweight pets than healthy weight pets in five years time.
Obesity is the number one concern among vets when it comes to man's best friend but worryingly, nearly half of people surveyed are not aware that it's a major issue. Yet obesity is linked to serious problems such as arthritis, diabetes, heart disease and a shorter life expectancy. Given all of these factors, I feel we need to take urgent action.
One of the reasons many of our pets are obese comes down to them eating more calories than they use. This can involve feeding inappropriate foods - such as takeaways, cake, cheese, chips and other treats, combined with them not getting enough exercise. In fact, many breeds of dogs need over an hour of exercise every day - and that helps us with our fitness as well! The PAW Report has found that over 5.5 million pets get treats as part of their daily diet and if we don't want our pets to face an early grave we need things to change, and quickly.
Pet obesity is preventable and at PDSA we're trying to help owners understand that while their pets may beg for food, and giving a treat is seen as a way of showing affection, ultimately it could be killing them with kindness. Sadly obesity isn't confined to just people, cats and dogs, as even rabbits and rodents are piling on the pounds. Vets, nurses and pet owners can all work together to ensure pets are the right shape and weight as well as getting the correct amount of exercise.