Nadia Sawalha has hit the headlines and set Twitter alight with her 2017 style choices - but she hasn't been getting the praise she deserves.
The Loose Women presenter has faced a barrage of criticism for making the 'shocking' decision to wear the same black and white snakeskin top on multiple TV appearances since the New Year.
As Metro kindly lists, Nadia - or in their words "the brunette panelist" - has worn this very same top for the episodes aired on the 4, 6, 9, 13 and 17 January.
That's one top that has been worn five times - and for all we know, this may just be the tip of the iceberg, Nadia may well put on this top in her downtime too.
As I said before, shocking.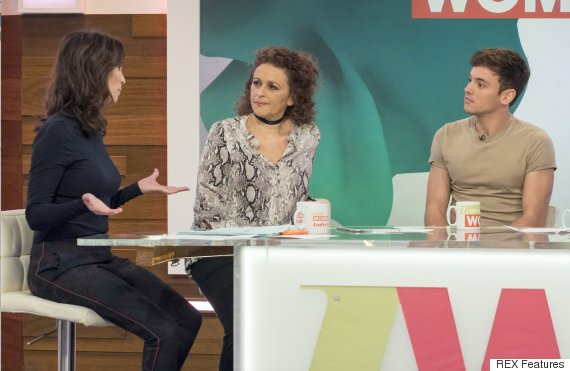 Could this be, as has been suggested, a sign that Nadia is trying to send a secret message?
Actually I hope so.
Because, whether it was her intention or not, Nadia has actually been making a sustainable fashion statement.
The idea that anyone - whether they're on TV or not - should have something new to wear to work every day is frankly unethical.
Yet, we've become so used to seeing presenters wearing a different outfit each day, that it is enough to draw comment when one has the audacity not to play into this fast fashion trap.
And this is a pressure that's felt more by women in the public eye than their male colleagues.
Don't believe me? Just ask Karl Stefanovic - the Australian newsreader who, after hearing his co-worker Lisa Wilkinson speak about the expectations placed on women in the public eye, chose to spend a year wearing the same blue suit, to see if anyone would comment on his appearance.
Throughout the year, not one viewer commented on Karl's suit - nobody noticed at all. Whereas, Nadia hasn't even made it three weeks without drawing disapproving comments.
So I'd just like to take this opportunity to say thank you to Nadia.
As a woman in the public eye, she would have known only too well what sort of reaction her sartorial choice would receive and yet she stuck with it - and it's sparking exactly the right kind of debate.
Bringing attention to the fact that women in the media are subject to heightened scrutiny about their appearance, while also prompting conversations about sustainable dressing.
Hopefully Nadia's experience will reassure more women in the public eye that there is no shame in repeat wearing - in fact it is something to be applauded.