Is it just me, or does the internet now consist entirely of lists of things to do during the summer holidays? My eldest son starts school next month, so naturally we're spending August doing elaborate scavenger hunts, baking rainbow cakes, and making dreamcatchers out of foraged driftwood. We're definitely not whiling away the days watching telly and hanging out in Pets At Home.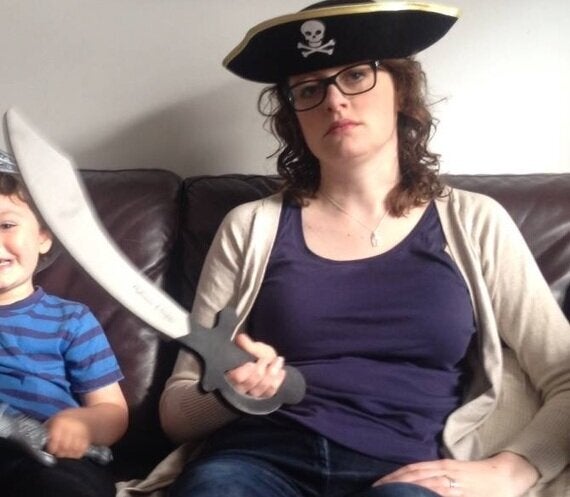 Just thinking about his first day of school makes me wobbly. I'm going to miss him so much. But sometimes - on the days when it's too hot, and we're too tired, and there have been three tantrums by 10am, and that's only counting mine - I do idly fantasise about what I'll do with all that free time. So here's a bucket list of things I plan to do once my child starts school.
I will enter the bathroom. I will close the door. I may or may not lock it. And I will enjoy the thrill of having a poo without being asked what I'm doing, or how long I will be, or where the pirate cutlass is, or whether we've got any Dairylea Dunkers, or how to put Spider-Man's legs back on. It will feel more luxurious than a weekend at Claridges.
2. Save millions on the weekly shop.
I look forward to leaving the supermarket with only the healthy, essential foods we need to live, like bread, eggs and Sauvignon Blanc. I won't have to bribe and argue my way around the shop, which means I won't end up with a trolley full of half-eaten Cheestrings and packets of Haribo. Not to mention those weird new yoghurt lollies that look like feet, which he absolutely loves and which cost £17 each.
As in a proper lunch, not a packet of crisps and some out of date hummus. I may even eat it in a restaurant, without having to choose between dirty looks because my son is making a racket or dirty looks because I'm letting my son have an iPad in a restaurant so he doesn't make a racket. There will be wine.
An actual grown-up book. It will feature no Gruffalos, hungry caterpillars or pirate dinosaurs. No flaps to lift or songs to sing. No narratives based around the tediously implausible idea that a zoo would post a series of exotic and dangerous animals to a small child on request. I will read a novel, perhaps that new Harper Lee one, or that obscure Nabokov I never got round to. I definitely won't finish the 50 Shades of Grey series or re-read Twilight.
Because lovely though these things are, none of them are as good as spending time with my son. I know that when I come home from that first drop off, I'll close the front door and weep for the absence of my little one. I'll cry for four years of love and laughs and companionship, and yes, the tantrums too. (Although I might not shed too many tears for the days when potty training went wrong.)
I will count the hours till I can go and collect him and ask about his day. I won't mind when he won't tell me anything. I will hold him close and sniff his hair, and breathe in the strange new smell of school. I will kiss his tired, beautiful face and tell him I've got some of those weird feet lollies in the fridge, if he fancies it. Then we'll do it all again the next day, and I know it will get easier.
In the meantime, here's my summer holiday bucket list: to store up as many memories as possible. Not of elaborate crafts or exotic adventures, but of my son as he is now - the feeling of his arms around my neck, the endless questions, the daft jokes, the way his hair curls over his ears when it rains. The only item on my list is to remember my son as best I can in all his funny, gorgeous, four year-old glory.
Well, that, and to actually buy something from Pets At Home. I'm pretty sure the security guard is on the point of throwing us out.