It has happened! Make no mistake, this is very big news. I have been delivering my Educate & Celebrate training to make schools LGBT-Friendly across the UK over the last few years and this is my first primary school to take the leap of using policy language and making it visible to all. Well done Welford Primary School in Birmingham! What they have achieved has been significant, not just for their school and community, but for other Primary Schools who have followed their lead.
Two days after their Educate & Celebrate training with me at the beginning of this term, the headteacher Jamie Barry, sent me photographs of their updated school code on display for all to see, saying that they had been 'inspired!' The school code includes the protected characteristics of The Equality Act 2010 which is something I always recommend, however many primaries have been uncomfortable to use the language of policy for fear of criticism and concern from parents and governors.
This is why I am so excited and extremely proud of Welford primary for taking this seemingly daunting, yet open and transparent step forward to ensure that all who enter the school are welcome and will be treated equally and fairly. In schools we regularly refer to respecting 'everyone', but now we absolutely know who 'everyone' actually is.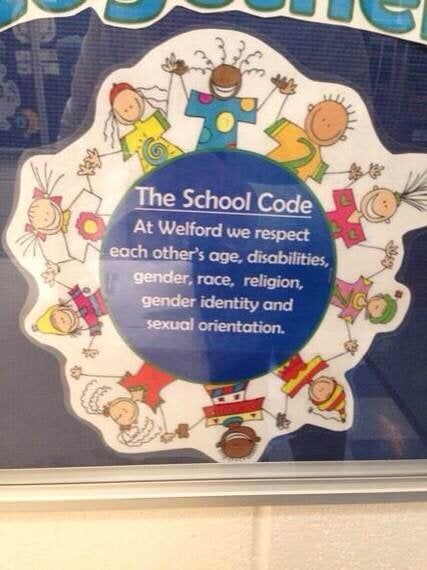 At Welford we respect each other's age, disabilities, gender, race, religion, gender identity and sexual orientation
Headteacher Jamie Barry says:
'Welford serves an extremely diverse community. We recognise the differences within our community and feel that these differences don't set us apart but, in fact, bring us together. Following our Educate & Celebrate training we wanted to make a clear statement about the respect that we have for all members of our community. Any visitors to our school now see our School Code upon entering the building. We are preparing children to live in an extremely diverse world. At Welford, we feel that we shouldn't shy away from talking about difference. Instead, we have an openness to discussing diversity and promoting respect for one another'
Can children understand these terms?
Absolutely they can, as we know, our young people are not born with prejudice, unfortunately this is something they learn from negative outside influences which, as educators, we must eradicate through our teaching and subsequent conversations with young people.
Does it make a positive difference to how children, teachers and parents feel?
Definitely, here is an example of the after effects of the training at Welford from headteacher Jamie Barry:
'I just wanted to tell you about two staff who were over the moon with themselves today. They did a lesson on marriage as part of religious education and they discussed same sex marriage. Some kids said it wasn't right and the teachers said they had the confidence to tackle this conversation. Amazing! I was just so taken aback today as really didn't expect it but the teachers sought me out to tell me. It was lovely as didn't just happen by chance. They showed me their lesson plan and were so proud of what they'd done'
This implementation of LGBT-Inclusion is not only ground-breaking, but also extremely timely in Birmingham where many schools have been under scrutiny for equality and diversity issues.
All schools should display such posters as a legal requirement, fulfilling both government and school policy, which is why at Educate & Celebrate we recommend these changes within our five-point plan to make your school LGBT-Friendly. The Department for Education document 'The Equality Act 2010 and schools - Departmental advice for school leaders, school staff, governing bodies and local authorities' states that:
'As far as schools are concerned, for the most part, schools cannot unlawfully discriminate against pupils because of their sex, race, disability, religion or belief or sexual orientation'
However, many schools as yet do not visibly apply this legislation. The standout aspect of all Educate & Celebrate primary resources is that they fulfil Ofsted criteria as part of the 'Language and Literacy' framework and section 5 briefing regarding LGBT-Inclusion, which asks primary inspectors to explore whether:
pupils ever hear anyone use the word 'gay' when describing something, or whether they have been told by teachers that using the word 'gay', to mean something is rubbish, is wrong, scary or unpleasant and why it is wrong
pupils ever get picked on by other children for not behaving like a 'typical girl' or a 'typical boy'
pupils have had any lessons about different types of families (single parent, living with grandparents, having step-parents, having two mums or two dads)
pupils think if there is someone born a girl who would rather be a boy, or born a boy who would like to be a girl, they would feel safe at school and be included.
My vision is that all schools should display the protected characteristics as a matter of course. In practice then; when teachers hear derogatory language, the school code is on their wall as a prompt to simply inform students that their language is unacceptable.
To ensure our students are using positive language and are fully informed with LGBT facts, I have signed the open letter to UK political leaders calling for LGBT-inclusive sex & relationship education to be statutory in all schools. Currently it is mandatory and in my experience only a few schools include LGBT relationships as part of their SRE programme. Educate & Celebrate is part of the coalition of organisations and campaigners making this demand. The beginning of the letter states:
'This month millions of young people are going back to school - but because of inadequate sex and relationships education (SRE) we as a society will fail to provide them with the essential knowledge and life skills they need to make informed and responsible decisions in regard to their sexual health. This is especially true for LGBTI young people. To address this, pupils, health experts, and we the undersigned, are supporting the 'SRE, it's my right campaign', calling on all political parties to commit to make age-appropriate SRE a statutory requirement for all schools'
We are making progress in infiltrating the education system to ensure the needs of 'everyone' are met. Now with schools such as Welford defining who 'everyone' is we can be assured that the next generation will have no fear of discrimination. The same will apply to students at Minworth Junior and Infants too, who tell me they will define 'everybody' with the protected characteristics on their school code. This practice is truly saving and changing our young people's lives as well as providing an inclusive and safe environment for our LGBT teachers, parents and governors.