This courgette and lemon risotto is sublime. It's healthy, tasty and full of nutrients, meaning that you'll look great, feel great and, best of all, it's not a diet so no restrictions. Just healthy choices.
This recipe is also great for people with IBS or digestive problems who are following a low FODMAP diet, vegetarians, or anyone who enjoys a sumptuously creamy risotto, but doesn't want to pile on the pounds.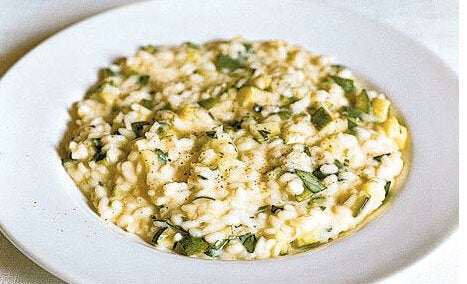 2 Large courgettes, roughly chopped
2 tbsp Garlic infused oil
3/4 tsp Asafoetida powder
1 Small bunch parsley, chopped
1) Heat the oil and butter in a pan
2) Add the rice and stir to coat all the grains
3) Pour in the wine and stir until absorbed
4) Slowly add the vegetable stock, one ladle at a time and stir until absorbed
5) Make sure all the stock is absorbed before adding the next ladle and continue until creamy
6) In a separate pan, gently lightly fry the courgette and lemon zest for 4-5 minutes
7) Add the courgette and parmesan to the risotto and mix gently
8) Garnish with parsley and serve. Enjoy!