These three foods score very highly around Valentine's day - pleasing for both, males and females. But, what if you don't eat meat? What if you're allergic to shellfish? What if you've committed to going sugar free for February? There's nothing romantic about eating something you don't like, or indeed, something that makes you poorly with grim side effects!
Many of us like to be treated, especially on this day; by our partners with a small gift, a meal cooked by a friend, indulging in a chocolate or two or treating ourselves to a bottle of wine and and luxurious dessert. Many of you will know that it's not always that easy. However you'll be marking the occasion, use this three course menu for some recipe inspiration for your romantic celebrations!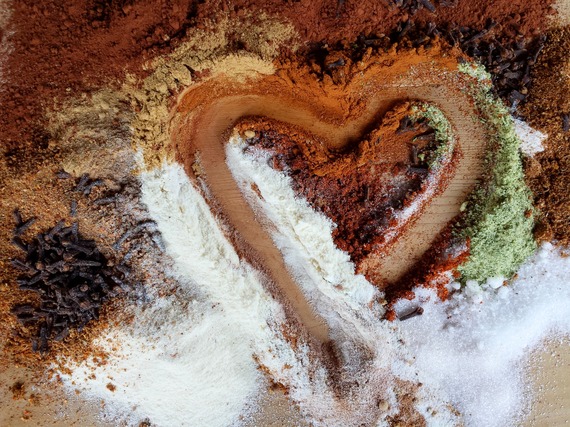 Photo Credit: PIxabay
One way to stay on track with healthy eating is to plan ahead. Find inspiration in our recipes and create a meal full of love, passion and thoughtfulness! Eat delicious food whilst remaining meat free, gluten free, dairy free, refined sugar free or shellfish free.... Menus that combine quick and simple cooking methods and take advantage of food available seasonally. Lookup seasonable (www.eatseasonably.co.uk) foods that are in season or speak to your local green grocer or farmer's market. For February in the UK, leeks and savoy cabbage are at their best this month, with carrots and cauliflower still around too.
To Start
Lawn Cocktail
To start, try something light like a 'Lawn Cocktail'. For the leaves, use watercress or rocket for a depth of pepper then add in some crunch with pumpkin seeds. Add grated carrots to sweeten the salad and a little avocado for a creamy texture. Drizzle with olive oil and some fresh lemon juice. Present it in a fancy glass for super slick presentation - Ta dah!
Recipe
Handful of salad leaves
1 carrot grated
½ an avocado
1 tbsp. Pumpkin seeds
1 tbsp. Olive oil
0.5 fresh lemon juice
The Method
Layer the leaves, carrot & avocado in your fancy glass. Before serving, drizzle olive oil & lemon juice all over. Sprinkle with pumpkin seeds.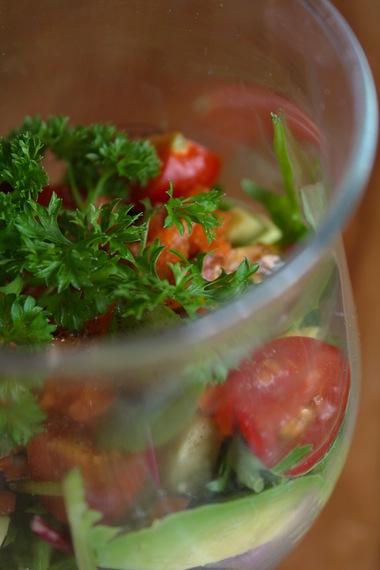 Photo Credit: Food At One
The Main
Sweet Carrot Tagine
Celebrate the use of seasonal leeks, cabbage and carrots here, with my 'Carrot Tagine'. Swap the onions for leeks and you'll find a milder, sweeter flavour. Chop savoy cabbage into the tagine instead of the usual kale, or alternatively, have it as an accompaniment to the dish.
This tagine is seasonal; made with naturally healthy food at it's best, flavoured with ground spices. This is a Food At One signature dish, one that have shared with my family and one that I must share with you too. It is both sweet and spicy - if you are not such a fan of spicy food then we recommend that you use less cayenne pepper for a small tingle, or none at all to keep it sweet.
Find recipe and method here.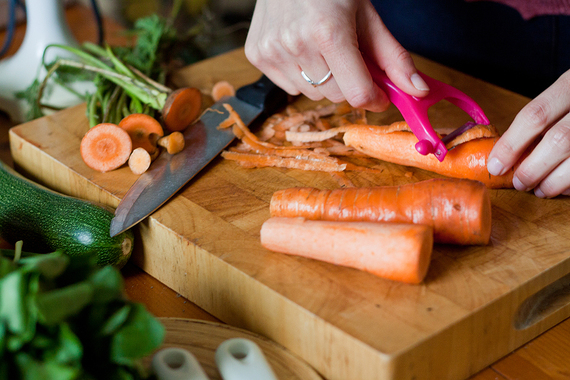 Photo Credit: Food At One
Dessert
Chocolate Coconut Mousse
Saving the best til last with this indulgent, yet healthy, dessert... It is always possible to bring a healthier twist or alternative to the sweet treats we are used to. Let's start with sugar - continues to be quite a 'hot topic', with many people claiming to quit it all together. So with that in mind, you will not find refined sugar in these recipes. Instead, I use coconut sugar, xylitol or, wait for it... no sugar! (Gasp! Shock! Horror!) It is entirely possible to eat naturally healthy, sweet tasting desserts - honest! You won't believe how delicious and sweet you can make dishes, without requiring any additions of refined nasties! You'll feel as though you're having a treat, they are quick to make and will fill you up just nicely!
Recipe
1 can of organic coconut milk
2-3 tablespoons raw cacao powder
The Method
Open the can of coconut milk, leave the lid off and place it in the fridge - leave overnight. The cream should thicken at the top creating a clear separation between the coconut water and coconut cream. This is the process that we need to occur to create this dessert. This is the best way to get the desired texture of mousse.
In the morning, carefully spoon out the coconut cream on the top into a bowl, be careful not take the coconut water. Add the cocoa or cacao powder and mix until well combined. At this point taste the mixture, if you like the taste continue, if not then add 1-2 teaspoons of liquid sweetener (honey, rice syrup or maple syrup), this will give an extra sweetness.
Choose either a shot glass or your favourite dish for the mousse to further set in. Chill in the fridge for at least an hour - the longer the better. Before serving sprinkle with some blueberries to add natural sweetness, coconut flakes, and/or cacao nibs.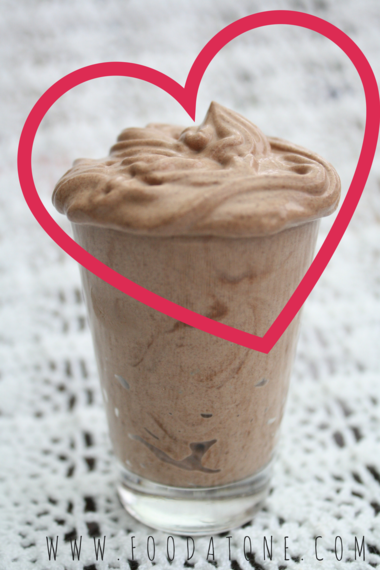 Photo Credit: Food At One
So there it is - our Food At One menu for love! 100% meat free, gluten free, dairy free, refined sugar free and shellfish free! We told you it was possible! Simple, delicious food is always at your fingertips and does not have to be limited by intolerances, allergies or lifestyle. Happy Valentine's Day!