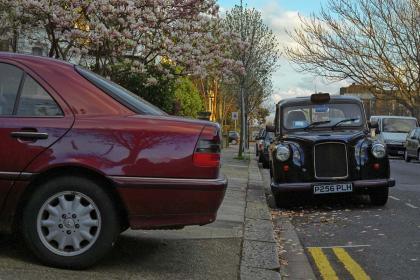 Leading UK Charity Guide Dogs for the Blind Association UK founded in 1934, providing mobility and support for sight impaired and severely sight impaired people; have recently been working towards creating new laws and legislations that enable citizens with sight loss and mobility needs to live independent lives.
A current, ongoing campaign that Guide Dogs are working on is to introduce national a law in order to ban cars, vans, bikes and other similar vehicles from parking on pavements. This law would stretch across the UK, excluding designated areas by local councils.
At present there are no implemented measures to control and moniter public parking, for example parking restrictions. A staggering 48% from a recent survey answered that they did not believe there were any such measures.
Uncovered by a recent investigation...
Cars being parked on pavements has proven to me an increasing problem for individuals with disabilities, mobility needs and those with small children. In the video above we see a number of Guide Dog Owners to encounter parked cars on the pavement and are consequently forced to have to face the traffic and advance onto the road.
As a Guide Dog Owner myself and as an ambassador for people with sight loss I have faced this dilemma on numerous occasions. Whereby I have, with a great deal of reluctance, had to continue with my journey onto the road with my guide dog. Guide Dogs as a charity do not encourage guide dog owners to advance into the road unless absolutely necessary when it is an unavoidable circumstance. However, many Guide Dog owners are being faced with this outcome on a regular basis, especially in urban areas or areas in which the council and local establishments are failing to provide adequate parking for drivers.
Jo Fishwick, Guide Dog Owner and Co-Founder of VI Talk Podcast feels extremely strongly on the matter and believes that the quicker this law is enforced the better it would be for people with sight loss. From the age of 19 years of age and living in residence of Tynemouth she gives an account of her experiences of feeling insecure due to cars being parked on the pavement.
I remember when I had my first Guide Dog in 1990, I found this a real problem walking through my local area. Not just with cars, but with other vehicles and even things such as wheelie bins. Where I live in Devon you get a mixture of there being no pavements whatsoever, but you also get a great deal of very narrow pavements and similarly narrow streets. If a car where to park on the pavement I am forced to walk into the road where a lot of two way traffic regularly passes through begin that it is the road into my local town. Having no sight at all I usually feel very dubious about stepping into the road and this means I feel very uncomfortable having to wait on the pavement for a long time. What's more, when there is more than one car on the pavement and you have no sight to use to help you it's really frightening and I hate it.
The Campaign has already received a wide reception and a vast amount of support, research shows that over 78% of local authority councillors in support of this campaign. Seven out of ten (69%) people that took part in a YouGov Poll commissioned by Guide Dogs support the idea of a new law that prohibits drivers from pavement parking.
Since Guide Dogs announcement of this campaign earlier in March 2014, the campaign has become an internet wide topic with charities such as The RLSB and The RNIB showing their support of the campaign to ban parking on pavements.
Recent social media responses indicate that a large proportion of visually impaired people and people with mobility needs are in agreement that this is a campaign that is hugely needed to improve the safety and mobility of people with disabilities.
Thomas Ankin Disabled Students Officer at Goldsmiths Students Union and blogger at The Scroll of Mentality and Solidarity gives his thoughts on the campaign.
I think this is brilliant idea! After all, a street is a street, a pavement is a pavement and not an assort course for those with disabilities and mobility needs. But, I really hope that this is a campaign that receives the right planning and attention it deserve to make it a success.
What proves as even more shocking was a further investigatory survey from Guide Dogs in 2013 which revealed that half of the drivers (54%) who took part in the survey declared that they park on pavements and the remaining 48% do not even consider the issues this causes for people with sight loss.
Laura Turner, a Guide Dog owner residing in Warwickshire agrees that drivers cause potential hazard when they actively park on pavements.
Drivers know and can see the hazards so why park on the pavement to start with.
Guide Dogs as a charity are determined to ensure that this law is introduced across local councils the UK (excluding Greater London) to provide the disabled people they represent with the ability and security to live the mobile lives that they deserve.
Links
Guide Dogs UK Website: https://www.guidedogs.org.uk
The Scroll of Mentality and Solidarity: http://thescrollofmentalityandsolidarity.wordpress.com
My Own Blog: http://fashioneyesta.com
VI Talk Podcast: http://www.vitalk.co.uk/site/