As the world mourns the loss of Nelson Mandela, it isn't easy to separate the leadership qualities of the man from his status as an icon, whether in jail, stewarding his country towards a post-Apartheid future, as its first Black President or as elder world statesman. However, I feel privileged to have witnessed at first hand a small but telling demonstration of his style of leadership that embody his vision, emotional intelligence and wisdom.
When I arrived in South Africa as a BBC reporter, Mandela was already President. One evening we received a call that tens of thousands of former ANC army soldiers, some of them armed, had massed at his Presidential Home in Pretoria. The mood was tense. These men had been part of Umkhonto we Sizwe, the Spear of the Nation, stationed during the Apartheid era in countries such as Angola and Zambia. Yet following the recent first multi-racial elections, they had been brought home to be incorporated into the South African Defence Force. But after the bitter years of intense hostility, integration was clearly not progressing smoothly.
I drove to Pretoria to hear from the soldiers, who were nervous, frustrated and even a little aggressive, demanding to see their President. They complained to me of their substandard accommodation, poor food, and most significantly, of still not being respected as equals by their former enemies. Would President Mandela come and hear their grievances and help to transform their lives? How would the evening unfold? Rumours spread quickly as the night wore on.
Suddenly we heard loud sounds of rotating blades as Mandela's helicopter sliced through the warm night air. We expected him to stand on a hastily constructed podium and address the crowd. Instead, I found him walking through their midst. "Where do you live?" he asked one soldier, "Yes I know Alexandra township, but which street, and where along that street?" "Yes I can picture that corner in my mind's eye". He carried on meandering his way through the crowd of soldiers for some thirty minutes. Only after he had heard the details of their lives, and projected to them personally his deep sense of humanity and compassion, did he address the whole crowd, and explained to them the importance of now having a single South African army and the need for both discipline and patience. When he spoke, the soldiers listened carefully. When he finished they returned to their barracks, quiet, peaceful, and satisfied.
I met Nelson Mandela in person one afternoon soon afterwards, as part of a group of journalists invited to the garden of his official residence. He spoke to me not about the pressing need to change the country, but rather how he missed seeing women washing clothes in the river in his rural home in the Eastern Cape. Yet as well as being self-deprecating and modest, he was simultaneously aware of his emerging iconic status. After our conversation, he stood posed ready so that I could capture an iconic moment of my own, before I had to embarrass myself by asking.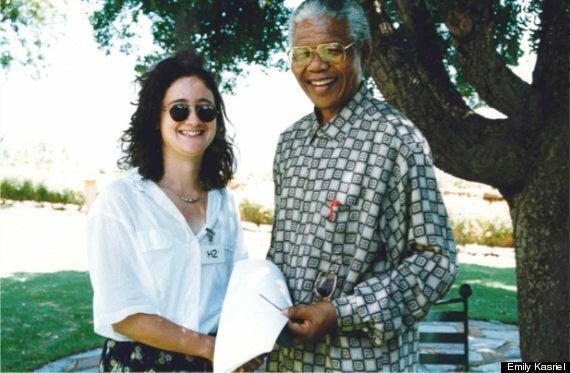 One of the reasons why the world's attention has been so transfixed by Mandela's life and death is because he has been elevated as the single person embodying the South African journey to freedom. Indeed, in this narrative, the long walk is portrayed as a struggle that could not have been successfully waged without him.
But as I came to understand after a visit to his comrade, the late Walter Sisulu, this development of Mandela from prominent lawyer and activist into leader of 'the movement' and international icon was a strategic decision taken collectively by the incarcerated senior African National Congress leaders. Indeed, Sisulu too been imprisoned with Mandela after the Rivonia Trial in which ten leaders of the ANC were tried for acts of sabotage, and had spent decades with him in his Robben Island prison. Yet he was a small, far quieter man. Mandela was selected as leader not for his superior vision for South Africa or his negotiating skills but because the leaders decided that Mandela's height, charisma and character would make him an ideal icon around which to gather opposition to apartheid.
We are now so familiar with the image of Mandela as benevolent President and elder statesman that we believe that this picture of him has always been part of our collective consciousness. We forget that for most of the 27 years that he was imprisoned and isolated, we had had little proof that he, like the rest of us, was ageing. "Prison not only robs you of your freedom. It attempts to take away your identity," wrote Mandela in his 1994 autobiography. In my cupboard at home, I've got a T-shirt with a photo of an oversaturated, youthful and rather chubby young Mandela. The photo was probably taken in the 1950s, but bought by a friend in South Africa in 1989, while Mandela was still behind bars. During most of his imprisonment, his writings were banned and his image was erased from public display, so that the anti-apartheid movement was forced to rely on unreliable images and decades old photos. In South Africa at that time, T-shirts were worn as weapons of defiance. This T-shirt is a record of what is now a very far away moment in history.
When something or someone becomes iconic, they start to embody the meaning that other people read into their symbolic power. Jesus probably wasn't crucified at the place where the Church of the Holy Sepulchre now sits in Jerusalem. Yet centuries of worship have imbued that place with meaning, which has inspired millions of Christian pilgrims. While he was still alive, Mandela had arguably become the most respected and admired living person. As the world now grieves, with Mandela's image having moved from utter invisibility to blanket ubiquity, let's hope that his real achievements and the collective nature of the struggle for freedom, are not lost in the transformation of a leader to an iconic global symbol.
Popular in the Community