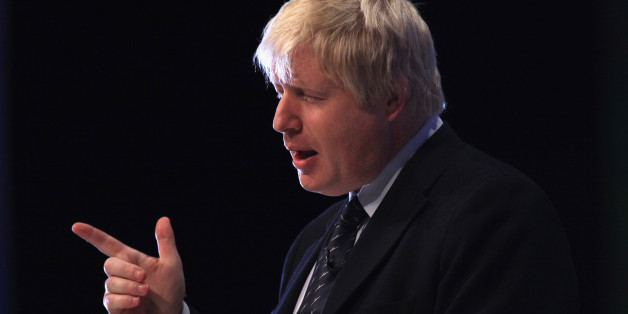 Christopher Furlong via Getty Images
When Boris Johnson turned up at the 2013 Conservative Party Conference in Manchester last year, he was met with a rock star-esque welcome by the waiting media before he had even entered the building. This year was no different. Fans, journalists and conference goers flocked to the conference hall in Birmingham yesterday, eagerly anticipating another star performance from the London mayor. Why the hysteria? "It's Boris!" one spectator exclaimed, "he's just got it," said another, melting into the excited atmosphere. He certainly appears to - not many politicians receive a standing ovation before speaking, a gesture that met Boris yesterday before he had even made it to centre stage.
As expected, Boris followed in line with home secretary Theresa May and chancellor George Osborne in promoting the need for Britain to stay on track with the Conservatives' 'long-term economic plan', emphasising the 'Securing Britain's Future' slogan that epitomises the Tory message. There were gaffs, jokes, props too - a brick which he duly elevated above his head to commend the progress his party have made in housing development. Continuing with highlights of the government's achievements over the past four years, the London mayor also commented that only the Conservatives could offer Britain a definitive EU referendum, and he stressed that Britain could not go back to past Labour ways on economic matters. Then, the anecdote we had all been waiting for - what to make of Scotland's decision to stay within the Union and the Ukip effect that has already infected two former party members:
"First chuck Salmond overboard and then eat the 'Kippers for breakfast.
"We will fight them on the beaches of Clacton and of Rochester and Strood as well."
But can the Tories steal back seats in Northern areas next year, some constituencies in which they have not held a seat for over 100 years? Boris seemed to think so:
"The light is dawning, scales falling. Across the country the chattering classes are waking up to the reality that victory is within our grasp in the next eight months."
Another triumph, then. But why is it that Boris succeeds where others fail - in captivating an audience who view a politician as believable? Speaking to Newsnight's Evan Davis, Boris claimed that it was all to do with his choice of language. He speaks plainly - clear, short sentences that resonate with the public. He talks as though he is on our level, forgoing the political waffle that makes up much of other politicians' statements. The public sees through this, Boris believes. They do not trust MPs who hide behind political rhetoric which does not hit home with the majority. If Margaret Thatcher went on the Today programme, she might say: "I ate a piece of cheese. And it was good," Boris explained. Short, sweet and to the point. You would've known what she was talking about. Winston Churchill used this approach too, and the London Mayor clearly sees it as his route to future political success.
Talking of success, could the 'blond-haired mop' really have what it takes to succeed David Cameron as Tory leader? If the Conservatives lose the general election next May, "all hell will break loose in the party and it'll go on for years," said Times columnist and former Tory MP, Matthew Parris. Part of that chaos may well involve a leadership battle, if, as expected, Mr Cameron does step down as party leader. Although Parris believes that Boris will throw this hat in the ring for the job, he has yet to answer key questions that will need to be addressed if he is to be considered as a key candidate. At the moment, Boris can lap up the glory when taking to the stage at media events, but if he does have ambitions of not only leading his party but also the country, he will have to comment precisely on where he stands on every part of party policy. He knows this though - and he is more than ready.