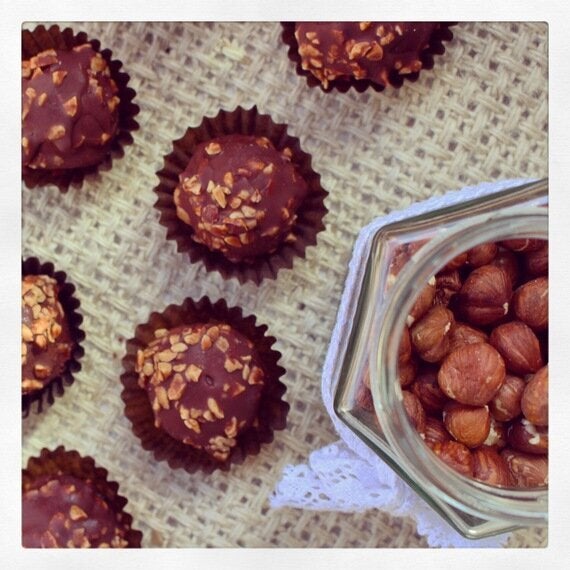 We know what you're thinking. These LOOK like Ferrero Rocher, but can they be as chocolatey and as delicious as the original, whilst still being healthy? Yes they can.
I may not be able to stack these into a pyramid like they used to do in the TV adverts (although I do suspect some glue was involved there) but I promise once you taste these you'll forgive me for my lack of balancing skills.
What's more, these are so easy to make and require only six ingredients. As if that wasn't enough, they have heaps of healthy benefits too! Hazelnuts contain heaps of protein and good fats, and cacao is packed with antioxidants, so they're pretty good for you, even if they don't look it!
These are a fabulous little dessert, and an especially great way to wow people at a dinner party with minimal effort. Stack them in a pyramid for bonus points (and please let me know how you did it)!
1 cup hazelnuts, plus a handful of extras for the centres
1 cup dates
2 tbsp cacao powder
For the chocolate coating
4 tbsp chopped toasted hazelnuts (you can buy these all ready chopped and toasted in most supermarkets)
3 tbsp cacao powder
1/2 cup cacao butter (or coconut oil)
4 tbsp maple syrup
To make the balls, simply pop the dates, hazelnuts and cacao in a food processor and blend until it all starts to stick together. Using a hazelnut as the centre for each one, roll the mixture into balls and place them in the freezer to cool while you make the chocolate coating.
For the coating, melt the cacao butter in a saucepan, then stir in the other ingredients until all nicely mixed together. Remove the pan from the hob and pour the mixture into a bowl (don't forget to lick the spoon!). Remove the balls from the freezer and one by one roll them around in the chocolate mixture and then pop them back on a plate for the chocolate to set (it will set quicker the longer you've had them in the freezer for). Once you've coated all of the balls once, start again and continue one by one until you use up all the chocolate mixture.
So there you have it - a healthier version of Ferrero Rocher - who would have thought it!?