Around nine months ago I was almost by accident catapulted into the world of Children's writing. Having long ago discounted it as nothing more than a fanciful dream, I had pursued other interests while keeping fiction writing an occasional hobby. One day out of the blue however an unusual opportunity fell into my inbox: A Production Company was looking for an author to bring an idea to life. They were requesting local writers to submit their work in the hope of finding the author that was right for their vision.
Armed with nothing more than a title and a character bio, I carefully spent the next two weeks crafting an intricate universe that I imagined young children might enjoy. This was no mean feat to compact into less than 800 words, yet in typical young adult "YOLO" fashion I just had to give it a go.
Although I absolutely adored writing my story, I was cynical. I submitted my piece with low expectations of receiving any kind of reply or feedback. You can guess my utter elation when I received the news that out of 70 other writers I had been the one chosen for the feat. That initial submission became the blueprint for a seven-part children's book series. My fly became known as Fuzz, and he is now the main character of my first children's book, Fly Guys: Monday Madness.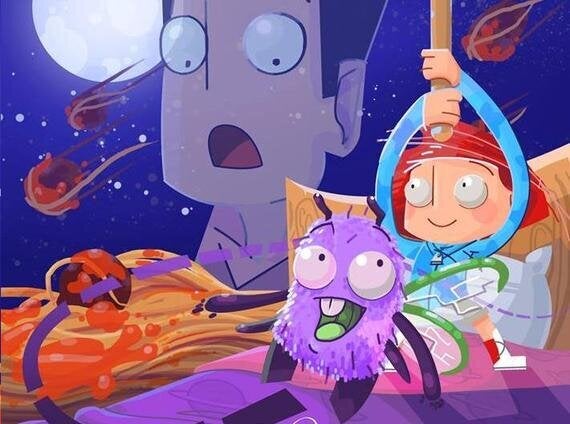 Although I am still a (very) young author and my first book has only been out for a couple of months, I think that I have acquired along my short journey some insights into the loosely termed 'writing industry'. Some of it may be different to what you've heard before, but if I could give a couple of snippets of advice to my peers (which I can) on breaking into the world of professional writing (which I will) here is what it would be:
Practice writing in different styles and for different audiences.
I think that this is particularly worthwhile as it shows potential employers/ publishers that you're versatile. Don't worry about muddying the waters with a chameleon- style genre hopping. I've written articles and poetry, given academic book reviews, and even worked in copy editing and grant writing. It's all good experience and it enriches your writing style along the way too. Do bear in mind that some of the biggest authors write in multiple genres. Take for example, the romance-cum-thriller writer Nora Roberts, AKA J.D Robb.
Also write about what you know and are passionate about.
I mean you could attempt to write the next big thing in sadomasochistic romance since Fifty Shades of Grey, but if it's not your thing you're going to have a bad time.
I may have not had previous experience writing a children's book before Fly Guys per se, but what I did have was knowledge and practice in certain elements in the story, like poetry and rhyming. In particular I have a fervent concern for equal rights. Fuzz and Alice's relationship provided the perfect metaphor for me to explore my concerns about diversity, difference and discrimination. You should do the same and take inspiration from your interests and commitments as well.
Be sure of your own capabilities
Confidence is key in this industry. Even if you don't really feel it, fake the confidence to make it. Don't let the fear of criticism or negative feedback prevent you from trying to get published and make upbeat and snappy pitches when submitting your work. Bear in mind that the meek and mild/ pleading approach suggests that you're a newbie to the writing world, or desperate, or both. With this appearance you may be taken advantage of.
Give every opportunity a go and create opportunities for yourself
Local talk? Great. Open mic night? No problem. Meeting with a multinational publisher? On it. Don't be afraid to give the opportunities available to you a go. There's no need to hesitate either, so be a little bold and cheeky and ask for that spot at the next local poetry night or pitch and article idea to a newspaper. You could even ask an influential acquaintance out for a pint. A very good friend of mine once said, "If you don't ask, you don't get" and in the cut throat business of writing, this saying could not be more accurate.
This also links in well with the above. Attend conferences, events, or just get around on twitter. It's also a great idea to create an account with LinkedIn so you can network with professionals. I've managed to make some fabulous contacts this way.
Don't be disheartened by refusals
Refusals are all part and parcel of the industry. They can hurt sometimes but you just need to accept that your work either wasn't quite right for them, or you need to up your game a little. Always bear in mind the audience you're writing for and consider if your style is suitable for the place you're pitching to. You wouldn't send a sonnet to The Sun or the latest scoop on Paris Hilton to The Journal of Literary Theory. The same thing goes for when you send your novel/poetry/play away to the publishers. If you do some research and find the right people for you, you may start to hear less No's and more Yes'.
It takes a lot of work, and a little luck
Sometimes you do just have to be in the right place at the right time. If you're willing to network, dip your toes in different areas and take the odd chance or two, you are however, much more likely to find lady luck along the way.
Related