Health secretary Matt Hancock has announced that 10m people have received their first coronavirus vaccination doses in the UK.
The rare glimmer of good news came on Wednesday, ahead of the official publication of daily figures.
Data correct as of Monday, which is the most recent displayed on the government's coronavirus dashboard, indicated that 9,646,715 people had received a first dose, and 496,796 had had a second.
Hancock's milestone announcement means that at least 353,285 first doses were given on Tuesday – up from 350,348 on Monday. Prime Minister Boris Johnson declared the news "fantastic" and thanked "everyone who has helped make this possible."
The Department for Health and Social Care (DHSC) was unable to specify how many vaccines administered were Pfizer and how many were Oxford/ AstraZeneca.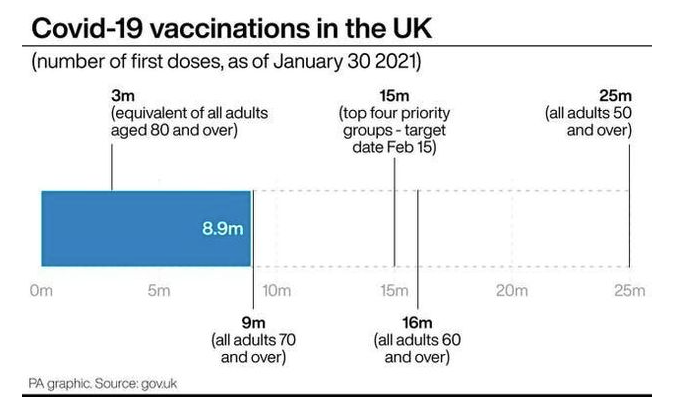 It also provided a major boost to the government's recommendation that the second jab should be delayed for up to 12 weeks.
Researchers said that the first dose of the Oxford/AstraZeneca jab offers protection of 76% up to three months and may reduce transmission by 67% — with efficacy rising to 82.4% after the second dose 12 weeks later.
The data from the study by the University of Oxford, which has not yet been peer reviewed, supports the four- to 12-week prime-boost dosing interval that many global regulators, including the UK's, have recommended.
So far, the government has ordered:
100 million AstraZeneca/University of Oxford doses (approved by UK regulator)
40 million BioNTech/Pfizer doses (approved)
17 million Moderna doses (approved)
60 million Novavax doses (not yet approved)
60 million Valneva doses (not yet approved)
60 million GSK/Sanofi Pasteur doses (not yet approved)
30 million Janssen doses (not yet approved)