We've all been told that lockdown is the perfect opportunity to catch up on our reading. If you can manage that in between the home schooling, online yoga classes and Zoom meetings, here's a diverse selection of books that all have an escapist quality for your time in isolation. Some explore our sense of place, others take you travelling (we can dream) and a few examine what is to be human in the 21 Century. Novels, missing landscapes, fact and fiction… enjoy.
Remembering Lions – Wildlife Photographers United
This volume is part of the fantastic Remembering Wildlife series. Coffee table books might feel like an indulgence, but beautiful photography needs space on the page and there's another reason to justify this one – the striking images of lions from all over the world have been donated by more than 70 top wildlife photographers including Marsel van Oosten, Frans Lanting, Art Wolfe, Steve Winter and Michael Poliza, to raise awareness of the plight facing lions as well as funds to protect them. Plus I'm a Leo – how about you?
Atlas of Vanishing Places – Travis Elborough and Martin Brown
Subtitled "The lost worlds, as they were and as they are today", this book is a fascinating voyage around territories lost to history – from forgotten islets to entire cities. Winner of the Illustrated Book of the Year in the Edward Stanford Travel Writing awards, which I judged and presented this year, it's a tantalising glimpse into places we've never known. Knowing what we've lost can help us treasure what we have, now especially.
Half A World Away – Mike Gayle
A perfect holiday read but you might need to hide your tears behind those big sunglasses (in your lounge). Kerry Hayes is single mum who works hard for her son cleaning houses she could never afford. Her traumatic childhood has left permanent scars but she clings onto something from her past gives that gives her hope for the future. Noah Martineau is a successful barrister with a 'perfect family' living in a well-off London suburb. He refuses to be side-tracked by his adoption as a young boy and always looks forwards. When their lives collide it sets off a chain of events that have life-changing consequences for them both.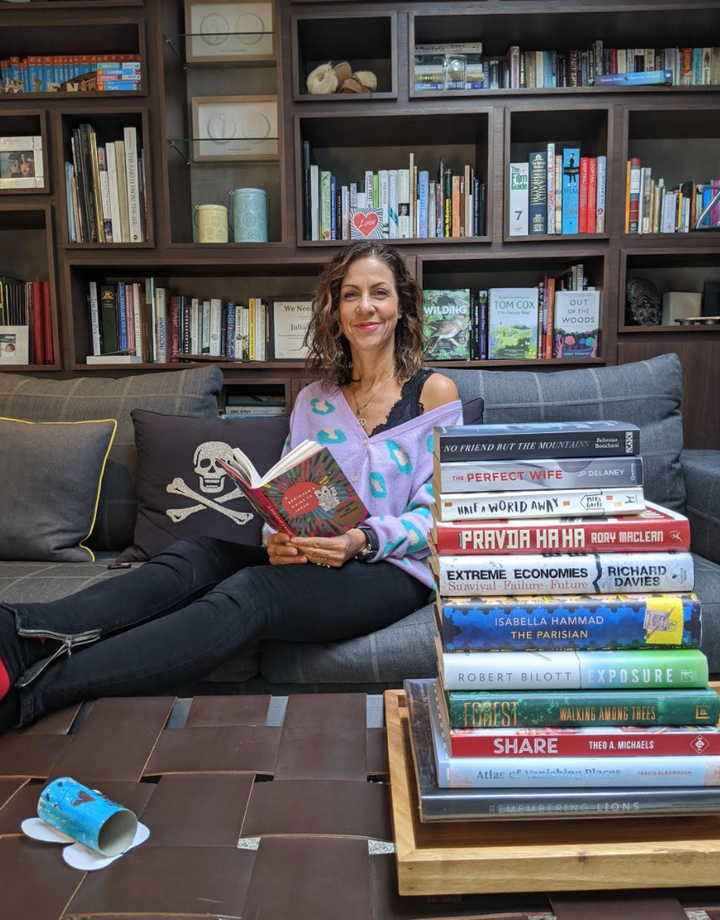 Exposure – Robert Bilott
Touted as the Erin Brockovich of our times, this true story of corruption, lies and poisoning the public actually goes back decades. Lawyer Robert Bilott spent years building a case against one of the world's largest chemical companies Du Pont, uncovering a shocking history of environmental pollution and heartless cover-up. It's not so much don't go back in the water – as think before you drink the water, or use that frying pan, or carpet your hallway, or… This book inspired the brilliant film, Dark Waters, starring Mark Ruffalo and while it may make you feel anxious about some of your household products, it's also a heartening tale of humanity and the good people, as well as the bad.
Forest: Walking Among Trees – Matt Collins and Roo Lewis
This is a celebration of the diverse ways in which trees and forests are not just magnificent and magical, but economically germane. I'm no tree hugger, but believe me when I say, you can forest bathe at home with this book! Roaming across the continents, this writer and photographer duo tie together the history of our photosynthesizing companions, their modern-day applications and the lives that are inexplicably bound to our most iconic trees.
Share – Theo A. Michaels
These 75 delicious recipes by Greek chef Theo Michaels, who you may know from Masterchef and This Morning, are presented with maximum visual appeal and designed to be shared. Perfect for fractious families in lockdown. His aim is to create an interactive and relaxed dining experience that brings people together – as if we weren't close enough. Michaels brings his vision to your home and the meals are easily achievable and downsizable, depending on numbers. Stin ygeia sas!
The Parisian – Isabella Hammad
The first world war shattered families, destroyed friendships and separated lovers. This remarkable debut novel tells the story of a young Palestinian Midhat (loosely based on the author's great-grandfather), who is sent from the West Bank to Montpellier in France to study medicine during these turbulent times. Hammad manages to untangle the politics and personal tragedies under the looming shadow of war. An intensely human story amidst a global conflict,

Pravda Haha – Rory Maclean
MacLean has been called one of the most indefatigable travel writers of our time. Here, he retraces the steps of his original 1989 journey (the year the Berlin Wall fell) from Berlin to Moscow – through Russia, Ukraine's bloodlands and into liberal Hungary, across Poland, Germany and the UK. He goes hunting with Moscow's chicken Tsar, plays video games in St Petersburg with a cyber-hacker who cracked the US election, drops into Che Guevara High School of Political Leadership, and meets the Warsaw doctor who tried to stop a march of 70,000 nationalists. Finally, on the shores of Lake Geneva, he waits to have a chat with Mikhail Gorbachev. A fascinating book that, in the shadow of Brexit, chronicles the collapse of the European dream.
Extreme Economics – Richard Davies
This captivating read uses economics as its central pillar. From the jungles of Panama to post-tsunami Indonesia, it's an unlikely yet thrilling mix of travel, fluctuating finances, currencies and adventure, which also won at the Edward Stanford Travel Writing awards. It's an unusual premise for a book but don't let the word economics deter you. It's exciting and easy to read, but don't judge this book by it's cover - nobody I've come across in the publishing world likes it.
No Friend But The Mountains – Behrouz Boochani
That this book got written at all is a miracle. A true story, it was painstakingly compiled by individual texts on a contraband mobile phone secreted away in a cell. Kurdish journalist Behrouz Boochani spent almost five years typing passages of various chapters into his mobile using Whatsapp to text message, and this book has been translated from his Farsi. Seeking asylum in Australia the author was illegally imprisoned in the country's most notorious detention centre on Manus Island. As the pages unfurl the horrors and agony of being a stateless person in an age when borders are closing around the world, become excruciatingly clear. Running is one thing, but where do you run to? A captivating read as we balance on an axis of world change.
The Perfect Wife – JP Delaney

This book fits into the page-turner category, a kind of sci-fi/ artificial-intelligence thriller. Not my type on paper, then, but my head was turned and it's only fitting we should contemplate the future during this turbulent time. Abbie wakes up covered in bandages, surrounded by machines. She had a fatal accident five years ago, so how come she's alive? But this isn't the real Abbie; she's a cobot, (companion robot) who's been built by her grieving husband Tim, a silicon valley billionaire. Abbie has her thoughts, memories, and voice; she even has maternal feelings for their autistic son Danny. As real as she may feel, Abbie knows (in her heart?) that she isn't, and also that there were secrets in her marriage before she died – if only she could download them to find out the truth.
A Beginners Guide to Japan: Observations and Provocations – Pico Iyer
This is a playful little book full of surprising glimpses into Japanese culture by someone who is more than familiar with the country. After 32 years in Japan, Iyer demonstrates how his adopted home is quixotic and charming and one of the strangest place on earth. His adventures take him from a meditation-hall to a love-hotel, from West Point to Kyoto Station. This would have been the perfect companion to the 2020 Olympic Games in Tokoy later. Now they have been cancelled because of Covid19, sit back and read about Nihon instead.