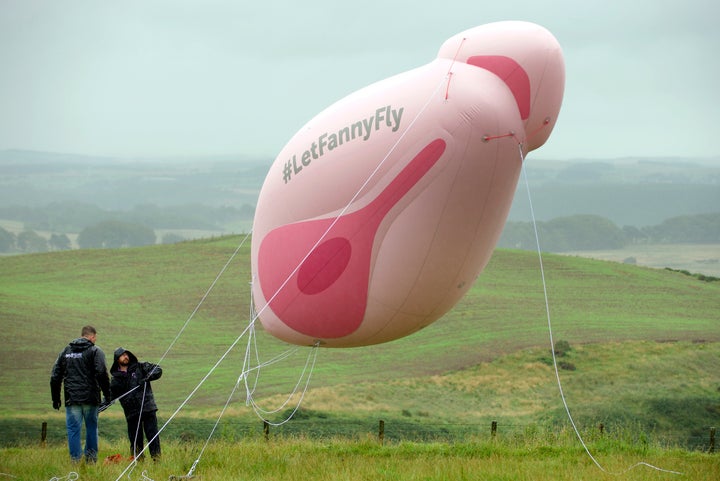 In a field half-an-hour outside of Edinburgh city centre, a 19ft vagina blimp is blowing in the wind.
The giant balloon was created by women's health and wellness brand Elvie to raise awareness of incontinence at Edinburgh fringe, but the brand claims festival organisers and Edinburgh Council "banned" their creation from appearing on the Royal Mile – the Fringe's main thoroughfare.
The company also planned a pop-up booth to raise awareness about incontinence – which affects one in three women – and educate festival-goers with around pelvic floor weakness. But the design was reportedly deemed "not suitable at the last moment", the brand claims, due to a representation of a vulva on the exterior structure.
"The campaign was going full steam ahead until the Fringe saw visuals of our plans," Elvie CEO and founder Tania Boler tells HuffPost UK. "We were told that the design of our pop-up – which was already commissioned – wouldn't be suitable because it included a vulva-shaped entrance.
"And as soon as the council discovered that our blimp was part of the female anatomy, the council got nervous and turned down our submission."
Festival organisers told HuffPost UK they had to "consider the interests of multiple stakeholders" due to the location in question being next to St Giles Cathedral.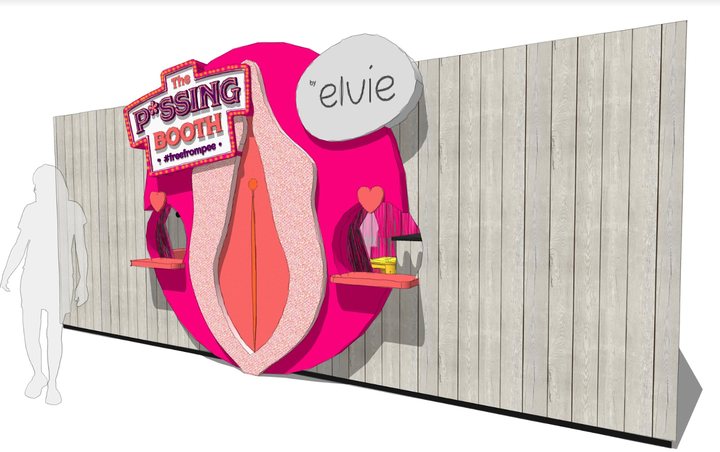 The brand has since launched an online petition, which has gained more than 1,000 signatures, calling on organisers to #LetFannyFly.
Elvie is working alongside Elaine Miller, a physiotherapist specialising in pelvic floor exercises, to raise awareness about incontinence at the festival. Miller is currently performing an evidence-based comedy show about incontinence – called Gusset Grippers – at the festival, which includes taboo-busting elements like the "sing-along-clench-along", to teach the audience what their pelvic floor is.
She previously told HuffPost UK society needs to normalise incontinence in order to end stigma. "Talking is kryptonite to taboos," she said. "Just telling women that they don't need to put up with this dreadful intrusion into their lives can be enough to encourage them to seek help from their GP or midwife."
Boler believes the pushback from festival organisers is a reflection of wider societal shame about women's bodies and health issues. "This is not the first time people have attempted to stop us from raising awareness around women's health issues," she says.
"We've had social media ads turned down because they feature images of women breastfeeding. There's no doubt that a taboo still exists around incontinence, but we have to change that in order to empower more women to seek support and treatment."
A spokesperson from Edinburgh Festival Fringe Society confirmed they had been liaising with a third party agency over the past few months regarding a space for Elvie on the High Street (otherwise known as the Royal Mile) "and at no point have we banned them from participating".
"The space in question is located right next to St Giles Cathedral and – alongside colleagues in City of Edinburgh Council – we have to consider the interests of multiple stakeholders when considering what activity can take place in that location," they told HuffPost UK.
"We have been supportive of Elvie's initiative from the outset, and have offered their agency multiple alternatives (both in terms of separate sites across the Fringe and different ways of organising their stand on the High St), but sadly have not been able to reach an agreement with them to date."
A council spokesperson said: "We have not received an application to fly a blimp over the Royal Mile. Elvie have been liaising with the Fringe Society over the potential for campaign material on the Royal Mile."