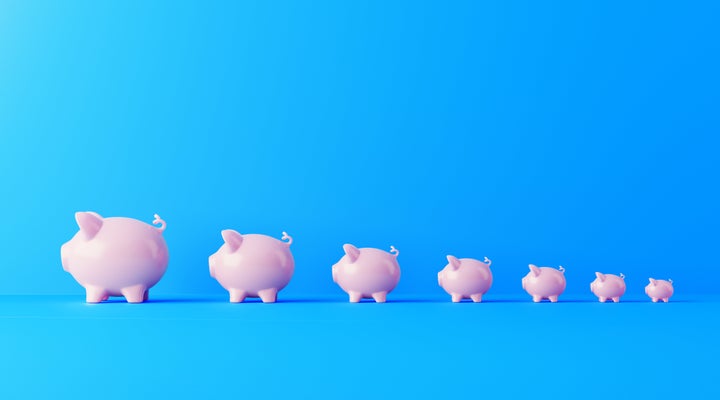 If you rely on your overdraft to get you through the month you could be in for a shock come – as Santander has joined others in setting a 39.9% overdraft rate.
It follows HSBC announcing it would hike overdraft interest rates to nearly 40% in December 2019. The bank said it would impose a single overdraft rate of 39.9% on all customers from March 2020.
Nationwide has also announced the same overdraft rate, prompting finance experts to say that paying around 40% interest for going into the red could become "the new normal".
The price hikes have come after the Financial Conduct Authority (FCA) said it was going to clamp down on banks offering confusing and complex overdraft structures. The FCA said that by April 2020, all banks and building societies must offer "a simple annual interest rate."
The FCA move was initially praised by the like of Citizens Advice, which said "reforms to the overdraft market should help thousands of people from getting trapped in a debt spiral". But it seems some banks have taken the notice as an opportunity to hike their fees.
Some banks have said the move will make overdraft charges "more manageable and transparent". But financial experts argue the move will actually make a lot of people worse off – and it could be a sign of things to come across the industry.
Money Saving Expert's banking editor, Helen Saxon, said: "With both of the first banks [HSBC and Nationwide] to announce changes moving overdraft interest rates to around 40%, we have to wonder if this is the new normal."
Speaking to HuffPost UK, she added: "If you just dip in to your overdraft by a little, then the HSBC changes may help you, as there's now a £25 buffer before you're charged interest, which may mean that some people who owe low amounts may actually pay less.
"However, for people who tend to go a lot further into their overdraft, it's likely they'll pay a lot more, as rates on HSBC's main accounts have more than doubled, from under 20% EAR to nearly 40% EAR."
If you're among the second group, it may be worth switching banks or seeing if you can pay off your overdraft. Here are Helen Saxon's tips on doing this:
Find an account with a 0% overdraft. Nationwide's FlexDirect account offers this to new customers for 12 months, though any overdraft they offer is dependent on your credit score. If you do get an overdraft, use the 12 months at 0% to pay off as much as you can – as after that, you'll pay 39.9% EAR, the same rate HSBC is bringing in.

Find an account with a low interest rate. For example, Starling Bank and First Direct offer rates below 16% EAR currently. However, all these rates are variable, so it may be that HSBC's one of the first movers to more expensive rates, and we'll see others follow suit.

Move your overdraft to a 0% card. Specialist money transfer cards let you move cash from the card to your bank account, for a 2-4% fee of the amount transferred. You'd then owe the card at 0% for a certain period of time. But, if you do this, it's best to shut your overdraft down so you don't go straight back in to it, and to use the time at 0% on the card to pay the debt off.
What do the banks say?

Madhu Kejriwal, HSBC UK's head of lending and payments, said: "By simplifying our overdraft charging structure we are making them easier to understand, more transparent and giving customers tools to help them make better financial decisions."

Dan Wass, Nationwide's director of banking and insurance, said: "We always strive to make our products as simple and transparent as possible, supported by services that help our members stay in control. In the additional context of the FCA's review of overdrafts, we are confident that the removal of unarranged borrowing charges, the introduction of a single interest rate, and extending our existing suite of alerts, will set a new standard for simplicity, transparency, and control in meeting our members' day-to-day borrowing needs."

Susan Allen, head of retail banking at Santander, told the BBC: "While we have had to make some difficult decisions in the current environment, our current account range remains very competitive."