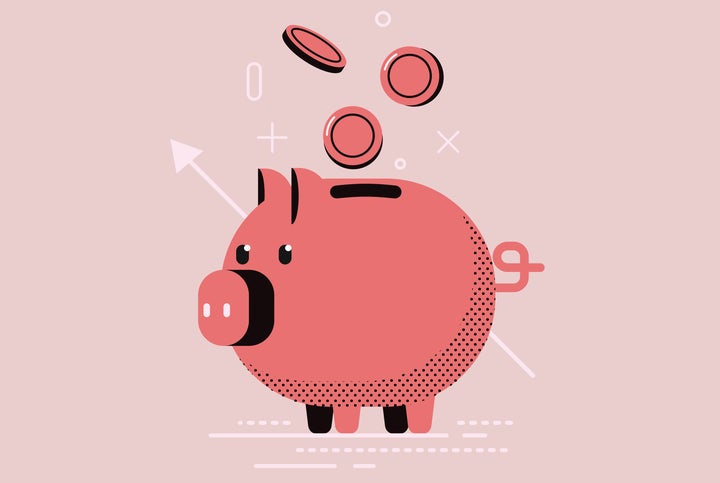 Do you have a savings account? If you don't, you're not alone. An estimated 12 million people in the UK don't have a savings product such as an ISA, easy-access or regular account, new research suggests.
The Nationwide poll of 10,000 people also found that of those who do have a savings account, nearly half put £100 or less away in it each month. Meanwhile a quarter have an account but don't actually use it.
With interest rates dropping like flies, you might assume there's no point opening a savings account. But Helen Saxon, Money Saving Expert's banking editor, says you've got nothing to lose. "Yes [interest] rates are not great, but you might as well get something," Saxon tells HuffPost UK.
What savings account should you get?
If you can't trust yourself not to spend the money sitting in your current account, a savings account is a no-brainer. But there are lots of different types – so where does a first-time saver start?
The type of product you go for will depend on how much money you have to save and your spending habits, says Saxon. You'll also want to consider how often you may want to access your money, as Andrew Johnson, money expert at the Money and Pensions Service, explains.
"Some accounts allow you to access your money at any time, whereas some may charge you a penalty to access your money early or at short notice," he says. "You should be able to find one that meets your needs – use comparison sites to look at the best deals but not all have the same results, so use more than one."
If you're starting from scratch, here's a guide to get you going.
The best savings account for first-time buyers
An ISA (Individual Savings Account) might be your best bet. The main difference between an ISA and a standard savings account is that it offers tax-free interest payments, so you could get more for your money. There's a limit to how much you can put into one in each tax year and generally, you shouldn't take money out of them. This tax year (2019/20), you can put up to £20,000 into an ISA.
Or, look into a Lifetime ISA (LISA), often used for saving for your first home or retirement. For the LISA, specifically, you have to be 18 or over – but under 40 – to open one. You can put in up to £4,000 each year, until you're 50. And the government will add a 25% bonus to your savings, up to a maximum of £1,000 per year.
The best savings accounts for a holiday or wedding
A standard savings account is best for people looking to save a portion of money each month for a big event. With this type of account, you commit to paying in a certain amount per month and, in return, the bank or building society will give you a higher interest rate than you'd get with a standard current account. The maximum amount you pay in may be capped.
"Rates have dropped but they're still about 2.75%," says Saxon, "and if you're saving from your salary, that is the highest rate you can get." She points to HSBC and M&S Bank regular savings accounts, which are competitive, however you often need to have a current account with the same bank to open a savings account.
With the HSBC Regular Saver, for example, you can choose to set up a standing order to pay between £25 and £250 into your account each month – and save up to £3,000 at a 2.75% interest rate that's fixed for 12 months.
If you want to save for longer, you could get a fixed-rate savings account for two, three, or even five years. The rates are "always higher", than easy access accounts, according to MoneySavingExpert. You can't take your money out during that time, though, so you won't be able to benefit from any rate rises.
The best savings accounts you can dip into
Easy-access savings accounts are good for people who want to give it a go, but will likely need to dip in and out of their savings pot – for example, if you get to the end of the month and run out of money. The best easy access rate is currently 1.45%, from Marcus by Goldman Sachs. The online savings account allows you to start saving with as little as £1.
If you run out of money regularly each month, it might even be worth getting a competitive current account rather than a savings account. There are some current accounts which give you 5% interest on balances up to £2,500 (Nationwide FlexDirect, for a year only) and 3% interest on balances up to £1,500 (TSB Classic Plus).
"If you've got an amount that fits in that, and you can get more in a current account, then it absolutely makes sense to do that," says Saxon.
The best savings accounts with the least hassle
There are several apps that allow you to link up to your bank account – they then round up what you spend and put the additional money into a savings pot.
For example, if you spent £2.80 on a coffee, the app will round it up to £3 and send the remaining 20p to savings. Saxon recommends looking into Monzo, Chip and Tandem if this option interests you. "You need to be comfortable with giving them access to your current account," she adds, "but obviously they have a decent number of customers for whom this really helps."
The best savings accounts if you have a big lump sum
On the other side of the equation, if you're lucky enough to have more than £85,000 in savings, Saxon says you should split it between different banking groups. This is because if you're with a UK bank, the protection you get on money lost – by the Financial Services Compensation Scheme – covers up to £85,000 per depositor.
It's worth noting that some banks own other banks – so all of your money might not be protected. Saxon offers the example of HSBC and First Direct, who both share a banking license, which means you'd only be covered for £85,000 across both.